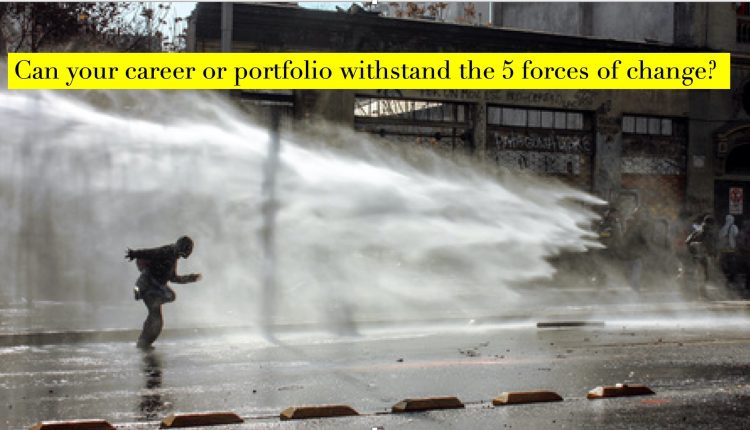 Can your career or portfolio withstand the 5 forces of change?
Whether for your career, educational pursuits, or your investment portfolio, you need to invest in the new versus the tried and true. Five forces of change are rendering the conventional rules of capitalism and job security obsolete. These forces are relentless and penetrating every corner of the marketplace. There is no place to hide, seek shelter or be granted immunity. Companies will either pivot and make things happen or watch and wonder what happened to their business and their shareholder value. The same holds true for your career.
Each of these forces are changing customer behaviour, creating their own economy. At times they can be highly collaborative while at other moments they can collide. Let's look at these economies.
The first, I am calling the Attention Deficit Economy. Attention is the oxygen of human endeavor, but in this 'Age of Noise' too much and too many are chasing finite time. Many brands and ideas are starving for an audience and having to rely on deep discounting to be noticed. This creates a collapse of margins and can turn profit into losses.
In this economy identify the brands and ideas that make their audience the hero, their journey their obsession, and that show how they can help their audience realize their desired outcome. Airbnb lets people belong and immerse when they travel, Hilton sells hotel rooms.
The second is a $7.5 trillion economy that barely existed 15 years ago. It's called the Platform Economy, powered by dating sucking apps and the cloud. They compress supply chains to connect buyers and sellers. The essential question in this economy is who owns the customer – Uber Eats or McDonald's? The top platform companies who have mastered more and less. They give their customer more of what matters to them, with less friction and effort. Expedia, Amazon, Google, Alibaba, Zillow and thousands more.
The third, the Subscription Economy, is encouraging access versus ownership. When was the last time you bought a CD? Consumers are subscribing to content, cars, meal kits, software, gaming, education, and so much more. Recurring revenue is the prize, but the key metrics to invest are the costs of attracting and retaining customers. In 2019 Netflix will spend $15 billion to buy, produce and license content, $3 billion on marketing, against total revenue of $20 billion.
The fourth, the Experience Economy, is powered by consumers wanting to spend their discretionary dollars on experiences over stuff. The key driver here is their mobile phone, which creates constant FOMO 'Fear of Missing Out,' and the need to 'Instagram' their social feed to build their community. Pine and Gilmore in 1999 classified these experiences as the 4 E's. Educational, escapist, esthetic, or entertaining. In this economy, you are looking to invest in companies like Walt Disney or Virgin that stage memorable and personal experiences, profitably.
Having a purpose beyond profit is inspiring the final force of change. The increasing transparency of our planet is enabling consumers to see entire supply chains and choose brands beyond immediate gratification. In this competitive world, where margins are compressing, the companies that follow a North Star, a higher purpose while maintaining profits, earn the trust and loyalty of their customers. Patagonia and Unilever are clear examples.
The days of securing your career, or investments with the tried and true are giving away to the new — all with different rules and increased complexity.
The ones that master the new rules will reap the benefits of security, and even extraordinary reward.