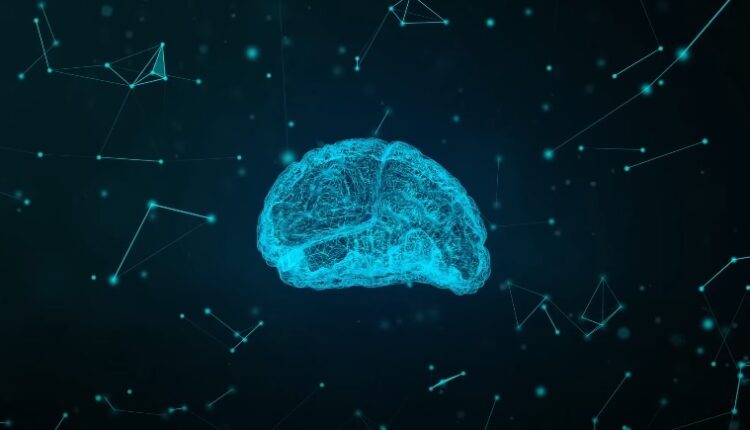 PharmaTher Holdings (PHRM): The Strongest Stock In The Psychedelics Sector Today
Quick, name a psychedelics stock which has experienced a triple-digit percentage increase so far this calendar quarter. Ok, let's scale out expectations back a little bit: name any psychedelics stock that has produced a positive return during this spring market bear market. If you're having trouble formulating an answer that doesn't include MindMed or Cybin Inc., we don't blame you. But stealthily and with little fanfare, PharmaTher Holdings (CNSX: PHRM) (OTCMKTS: PHRRF) is putting up a show, as it keeps advancing its ketamine research to Phase 2 clinical trials.
Pharmather Holdings is a is a clinical-stage biotech company devoted to the research, development and commercialization of formulations and delivery methods of psychedelics to treat mental illness. Its most developed FDA-approved study is heading into the Phase 2 stage to research ketamine to treat Parkinson's disease. It is also developing a novel microneedle patch for the intradermal delivery of psychedelics.
Unlike many of its peers which are researching single-indication problems, PharmaTher has a diverse asset portfolio that addresses a broad spectrum of overlapping health conditions. As a ketamine drug development specialist—including a proprietary derivative formulation named KETABET in study—the company has therapeutic use cases in pain management, as well as mental illness and neurological realms. Combined, these triage markets are worth approximately $100 billion annually.
Further enhancing PharmaTher's investment thesis is its relative valuation compared to its competitors. With a non-diluted market capitalization of around $17 million at the start of the quarter, PharmaTher is worth a small fraction of several psilocybin-based peers that are not much further along into Phase 2 studies.
PharmaTher Holdings—A Full Pipeline In 2021
| | | |
| --- | --- | --- |
| | 1st Half 2021 | 2nd Half 2021 |
| ✓ | Parkinson's disease — FDA IND acceptance for Phase 2 clinical study with ketamine | Parkinson's disease — FDA Phase 2 study results with ketamine |
| | Depression — FDA Pre-IND application of Phase 2 clinical study with KETABET | Depression – FDA Phase 2 study results for KETABET |
| ✓ | ALS / Lou Gehrig's disease — FDA Orphan designation application for ketamine | ALS (Lou Gehrig's) – FDA Orphan designation & IND acceptance for Phase 2 clinical study with ketamine |
| | Microneedle Patch — Research results for ketamine and KETABET | Microneedle Patch — Research results for ketamine, KETABETTM, psilocybin, DMT, LSD, MDMA |
| ✓ | Microneedle Patch — Clinical manufacturing partnership | Microneedle Patch — Scale-up manufacturing for clinical trials |
| ✓ | Formulations — NCE discovery partnership | Microneedle Patch — FDA Pre-IND meeting for Phase 1 & 2 clinical studies |
Since the start of the calendar quarter, the outperformance in PHRM/PHRRF stock has been pronounced. With the Horizon Psychedelic Stock Index ETF (PSYK) down ↓8.33 since March 31, 2021—and most of the sector still mired in moribund price action—PharmaTher has bucked the trend. Its stock has risen 112.76% along with rolling 20-day average volume which at peak levels.
The catalyst for the recent surge (+163.15%, accounting for all of the recent gains) appears to be the May 17 press release in which the U.S. Food and Drug Administration (FDA) approved PharmaTher's Investigational New Drug application to proceed with a Phase 2 clinical trial to research ketamine in the treatment of levodopa-induced dyskinesia in patients with Parkinson's disease. The IND paves the way for the company to quickly evaluate ketamine and other psychedelics via the FDA regulatory pathway in various conditions. It also gets them into Phase 2 studies for the first time, where investors really start to take notice.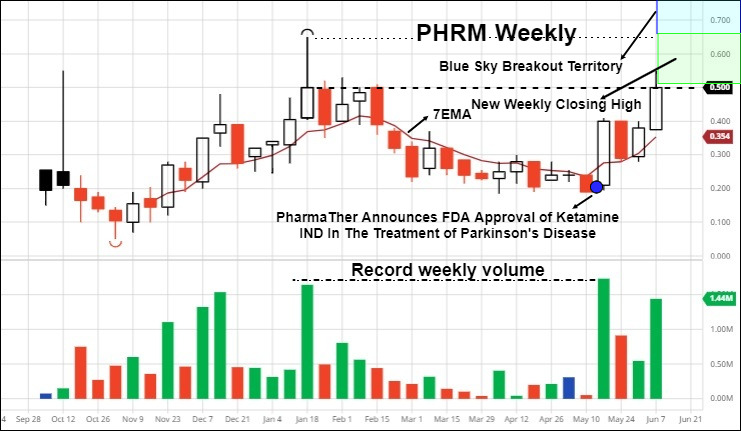 Perhaps investors shouldn't be surprised at the success PharmaTher is generating in light of the compound it is bringing to trial. Until recently, another ketamine-focused biotech company—Seelos Therapeutics—was among the hottest companies in the sector. Although it has cooled off following successful Proof-of-Concept study results of intranasal racemic ketamine (SLS-002) announced May 17, Seelos was absolutely sizzling to start the year. Prior to that time, its stock had risen ↑228.48% in 2021 and remains ↑108.86 YTD despite recent challenges.
Whatever the reason for PharmaTher's success, it definitely has the momentum in its favor. With a full pipeline of catalysts still to be realized in 2021, low relative market cap and a solid track record of execution, investors will be hoping for continued outperformance as the sector attempts to turn around.