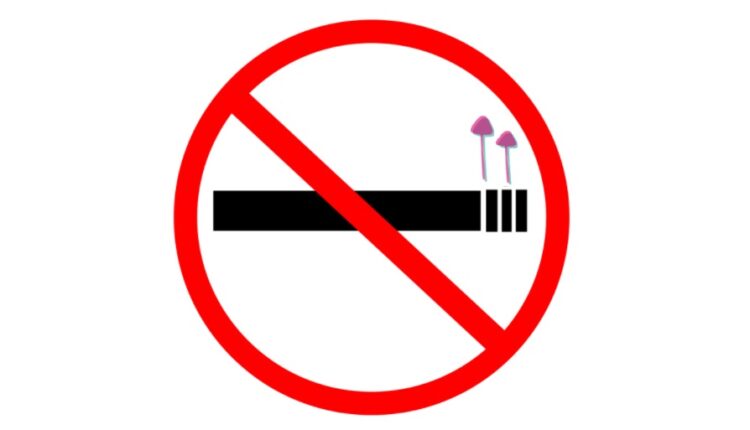 Mydecine Innovations — Addressing The Lucrative Global Smoking Cessation Market
Last month, Mydecine Innovations Group (NEO: MYCO)(OTCMKTS: MYCOF) received a Buy" rating and C$3.00 price target from Roth Capital Partners, which represented a 916.94% premium to the market closing price. That lit a fire under the common shares, which doubled in the subsequent three weeks following the report. While inevitable profit-taking has occurred in this current broad market softness, the potential for MYCO–001, Mydecine's lead trial compound for PTSD and smoking cessation, remains. TDR focuses this piece on the market potential of MYCO-001 for smoking cessation.
What Is Smoking Cessation?
Smoking cessation, often known as quitting smoking or stopping smoking, is the process of ceasing tobacco use. Nicotine, which is addictive and can lead to dependency, is present in tobacco smoke. Obviously, this is problematic as tobacco smoke contains dozens of suspected or known carcinogenic substances.
Ceasing tobacco use substantially decreases the chance of dying from tobacco-related illnesses such as coronary heart disease, lung cancer and chronic obstructive pulmonary disease. However, annual quit success rates remain low — at roughly 7 percent according to the Truth Initiative— underscoring the highly addictive nature of nicotine and ineffectiveness of the "cold turkey" approach.
Smoking remains the leading preventable cause of death worldwide.
Smoking Cessation Symptoms
Millions of individuals have firsthand knowledge that smoking is a difficult habit to break. The reason for this is because nicotine is highly addictive. Although the high from nicotine is not as prodigious as various illegal narcotics, it is just as addicting according to many mainline studies.
The symptoms of smoking cessation can be broken down into two categories—physical withdrawal and emotional/behavior withdrawal. The former can induce common physical issues such as heightened appetite intense physical cravings and headaches. The latter can induce symptoms such as anxiety, depression, irritability and mental fog.
Mainline Treatments For Smoking Cessation
Treatment options include nicotine replacement therapy (NRT), non-nicotinic pharmacological therapies, behavior therapies and counselling. The therapy options are best paired in combination with pharmaceutical drugs, in which there are several approved and off-label options.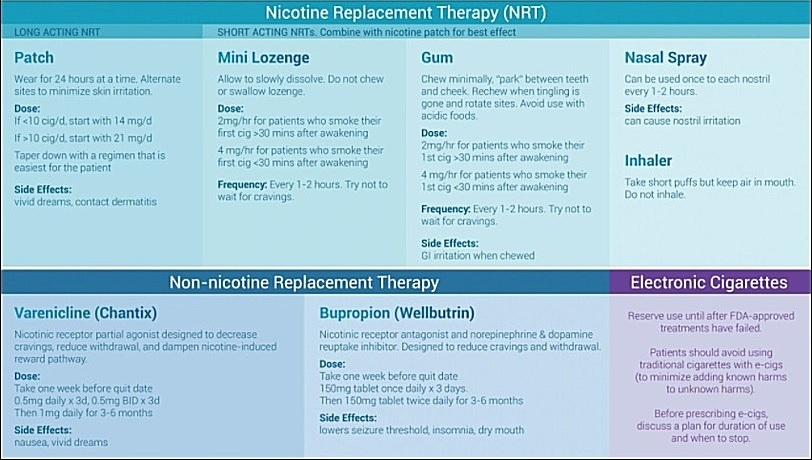 The world most popular smoking approved cessation drugs are Varenicline (Chantix) and Buproprion-SR (Zyban), while Nortriptyline and clonidine are frequently prescribed off-label. In the United States, NRT is available over the counter or by prescription as patches, gum, lozenges; nasal sprays and oral inhalers are by prescription only.
Of course, the above chart does not include any psilocybin options, as none have been approved by the FDA. However, previous small-scale studies have shown promising results, including a Johns Hopkins study where 15 participants taking psilocybin achieved an 80% abstinence rate over six months, compared to a 35% success rate for patients taking verenicline—widely considered to be the most effective smoking cessation drug.
Mainline Treatments Are Not Always Safe
Last month, the dangers of mainline treatments came to the forefront when Pfizer suspended distribution of the anti-smoking treatment Chantix after heightened levels of the carcinogen N-nitrosodimethylamine (NDMA) were found in some product SKUs. Although the Food & Drug Administration (FDA) did not issued a recall, another G-10 nation, Canada, did institute a recall.
The Chantix website says it's a three-to-six-month treatment that helps people overcome the need to smoke tobacco. Purportedly, more than 13 million people have been prescribed Chantix worldwide.
Chantix sales fell 17% from $1.1 billion in 2019 to $919 million in 2020 during the COVID-19 pandemic as well as Pfizer losing patent protection in the U.S. in November.
Smoking Cessation Total Addressable Market
According to Smoking Cessation Market Analysis, the market for smoking cessation in seven leading markets—United States, Germany, France, Italy, Spain, United Kingdom and Japan—is quite substantial. They calculate the size of the pharmaceutical drug market at US$2.88 billion and expected to grow at 5.24% CAGR from the study period between 2017-2030.
In its June 22, 2021 research coverage on Mydecine Innovations, Roth Capital Partners echoed the immense potential for a novel therapeutic—such as MYCO-001—to generate sales should it go the distance with regulators. Roth estimates that even with a "small market penetration of 0.5% Mydecine can achieve ~$2.5B in sales, five years following launch in 2026."
This estimate did not take into account the possibility of Chantix losing its market-leading position, which is unpredictable given current events. And Chantix will lose its patent protection in additional jurisdictions and be by the time MYCO-001 comes to market in 2026, pending regulatory approval.
TDR will have additional coverage on MYCO-001 as details of the trial emerge.