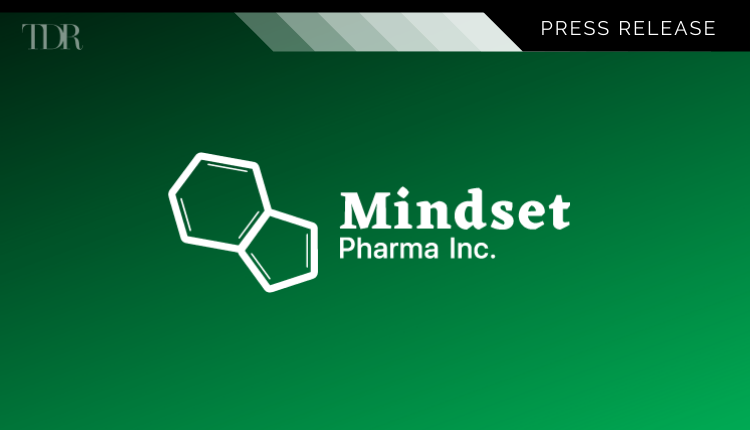 Mindset Pharma Added to North American Psychedelics Index
Mindset Pharma Inc. (CSE: MSET) (FSE: 9DF) ("Mindset" or the "Company"), a drug discovery and development company focused on developing next generation psilocybin-inspired medicines and related technologies, is pleased to announce that effective today, it has been added to the North American Psychedelics Index which is provided by German-based index provider, Solactive (the "Index").
The Index is designed to provide a measure of the performance of North American publicly listed life sciences companies focused on psychedelic medicines, and other companies with business activities in the psychedelics industry. The Index is passive, weighing constituent companies according to their market cap, with a number of conditions that prevent the Index becoming dominated by big pharma, and by psychedelics companies with the largest market cap. Additionally, certain index funds, including the Horizons Psychedelic Stock Index ETF, utilize the Index as a benchmark.
These amendments are not just exciting for Numinus and our researchers, but also for our partners, clients and potentially academic collaborators in the psychedelics space. The amendments dramatically expand the work we can do with a far larger group of psychedelics, and open up market-leading and revenue-generating opportunities for Numinus in R&D, psychedelic formulations, research and analysis. Moreover, we can now develop and implement standardized psychedelics testing on top of our existing high throughput capabilities, and formulate and produce psychedelic compounds in finished packaged products for clinical trials, clinical use under exemption, and export.

Sharan Sidhu, Science Officer and General Manager for Numinus Bioscience.



Additionally, the Company will be hosting an investor conference call and webcast on Monday February 22, 2021 at 2:00 p.m. EST with James Lanthier, Chief Executive Officer and Joseph Araujo, Chief Science Officer to discuss updates on the Company's scientific programs.
Original press release linked here.