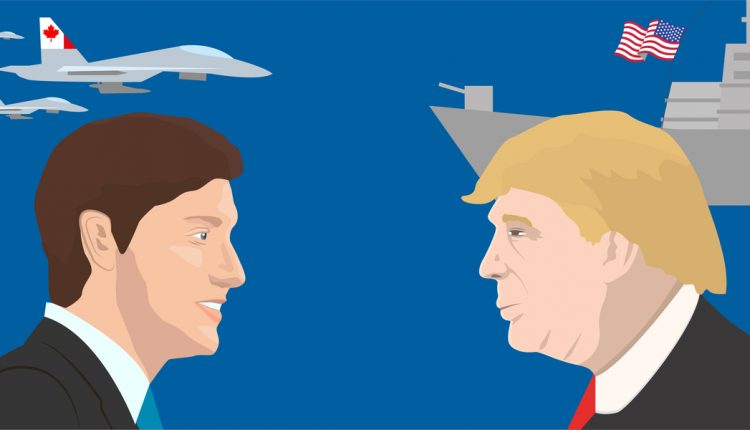 Will the Canadian Pot Biz Survive the Growth of American Demand?
With Canada's federal government officially legalizing recreational marijuana in 2018, the working assumption was that Canadian companies would have a big head start on American firms in the marijuana space.
However as 2020 approaches, and the number of U.S states supporting legalizing marijuana grows, the question being asked on Bay Street is whether Canada's marijuana sector has missed a golden opportunity?
In the last few years there have been many signs of a shift toward a more tolerant attitude to pot in the United States, and with the sheer market size of the U.S. alone — a population of 350 million compared to Canada's 33 million — it's understandable why some North of the border may be nervous about the U.S market taking shape.
On New Year's Day of 2020, Illinois joins 10 other states and the District of Columbia where small amounts of the drug for adult use is legal. Medical marijuana in Illinois has been legal since 2014.
The legalization is projected to generate more than $57 million in new tax and fee revenue for Illinois in fiscal 2020, which begins on July 1 for the financially troubled state, according to Illinois' revenue department.
This past November the House Judiciary Committee approved a bill that legalizes marijuana on the federal level, removing it from Schedule 1 of the Controlled Substances Act. The legislation, which passed 24 to 10, has a high chance of approval in the full House where Democrats control the chamber with 234 seats. It's likely to face a tougher battle in the Republican-controlled Senate, where Majority Leader Mitch McConnell opposes marijuana legalization.
The legislation allows states to enact their own policies and gives them incentives to clear criminal records of people with low-level marijuana offenses. It also includes a 5% tax on cannabis products that would provide job training and legal assistance to those most impacted by the war on drugs.
Before the bill's approval President Trump had given indications that he may be supportive of allowing states to loosen the restrictions around recreational cannabis. Trump told reporters in September "We're going to see what's going on. It's a very big subject and right now we are allowing states to make that decision. A lot of states are making that decision, but we're allowing states to make that decision."
These signs have many companies excited and growing even in States that currently do not have legalized weed. Trulieve Cannabis has a presence in a handful of states, but it's primary focus has been on opening dispensaries in Florida where only medical marijuana is currently legal. Recently Trulieve opened its 40th retail location in that state, taking a big bite of the local state market share.
So with the United States seemingly closing the gap, what have Canadian marijuana companies done on the markets with the big lead they once enjoyed?
During the first year after Canada legalized pot, the value of shares in Canada's six largest marijuana companies plunged by an average of 56%, according to data from the research firm FactSet.
In September, investment bank Mackie Research Capital Corp. said that "nine companies would run out of cash in less than six months, according to its calculations." In addition, major Canadian newspapers reported in November that Bay Street investors had cashed in on cannabis, and had taken their money and planted it in other ventures.
Compounding the financial doom and gloom was the initial slow movement of provincial governments combined with bureaucratic red tape. The roll out left companies challenged with the inability to get their product into the hands of their consumers, forcing potential customers back to the black market.
It would seem however that provincial governments may be recognizing that they are part of the problem and need to get out of the way. Ontario, the largest marijuana market in Canada, recently announced an end to their lottery process which originally saw only 24 retail locations take shape. Instead the government will now eliminate the temporary cap on the number of private stores and cancel the pre-qualification requirements for prospective retailers.
If the Ontario government and other provinces around the country continue to relax and reform laws, then Canadian marijuana companies may not lose their first mover advantage.
Another prominent piece in Canadian firms keeping an edge comes in the form of the legalization of edibles, extracts and topicals. Cannabis 2.0, as some call it, will likely be a game changer for the sector and continue to allow Canadian companies to revolutionize the market place.
Deloitte estimates this next stage of cannabis legalization in Canada is expected to create a consumer market for edibles and other alternative cannabis products worth more than C$2.5 billion a year and generate higher profits for retailers than cannabis products that are already legal.
As Canadian cannabis enters a new stage, the U.S market isn't without its share of problems. Just this past week the head of the U .S. Senate banking panel signalled marijuana banking reform could take longer than the cannabis industry hoped.
The SAFE banking act as its known, would prevent federal banking regulators from sanctioning banks for working with cannabis related businesses that are obeying state laws, halting their services, taking action on loans made to those businesses. The bill if passed would protect ancillary businesses that work with the cannabis industry from being charged with money laundering and other financial crimes.
Senate Banking Chair Mike Crapo doesn't like the SAFE Banking Act as is and stated he wants changes to the act and public consultation, which means major adjustments to the cannabis banking bill may be on the horizon.
The most onerous amendment Crapo is suggesting would give only companies that had a product with a potency of 2% THC or below access to cannabis-related financial services.
As Americans battle about how best to handle the marijuana sector that is growing state by state, Canadians will be seeing new product on store shelves and more stores to house those shelves across the country.
There is no question that Canada has had its share of adolescent growing pains since legalization occurred over a year ago, and will likely continue to see the trend of bankruptcies continue as cannabis companies run out of cash.
However, according to analysts, when the storm settles and the market reaches a point of maturity during the latter half of 2020, you could see the surviving companies with bigger sales and margins allowing for a path to profit in 2021.