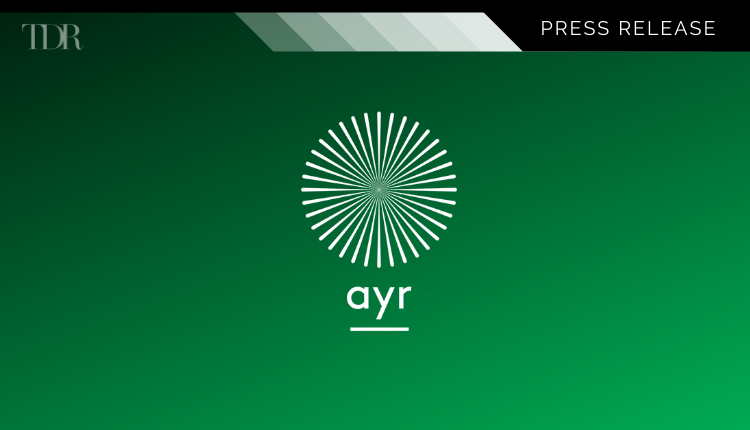 Q4 Revenue up 48% Y/Y to $47.8 Million; Full Year Revenue up 25%1 Despite Covid-Related Shutdowns in 2Q
Q4 Adjusted EBITDA up 111% Y/Y to $19.4 Million; Full Year Adjusted EBITDA up 63%1
Successfully Raised $110 Million in Debt and $48 Million in Warrant Exercise, Ending 2020 with $127 Million of Cash; Raised Additional $118 Million in Equity Subsequent to Year-End
Generated Over $7 Million in Cash from Operations in Q4 and $36 Million for the Year
Closed on its Two Acquisitions in Pennsylvania in Q4; Opened Second Pennsylvania Dispensary in February
Recently Closed Acquisition of Liberty Health Sciences, Adding 31 Retail Dispensaries, the Fourth Largest Footprint in Florida
Arizona and Ohio Acquisitions Expected to Close Later this Month
Pending Acquisitions in Arizona, Ohio and New Jersey Will Bring Addressable Market to Over 73 Million in Seven States
Ayr Wellness Inc. (CSE: AYR.A, OTCQX: AYRWF), a vertically-integrated cannabis multi-state operator (MSO), is reporting financial results for the three months and full-year ended December 31, 2020. Unless otherwise noted, all results are presented in U.S. dollars.
2020 was a year of transformation for Ayr. We are excited to report a strong finish to the year with fourth quarter revenues up 48% year-over-year and adjusted EBITDA up over 100% and we continue to maintain margins at the high end of the industry. And while we continued to deliver strong operating results throughout the year at our market leading operations in Massachusetts and Nevada, the Ayr story of 2020 was about building a foundation for a new Ayr Wellness, a bigger and better MSO. We spent the end of 2020 aggressively expanding our footprint and investing in our business to be positioned for exceptional growth in 2021 and 2022. We began 2020 as a 2-state MSO and we begin 2021 as a seven-state, top-5 MSO and we aren't done yet

Jon Sandelman, CEO of Ayr Wellness
"2020 was also a year of great change for the industry as new states moved forward with adult-use programs and the federal election shifted the tides in Washington. We enter 2021 with leading scale, talent and a recently bolstered balance sheet, that currently has more than $236 million of cash. The investments we made in the fourth quarter in additional infrastructure and people will prove critical as our new operations in Pennsylvania, Florida, New Jersey, Arizona and Ohio begin to ramp in 2021. We opened our second Ayr Wellness dispensary in Pennsylvania a couple weeks ago and the cultivations are on track for first harvest this spring. Our remaining four stores in Pennsylvania will open throughout 2021 and as the cultivation expands further, we expect Pennsylvania to be a meaningful contributor to our top and bottom line in the back half 2021."
Fourth Quarter Financial Highlights ($ in millions, excl. margin items)
Q4 2019
Q3 2020
Q4 2020
% Change
Y/Y
% Change
Q/Q
Revenue
$
32.3
$
45.5
$
47.8
48%
5%
Gross Profit before Fair Value Adj.
$
11.4
$
27.4
$
27.5
142%
0%
Gross Profit
$
8.3
$
40.8
$
18.6
125%
-54%
Operating Income/(Loss)
$
(16.9
)
$
22.0
$
(2.2)
N/M
N/M
Adj. EBITDA
$
9.2
$
19.3
$
19.4
111%
0%
AEBITDA Margin
28.6
%
42.4%
40.5%
1190 bps
-190 bps
Full Year 2020 Financial Highlights ($ in millions, excl. margin items)
FY 2019
Actual
FY 2019
Annualized1
FY 2020
% Change
Y/Y
Revenue
$
75.2
$
124.2
$
155.1
25%
Gross Profit before Fair Value Adj.
$
34.4
$
63.0
$
88.6
41%
Gross Profit
$
26.3
N/M
$
103.1
293%
Operating Income/(Loss)
$
(37.5)
N/M
$
16.0
N/M
Adj. EBITDA
$
20.9
$
34.5
$
56.2
63%
AEBITDA Margin
27.8%
27.8%
36.2%
840 bps
1Due to the qualifying transaction completed on May 24, 2019, the 2019 annual results have been normalized by taking the 221-day period and annualizing it to produce a full year of results.
Ayr Wellness Footprint (Pro-forma)
MA
NJ
PA
OH
FL
AZ
NV
TOTAL
Population
6.9 M
9.2 M
12.7 M
11.7 M
21.5 M
7.4 M
3.1 M
72.5 M
Adult Use or Medical
AU
AU
Med
Med
Med
AU
AU
4 AU/ 3 Med
Est. 2021 Market Size4
$1 B
$1 B
$1 B
$400 M
$1.5 B
$1 B
$800 M
$6.7 B
Forward AEBITDA Mult. Paid
N/A
4.0x
3.2x
1.0x
4.8x5
3.1x
N/A
Planned Capex
$38 M
$15 M
$24 M
$20 M
$20 M
$10
<$1 M
$127 M
Dispensaries:
Current → YE 2021
2 → 41
3
2 → 6
–
31 → 423
3
62
43 → 64
Key Retail Markets
Greater Boston
Central
NJ
Pittsburgh
Philadelphia
–
Miami
Tampa
Orlando
Phoenix
Las Vegas
Reno
Cultivation-Production:
Current → YE 2021 Sq Ft
50K → 140K
30K → 105K
83K → 253K
9K → 67K
300K
10K → 90K
72K
554K → 1,027K
Employees
267
113
72
10
349
165
478
1,454
1) Includes two co-located AU/Med dispensaries (Somerville and Watertown), one AU-only dispensary in Boston and one Med-only dispensary in Needham
2) Five dispensaries currently open; pending final approvals additional LV dispensary expected to open shortly
3) 31 currently open, four complete and pending OMMU approval; seven are currently under construction
4) Source: Arcview, MJBiz Daily, Company estimates
5) Based on purchase price and forecasted 2022 AEBITDA at the time of announcement
Fourth Quarter Operational Highlights
Nevada Results
Average daily retail revenues were over $290,000 in the fourth quarter; daily transaction volumes of 4,685, with an average ticket of $62 per transaction
Sales increased 21% year-over-year, driven by a 15% increase in transaction volumes and 6% increase in average ticket
Recently opened sixth dispensary in Nevada, in Clark County
Increased market share despite increased competition in the locals' market and difficult economic environment due to COVID-19
Massachusetts Results
Average daily retail revenues (medical only) increased to over $64,000 in the fourth quarter; daily transaction volumes of ~410, with an average ticket of $157 per transaction
Retail sales increased 136% year-over-year, driven by a ~90% increase in transactions and ~45% increase in average ticket
Selling to 78 of the state's 110 adult-use dispensaries, and Ayr remains one of the market share leaders in flower, vapes and concentrates according to BDS Analytics
Wholesale revenues ramped to over $13.4 million in the quarter, growth of 109% y/y reflecting the increase in capacity brought on in May 2020
Pennsylvania Update
Ayr closed its two acquisitions in Pennsylvania during the fourth quarter
Completed first phase of cultivation construction; 15,000ft2 of canopy due for first harvest this spring
21,000 ft2 of addition space approved for cultivation in February and first harvest expected in early summer
Two dispensaries recently opened under the Ayr Wellness banner, in New Castle and Plymouth Meeting
To view the original press release click here