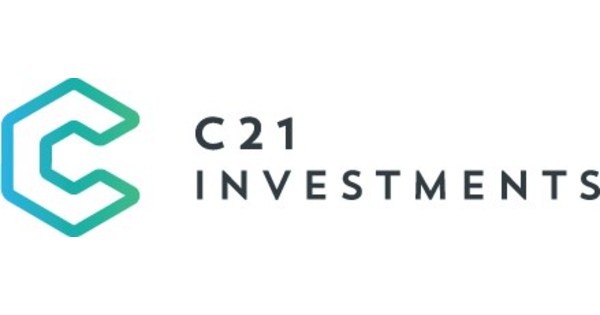 C21 Investments CEO "Optimistic" To Soon Receive Favorable Financing Arrangement; Announces Record Nevada Run Rate
C21 Investments Inc (CNSX:CXXI) (OTC:MKTS:CXXIF) today announced material and anticipated news to investors. With uncertainty over repayment of a secured promissory note owed to President & CEO Sonny Newman hanging over the company like the Sword of Damocles, the news provides welcome relief. They even provided an upside sales surprise for good measure. TDR breaks down the details of this morning's key communiqué.
Regarding the elephant in the room, the company addressed this issue straight away. 
First, it was announced that Mr. Newman has elected to extend his term with the company for an additional three years. This is assuring news to some investors who feared Sonny might call-in his debt and part ways with C21 Investments, forcing the company into an ill-timed and highly dilutive equity raise. But for now, the primary existential threat facing common equity holders has been averted.
Just as notably, it was revealed that a solution solving the company's debt entanglement may be forthcoming. According to Mr. Newman, C21 Investments is currently in negotiations to "…soon secure a favorable, non-dilutive debt financing arrangement… to meet its current debt obligations, provide growth capital to fund acquisitions in Nevada, and be serviceable with existing cash flows." Full quote in context provided below:
By deferring payment on the outstanding principal balance of debt totaling $18,200,000 until January 1, 2021—and in conjunction with the above statement—Sonny is signaling that he expects to be made whole before the call-in date.
Either way, a consummated financing arrangement would be a big deal for the company. Not only would Sonny's debt overhang vanish overnight, but a new debt facility would provide additional growth capital for C21 Investments to expand its regional foothold.
Although the company is acknowledged for its relative operational prowess (strong operating earnings yield/adjusted EBITDA, for example) and disciplined fiscal approach, its slow expansionary pace has left many investors gravitating towards larger sector players.
Today's news signals that C21 intends to make a calculated long term growth push in-line with other industry peers. All that's remaining is to close the deal they're currently negotiating, which is inferred to be in an advanced state.
Strong Nevada Sales
C21 Investments also took the opportunity to provide a current view of its sales funnel in Nevada. The one-paragraph synopsis in the press release speaks for itself.
The company's Nevada dispensaries are experiencing a record run rate for June—on track to beat the record month of August 2019. Its June run rate is currently trending 26% higher than that of Q1, with Silver State Relief dispensaries seeing a market share increase of ↑6% in State, as well as ↑36% of Washoe County for the most recent monthly State data for Q1 of this year.
In other words: COVID schmovid.
In addition, the term of the lease for the Silver State Relief premises in Fernley, Nevada has been extended until July 31, 2023 on the existing terms and conditions—including the option to purchase the leased premises. As of October 31, 2019, the 6,000 square foot dispensary was servicing more than 16,000 customers per month. It remains to be seen whether the purchase price option of $2,228,000, payable in cash, comes into play earlier than anticipated should requisite financing be obtained (see above).
Furthermore, due to COVID-19 related delays, the company is relying on the British Columbia Securities Commission's blanket order, BC Instrument 51-517 Temporary Exemption from Certain Corporate Finance Requirements to postpone the filing of its first-quarter unaudited financial statements and management's discussion and analysis. The 45-day extension amends C21's Q1 filing date to no later than August 13, 2020 from the original date of June 29, 2020.
Final Thoughts
While the best case scenario of debt facility closure and vanquishment of Sonny Newman's debt overhang did not happen, investors received a worthy consolation prize. With Mr. Newman re-upping his term with the company, deferring his principle repayment and spouting optimism that favorable financing is forthcoming, CXXI's noxious debt cloud appears to be lifting. While it's certainly possible that a financing arrangement could fall through, in TDR's opinion, the odds of an unsavory outcome appear more confined now than at any time in recent history.
Record sales run rates and market share gains in Nevada are icing on the cake.
We now await evidence of shifting investor sentiment in CXXI common equity—trading at a severe valuation discount to most MSO peers (up to 500% on an EV/EBITDA basis—a popular metric to compare a company's fair market value). Although a more profound shift may occur if/when a new debt facility is consummated, today's news was a significant step in that direction.
It's now up to C21 executives to power the ball over the goal line. Investors have played the role of lead blocker long enough.
___________________
Disclaimer: The article's editor has an existing position in C21 Investments. It is neither a solicitation nor endorsement to purchase the profiled security. There is substantial risk purchasing C21 Investments based on the opinion provided, and has been published for informational purposes only. The author may divest or make additional purchases of securities without further notice. Please contact a licensed investment advisor if you are considering investing in C2 Investments.