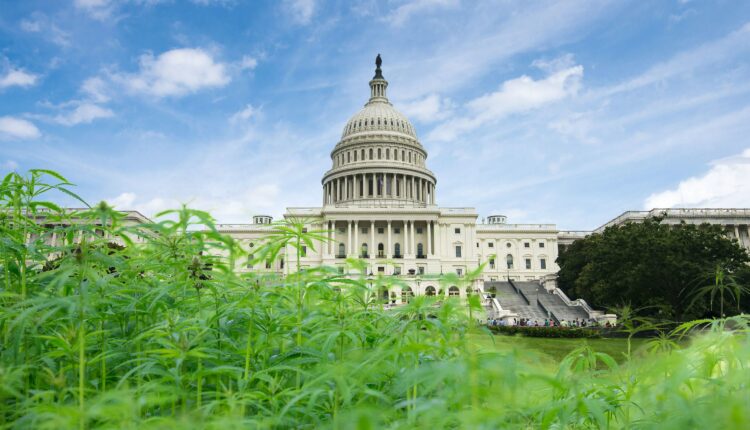 Cannabis Legalization Looks Promising For These Seven States In The Upcoming U.S. Elections
As the upcoming United States elections quickly approach Americans and the rest of the world, the cannabis space is hopeful and is betting on marijuana legalization in the U.S. across the board. Cannabis legalization in U.S. is expected to create jobs and help boost the economy, especially with post-pandemic losses.
The COVID-19 pandemic has caused massive unemployment, loss in tax revenue, challenged the economy, and is ultimately leading to an only- growing federal deficit. Consequently, industry experts believe that one solution that can help stimulate the economy is the legalization of recreational marijuana across states.
According to DISA Global Solutions, medicinal cannabis is legalized and decriminalize in the following 12 states: Alaska, California, Colorado, District of Columbia, Illinois, Maine, Massachusetts, Michigan, Nevada, Oregon, Vermont, Washington. For the upcoming U.S. elections, there is much pressure on other states to decriminalize and legalize the recreational use of cannabis. Here are the top 7 additional states that are expected to say YES to cannabis this election:
New Jersey: On The Ballot
Monmouth University in WestLong Branch New Jersey reported that 61 per cent of the New Jersey population is onboard with state-wide marijuana legalization. Curaleaf is expected to greet this legalization with open arms as the company has a strong presence in New Jersey's marijuana space for medicinal usage. On a hopeful approval, Curaleaf is expected to reach $1 billion in annual sales in the next decade. Upon decriminalization and legal recreational use, the company will only continue to rise up in numbers.
Mississipi: On The Ballot
Many are surprised by the news of conservative Mississippi being on the ballot for cannabis legalization for the upcoming elections. As national support for cannabis decriminalization continues to rise, Mississippi's Initiative 65 or Initiative 65A should be approved this November. Under Initiative 65, medical marijuana is to be approved for patients with specified underlying health conditions such as cancer, epilepsy, Parkinson's disease, and spinal cord injury among others. On the other hand, the Initiative 65A is generally restricted to terminally ill patients and is regulated on a higher degree. And so, Mississippi voters decide the fate of legalization through choosing either Initiative 65 or 65A.
South Dakota: On The Ballot
Although cannabis is illegal in South Dakota at the moment, the state has made history by allowing its voters for the first time to vote on medical marijuana and recreational marijuana on the same ballot. The Measure 26 of South Dakota will allow voters to decide if a medical cannabis program should be established in the state or not. Measure 26 will apply to individuals with underlying health conditions similar to the Mississipi Initiatives. Constitutional Amendment A is to legalize recreational marijuana consumption in the state and will require the South Dakota legislature to develop legislation governing medical marijuana in the next to years prior to April 2022.
Arizona: Signatures Submitted
Arizona voters have already submitted signatures for the Smart and Safe Arizona Act, responsible for legalizing adult-use cannabis and apply a 16% tax on marijuana sales. In order to stimulate the economy, most of the revenue raised from legal cannabis sales is meant to fund community colleges, police and fire departments, and into the state's highway user revenue fund.
Upon potential approval, Arizona may reach $1 billion in annual cannabis sales in the next few years as cannabis company Harvest Health & Recreation also has is the largest marijuana retailer in Arizona.
Montana: Signatures Submitted
Montana, a historically conservative state, is also looking to legalize cannabis use state-wide. Montana has passed Intitiave 90 in order to "legalize recreational cannabis use, furthermore, to apply a 20 per cent tax on nonmedical cannabis sales, ultimately stimulating the state revenues. Legalization will also allow any individuals that were previously convicted of cannabis-related offenses to apply for resentencing. As of yet, the signatures for Initiative-90 have been gathered, vetted, and submitted to Montana's Secretary of State.
Nebraska: Signatures Submitted
Known to be historically anti-cannabis, this state has surprised many by submitting over 182,000 unverified signatures to Nebraska's Secretary of State all in an effort to allow marijuana to be added as a constitutional amendment on the November election ballot. This effort will allow Nebraskan adults to purchase and consume cannabis products for medical-related purposes. The Nebraska Legislature will be responsible for developing rules and laws to regulate the medical-cannabis program in-state. According to a poll conducted by McLaughlin and Associates, 76 per cent of the Nebraskan population and potential voters are in favor of legalizing medical marijuana.
Oklahoma: pending official review
Finally, Oklahoma voters may be voting on marijuana legalization for recreational purposes this November. The development came into light in Oklahoma as there are a few constitutional amendments that are pending official review; once the initiative reaches voters, Oklahoma residents should be able to vote on recreational marijuana usage. The state's Question 807 may potentially impose a 15 per cent excise tax on nonmedical cannabis sales. The proceeds can help fund local school systems and substance abuse programs. Similar to Montana, legalization will allow persons with previous marijuana-related offenses to apply for resentencing.
All in all, the support for legalization across the board in the United States may eventually turn out into most states with cannabis potentially decriminalized and legalized for both medicinal and recreational usage. Profitable cannabis companies are looking up to the elections to make deals with niche companies and grow their brands. If legalization happens this election come November, many cannabis distribution deals may take place to satisfy an increasing consumer demand for pot products.