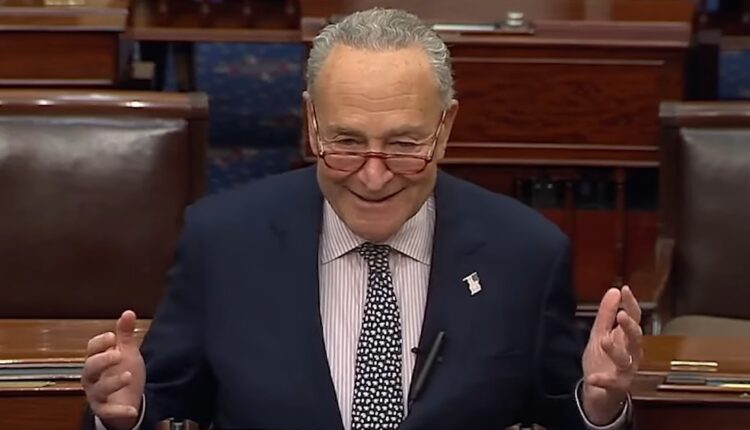 Chuck Schumer "Confident" SAFE Banking Legislation Will Pass In The 118th Congress
Senate Majority Leader Chuck Schumer (D-NY) is reportedly "confident" that a bipartisan marijuana banking bill will successfully pass in Congress this session.
The reassurance came from Wanda James, CEO of Colorado-based cannabis company Simply Pure, who spoke with Schumer and other Democratic senators on the matter, reported Marijuana Moment.
James, the first Black woman to own a licensed marijuana dispensary in the U.S. had a brief conversation with Chuck Schumer during an event focused on higher education. While Schumer's office has not provided a comment on the matter, James said that the majority leader expressed confidence in advancing the Secure and Fair Enforcement (SAFE) Banking Act, which would allow banks and credit unions to work with state-licensed cannabis businesses.
"From my conversation that I briefly had with Senator Schumer (…) I am of the opinion that our Democratic leadership believes that this is something we can get done," James said after her discussions with Chuck Schumer and Sens. John Hickenlooper (D-CO) and Michael Bennet (D-CO) during her visit to Washington, D.C.
She also had a conversation with Rep. Ed Perlmutter, who dispelled the negative talking points about the bill. 
Confidence in Incremental Reforms: Divergent Opinions on SAFE Banking Bill
Although there may be divergent opinions on the final form of the bill, with Chuck Schumer advocating for expungement provisions and some industry representatives calling for broader financial protections, the overall sentiment James encountered was one of confidence in accomplishing incremental reforms.
While some equity-focused advocates have expressed reservations about the SAFE Banking Act, believing that it should not precede broader justice-focused reforms, James and many other Black cannabis business owners support the current modest financial reform efforts while ultimately seeking comprehensive legalization.
James, a military veteran and former Fortune 100 executive, stressed the urgency of passing basic banking reforms, noting that her personal bank accounts were recently closed due to her involvement in the cannabis industry.
She also highlighted the need for progress on this front, even as the long-term goal remains comprehensive legalization. She expressed enthusiasm for further advancement in the industry and the hope that the marijuana banking bill will successfully pass in Congress this session.
Read more here at Marijuana Moment.