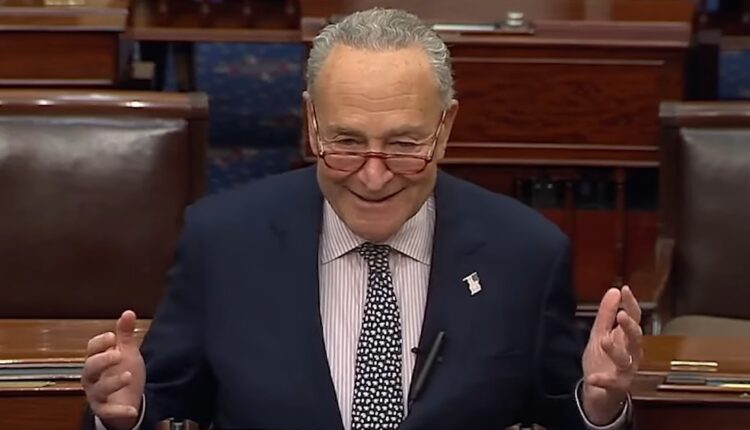 Chuck Schumer Responds To Cannabis Rescheduling, Sen. Wyden Calls It 'Historic Leap'
New York Senator Chuck Schumer (D) responded to Wednesday's news that the Dept. of  Health and Human Services wrote to DEA administrator Anne Milgram calling for cannabis to be reclassified as a Schedule III drug under the Controlled Substances Act. 
Cannabis's classification as a Schedule I substance deems that it has no medical benefits and places it in the same category as high-risk drugs like heroin. It also makes marijuana federally illegal, which implies numerous restrictions, one of which is depriving legal weed companies of access to banking services normally provided to businesses of all shapes and sizes.
Schumer has often spoken about the crucial importance of rescheduling cannabis.
On Wednesday the Senate Majority Leader released the following statement:
"HHS has done the right thing and DEA should now quickly follow through on this important step to greatly reduce the harm caused by draconian marijuana laws. While this is a step forward, there is still much more that needs to be done legislatively to end the federal prohibition on cannabis and roll back the War on Drugs. I am committed to continuing to work in Congress to pass important marijuana legislation and criminal justice reform."
Sign Up For The TDR Weekly Newsletter
Senate Finance Committee chairman Ron Wyden (D-Ore.), who introduced the Cannabis Administration And Opportunity Act with Schumer and Senator Cori Booker, released the following statement:  
"If HHS's recommendation is ultimately implemented, it will be a historic step for a nation whose cannabis policies have been out of touch with reality. At long last, barriers to much-needed research will be lifted and the inequitable 280E tax provision thrown in the trash can so that state-legal cannabis businesses will no longer be treated like criminals and can deduct their business expenses just like any other small business," Wyden stated.
"Progress cannot stop here. The administration and my colleagues in Congress must do more to bring America's cannabis policy into the 21st century, catch up with the states, and help undo the decades of harm caused by the failed War on Drugs."