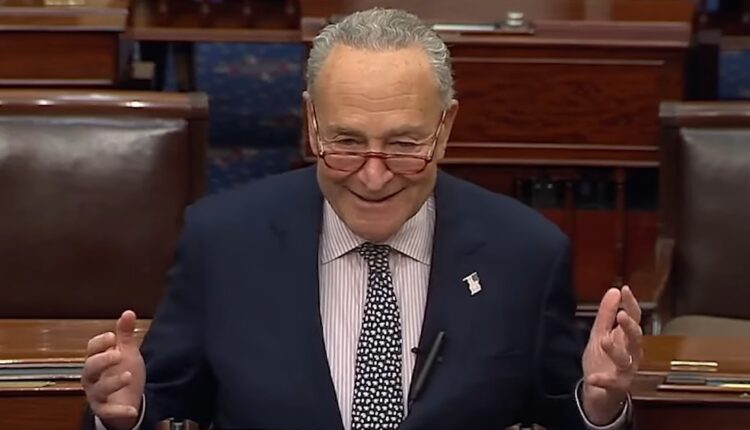 Congress 'Very Close' To Passing Cannabis And Expungement Bills
Senate Majority Leader Chuck Schumer said that Congress is getting "very close" to introducing and passing a marijuana bill with provisions that will cover banking access for legal businesses and expungements of past cannabis convictions. He also cited that he's making progress in discussions with a "bunch of Republican senators."
During a debate with his Republican opponent Joe Pinion on Sunday, Schumer was asked about a broader cannabis legalization bill he filed this year and whether he felt it would make more sense to first promote cannabis research before legalization.
Schumer has said research is important he pointed out that "many states have approved the legalization of cannabis," and so the policy is already upon us, reported Marijuana Moment.
"But we are getting very close," Schumer said in the debate. "I am working in a bipartisan way with Democrats and Republicans to take the SAFE Banking Act, which allows financial institutions to involve themselves in cannabis companies and lend money to them—but it also does some things for justice, such as expunging a record."
Schumer used a 15-year-old as an example of how a weed bust can ruin someone's life. "So, expunging the records is important, and we're getting closer," Schumer said. "We may be able to get something done rather soon. I'm working with a bunch of Republican senators, a bunch of Democratic senators, to get something passed," referring to the SAFE Plus package, which is an updated version of a bill that "would harmonize state federal and state law by protecting financial institutions that provide banking services to cannabis-related ventures and ancillary businesses," reported the Green Market Report.
The plan, according to several lawmakers, noted Marijuana Moment is to file modest cannabis reforms during the lame-duck session following next week's midterm elections and then pass them in both chambers and send it to President Biden's desk before the end of the current Congress.
Meanwhile, pot stocks jumped on the news. Cannabis companies including Tilray Brands Inc TLRY, Canopy Growth Corp CGC and Aurora Cannabis Inc ACB are trading higher.
__________
This article was originally published on Benzinga and appears here with permission.