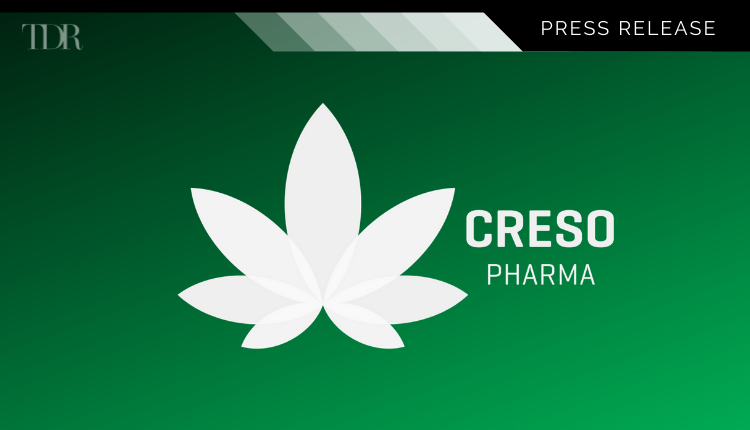 Creso Pharma secures first purchase order from Red Light Holland to sell hemp CBD products in the Netherlands
Highlights:
• Purchase order from Red Light Holland's ("RLH") wholly-owned distribution company SR Wholesale for Creso Pharma's cannaQIX® CBD lozenges and cannaQIX® hemp instant tea
• PO valued at CHF152,220 (A$218,803i) – adds to Creso Pharma's growing revenue profile
• Hemp CBD products to be sold under existing Red Light Holland Brands including iMicrodose – RLH has an established market presence, including over 25 Smart Shops across the Netherlands
• SR Wholesale has an strong distribution network of over 400 companies that sell CBD and other products across Europe, as well as access to another 1,000 points of sale across Europe
• Product development initiatives to combine functional mushrooms and other compounds to Creso Pharma products are being explored
• Strategic decision to utilise lozenge and tea delivery methods will provide speed to market for new combinations and products
• Additional orders anticipated in coming months with SR Wholesale expected to considerably broaden Creso Pharma's market penetration
Creso Pharma Limited (ASX: CPH, OTCMKTS: COPHF) is pleased to advise that it has secured its first purchase order ("PO") from Red Light Holland's wholly-owned distribution company SR Wholesale B.V. ("SR Wholesale") for Creso Pharma's leading range of Swiss manufactured hemp CBD products. This marks the first purchase order between Red Light Holland and Creso Pharma and an important step ahead of the creation of The HighBrid Lab. Both parties are also aggressively pursuing product development initiatives to explore the potential of combining functional mushrooms and other compounds with Creso Pharma's existing product suite, should the proposed merger with Red Light Holland be approved by shareholders.

The PO is valued at CHF152,220 (A$218,803i) for Creso Pharma's cannaQIX® hemp CBD lozenges and cannaQIX® hemp instant tea. The products will be introduced under the established iMicrodose and/or other Red Light Holland brands.
Pursuant to the purchase order, Red Light Holland and SR Wholesale will market and distribute the products across the Netherlands. SR Wholesale has a very strong market presence in the Netherlands, as well as an established distribution network of over 400 companies that sell CBD and other products across Europe. This includes a number of sub-distributors, which provide access to over 1,000 shops across the Netherlands, Spain, Germany, UK, France and Portugal.
Creso Pharma's Swiss-manufactured products use innovative buccal formulations that enhance bioavailability of the active ingredients. Each product has been developed following considerable capital expenditure and R&D undertaken by Creso Pharma's experienced management team in Switzerland. Notably, Creso Pharma's hemp tea products are based on full spectrum hemp plants and utilise innovative technology to optimise the hemp CBD content allowing for a superior product taste. The Company uses native tea instead of extracts allowing Creso Pharma to sell the product in countries where hemp tea is considered food and hemp extract is regulated, enhancing Creso Pharma and now Red Light Holland's ability to expand market reach.
This purchase order is an important first step in the potential merger of Red Light Holland and Creso Pharma to create The HighBrid Lab. The introduction of these products will provide existing SR Wholesale customers with a greater understanding of Creso Pharma's leading products and formulations.
Further, as noted, both Red Light Holland and Creso Pharma have been actively exploring the potential to combine functional mushrooms and other compounds into existing Creso Pharma lines, subject to completion of the proposed merger with RLH. The parties look forward to updating shareholders on progress in the near term.
Red Light CEO and Director, Mr Todd Shapiro said: "Red Light Holland is a true believer in the quality of Creso Pharma's carefully curated and innovative hemp CBD products. SR Wholesale already sells CBD products to a variety of locations in the Netherlands and thus we have the data to show that CBD remains popular as a product category. We are extremely excited to be able to capitalise on these consumer insights by introducing high quality, Red Light Holland branded CBD products to our core market."
The maiden purchase order between Red Light Holland and Creso Pharma is an important and strategic milestone for both parties. RLH has a number of established brands in the Netherlands, which are well known and trusted by consumers and to be able to white label our leading Swiss manufactured product suite through these has a number of competitive advantages and the ability to considerably increase sales. We look forward to leveraging SR Wholesale's distribution network to create a strong foundation for future growth.

Creso Pharma's Non-Executive Chairman, Adam Blumenthal
"We continue to work very closely with Red Light Holland's management team to explore potential product development initiatives which will involve the combination of functional mushrooms and other compounds into our existing CBD product lines. We will initially focus on both lozenge and tea delivery methods and leverage the existing knowledge to our Swiss-based management, as well as Red Light Holland's extensive experience to progress the introduction of these new products as quickly as possible.
"We anticipate that orders from SR Wholesale will grow in size and volume as customers and consumers realize the significant benefits of our CBD products."
To read the original press release in its entirety, please click here