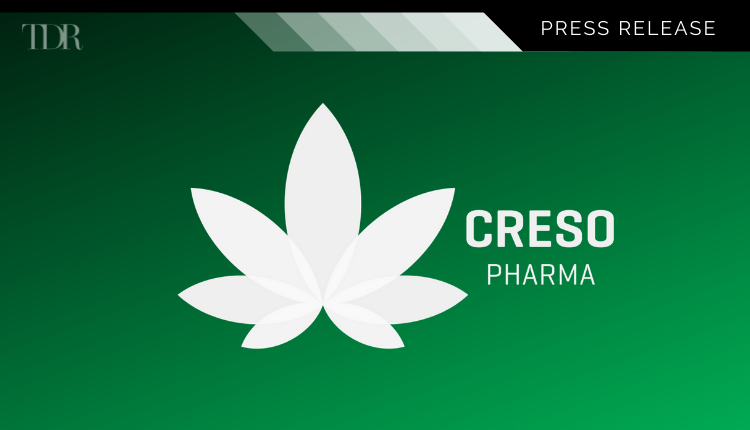 Creso signs non-binding LOI to conditionally enter U.S. market with established partner
Highlights
• Non-binding Letter of Intent entered into with CERES Natural Remedies ("CERES") to distribute anibidiol® in the US
• CERES is a leading provider of plant-based medicines and CBD products and an operating business of High Fidelity, Vermont's largest independent cannabis company
• High Fidelity has an established footprint and has generated over US$35m in revenue since 2013
• CERES has three traditional retail stores and an established distribution footprint of ~50,000 outlets in the US focusing on high growth customer segments
• CERES will aim to achieve a target of US$5m in anibidiol® sales over the first two years of the agreement, subject to federal legalisation of CBD in the US
• The US is a major market opportunity for Creso with considerable growth expected
Creso Pharma Limited (ASX:CPH, FRA:1X8) is pleased to advise that it has executed a non-binding letter of intent ("LOI") with leading CBD and plant-based remedies provider CERES Natural Remedies to distribute and sell Creso's range of CBD and hemp animal health products anibidiol®, in the USA.
CERES is a leading Vermont headquartered distribution company, specializing in plant based remedies and CBD and hemp products for the US market. It is the sister company to Champlain Valley Dispensary, Vermont's first licensed and only independent medicinal cannabis company.
Champlain Valley Dispensary and CERES are both subsidiaries of High Fidelity, Vermont's largestindependent cannabis company. High Fidelity currently operates two of the five vertically integrated cannabis licences available in the state and services 70% of registered patients. Since 2013, High Fidelity has generated in excess of US$35 million in revenue.
CERES has three traditional retail stores in Vermont and access to over 50,000 distribution outlets across the country. It services a number of high growth customer segments, including conventional and convenience based grocery stores, colleges and universities, fast food outlets, natural grocers and medicinal and recreational cannabis dispensaries. In addition to its own branded products, CERES has a strong track record of scaling up regional, national and international brands through its sales channels. Creso expects to leverage CERES' established relationships to expand the Company's footprint into the US.
Under the agreement, the parties have agreed to enter into a formal commercial agreement on or before 1 April 2021 setting out the terms upon which CERES will sell Creso's anibidiol® animal health products through its established distribution network in the US, subject to federal legalisation of CBD in the US.
Initially, it is intended that CERES will focus on Vermont, Maine, New Hampshire, New York, Connecticut, Massachusetts and Rhode Island and explore opportunities to target additional states across the US.
Creso and Ceres will work together collectively to prepare to sell and distribute within the US market upon legislation occurring which both groups believe will happen in 2021.
The initial term of the agreement is one year ("Initial Term") and will automatically renew after one year ("Renewal Term"), unless either party notifies the other of their decision to not renew the agreement within 90 days prior to the expiry of the Initial or Renewal Term. Initial Term and Renewal Terms are subject to termination for cause upon notice by either party, or upon failure to meet the above referenced renewal conditions.
CERES will aim to achieve a target of at least US$5 million in sales over a two-year period, subject to federal legalisation of CBD in the US. The Company has recently witnessed considerable shift in the regulation of cannabis globally and eagerly awaits legislative reform in the US (refer to ASX announcements from 8 January 2021 and 7 December 2020). Creso and Ceres are forming the view this legislation may occur at some point during 2021 and intend to formalize the commercial agreement quickly in order to be able to move swiftly upon such legislation occurring.
The US represents a large, emerging addressable market for Creso. The global CBD pet supplements market was valued at US$27.7m in 2019 and is anticipated to grow at a 40% compound average growth rate from 2020 to 20271. This agreement leaves Creso very well placed to benefit with sales
expected to materially add to the Company's growing revenue profile.
Management Commentary
Entering the US market with a high calibre partner such as CERES is a major achievement for Creso Pharma and we look forward to working with the group to outline a progress of the launch of anibidiol® across the country. Importantly, CERES has an established distribution footprint and relationships with over 50,000 stores across the country, as well as a track record of scaling up its own branded products and international offerings. To this end, we are very confident that our animal health products will be well received. We will continue to monitor regulatory and policy shifts in the US to ensure the Company and CERES are primed for launch and expect first sales to add to the Company's revenue streams. Creso has a number of exciting growth initiatives across all key operating business pending and we look forward to updating shareholders as they materialize in the coming months.

Non-executive Chairman, Adam Blumenthal
CERES Executive Director, Shayne Lynn added: "We are excited to partner with Creso Pharma to introduce the Company's industry leading animal healthcare products to the US market. We continue to witness rapid demand for CBD and hemp based pet health products through our network and anticipate anibidiol® to be very well received."
"We look forward to working with Creso's management team to explore additional growth opportunities which will benefit both parties and create a long term, value accretive partnership."
To read the original press release in its entirety, please click here.