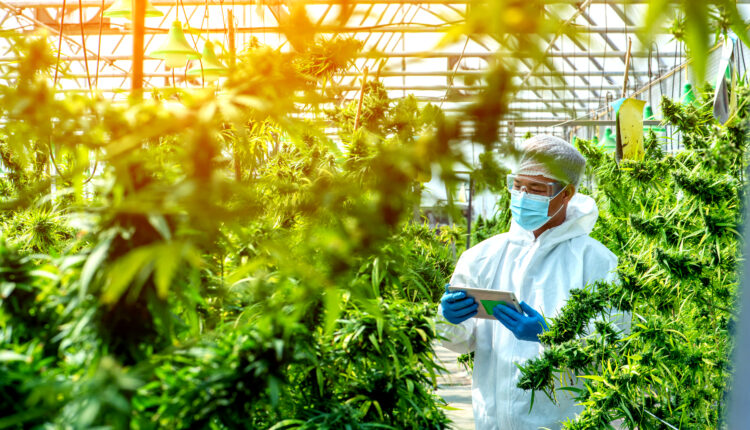 Glass House Farms Purchases 5.5mm Square-Foot Greenhouse In Calif.
Glass House Brands (NEO: GLAS.A.U) (OTCMK: GLASF) acquired an approximately 5.5 million square foot greenhouse facility in Southern California, cementing its position as one of the largest cultivators in the world's largest legal cannabis market.  

The previously announced acquisition was originally priced at $118 million, though the final consideration for the 160 acres of Ventura County, California agricultural property came in at $93 million in cash, in addition to stock considerations, according to a press release. 
The Camarillo, California facility consists of six KUBO Ultra-Clima greenhouses, two of which Glass House plans to convert along with two packhouses (coming in at about 1.7 million square feet) in the first phase of a facility retrofit. This conversion is expected to wrap up in the first quarter of 2022, Glass House says, with planting following not long after depending on regulatory approval.
"We are thrilled to officially close escrow after significantly reducing the price which will keep an additional $25 million of cash on our balance sheet which is essentially debt-free today," Glass House Chairman and CEO Kyle Kazan says. "We can now commence the first phase of the facility's conversion and licensing which will dramatically increase our cultivation capacity."
When the initial phase is completed, Glass House expects the SoCal Facility to produce over 180,000 dry pounds of sellable cannabis. Currently, Glass House has the capacity to produce 113,000 dry pounds of sellable cannabis with its more than 500,000 square feet of greenhouse space, according to a July investor presentation.
The facility includes an on-site well, water treatment facilities, an automated roof-washing system, supplemental lights and natural gas cogeneration facilities producing power, heat and CO2. Glass House also outlined several planned upgrades including black-out curtains, ebb and flood doors, a high density gutter system, dry rooms, packing facilities, new HVAC system to dial in climate conditions, and automated nutrient delivery and irrigation systems.
"The Southern California facility is an absolute unicorn and will give us the ability to produce the highest quality cannabis at the lowest possible cost. This should allow us to thrive no matter what the competitive environment looks like," Glass House Chief Cannabis Officer and President Graham Farrar says.
The 'competitive environment' Farrar speaks of is looking uncertain as wholesale prices in California's outdoor grown cannabis market collapse due to a glut in production. According to some rough estimates, California's legal cultivators grow three times as much weed as is sold in legal dispensaries.
Experts and growers are pointing the finger at a surge in growing licenses outpacing demand. While the larger picture paints this as a side-effect of operating cannabis cultivation operations sans interstate commerce (two years ago the Oregon market experienced a similar drop).
And while large cultivators like Glass House are largely insulated from the fluctuation, smaller growers — notably those in the Emerald Triangle — aren't so lucky.