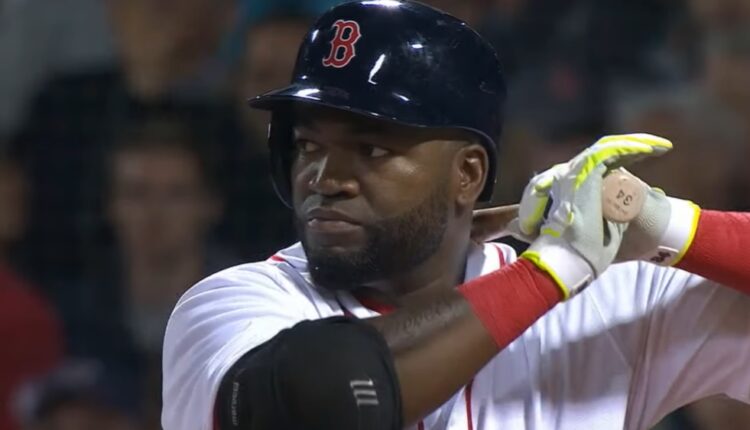 Hall Of Fame MLB Legend David Ortiz Says Father's Cancer Diagnosis Fueled His Passion For Cannabis
David Ortiz, former Boston Red Sox slugger and Baseball Hall of Famer has been open about his passion for weed and he wanted people to know why at the grand opening of Primitiv, a black-owned dispensary in Boston founded by NFL Hall of Famer Calvin Johnson and his former teammate and business partner Rob Sims.
Nicknamed "Big Papi," the Dominican-American designated hitter and first baseman who played 20 seasons in the Major League (1997- 2016), mostly for the Red Sox, took the opportunity to support his "homeboys" at Primitiv's launch and also introduce his own premium brand "Papi Cannabis." 
Father's Cancer
Ortiz, who has said he started using marijuana to manage pain on and off the field, announced that it is now helping his father who has prostate cancer. 
"He would always want me to bring THC to him, whether it's the gummies or flower because it helps him deal with the pain," Ortiz said, per Boston.com. "People need to know about that. And for me, that's what got me into it. All the pain that I have to deal with, the stress, you know, there are a lot of things that are bad for our body that THC that cannabis can help you out with." 
Ortiz stressed that people need to know more about cannabis than just the recreational side.
"The most important thing to me behind the weed business, the cannabis, is the history behind it," he said. "For example, in my case, I have a story to tell about why I use cannabis, why I think people should use it, and what's the real deal behind it. Because what people always think about is the recreational side of it. People don't realize that there's a medical side of cannabis that needs to be exposed."
Papi Cannabis, which includes a range of products like flower, pre-rolled blunts called "Sweet Sluggers" and "Moonshot" vape cartridges, will help spread the word. Ortiz said his brand is planning on selling edibles, too. 
Legendary Boston Red Sox Career
Ortiz made his Major League Baseball (MLB) debut with the Minnesota Twins in 1997, where he spent six seasons before joining the Boston Red Sox in 2003. It was with the Red Sox that Ortiz truly made his mark as an iconic player.
During his time with the Red Sox, Ortiz became one of the most feared and clutch hitters in the league. He was a key part of the team that famously broke the "Curse of the Bambino" by winning the World Series in 2004, their first championship since 1918. Ortiz's performance in that postseason was nothing short of legendary, earning him the MVP award for the American League Championship Series.
Big Papi's charisma, leadership, and offensive prowess endeared him to Red Sox fans, making him an iconic figure in the city of Boston. He was known for his memorable moments and clutch hits, particularly in postseason play, earning him the nickname "Mr. October."
Over the course of his 20-year career, David Ortiz was a 10-time All-Star and won three World Series championships with the Red Sox (2004, 2007, and 2013). He finished his career with impressive statistics, including 541 home runs and 1,768 runs batted in.
David Ortiz remains one of the most beloved figures in Boston Red Sox history.