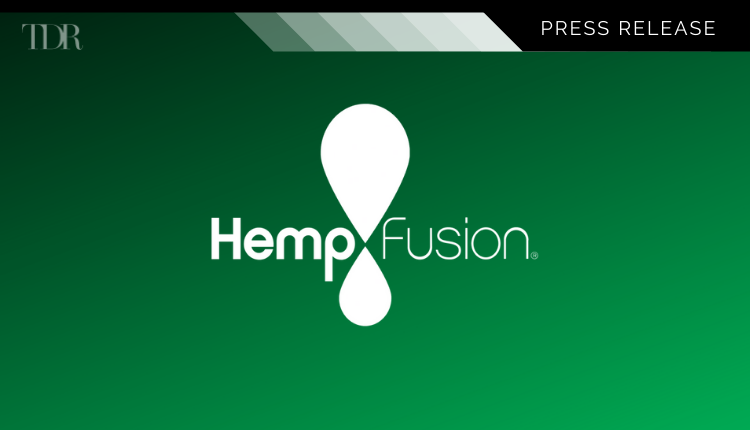 HempFusion Closes Acquisition of Apothecanna
HempFusion Wellness Inc. (TSE:CBD.U)(OTCMKTS:CBDHF), a leading health and wellness Company offering premium probiotic supplements and products containing CBD, is pleased to announce that it has completed its previously announced acquisition of APCNA Holdings LLC ("Apothecanna") (the "Transaction").
Transaction Highlights:
Apothecanna had revenue of over $3.8 million in 2020, which now triples HempFusion's historical proforma revenue to ~$12 million with significant expansion planned for 2021 and beyond, making it immediately accretive to the Company.
Immediate distribution to an additional 1,800 stores, including CVS, materially increasing HempFusion's retail distribution footprint.
In addition to FDM and e-commerce, the Transaction provides added distribution channels, increasing HempFusion's 5 channel strategy to 6 channels and bolstering topical product distribution sales.
Robust eCommerce platform drives over 17,000 average monthly sessions, and nearly $2.0 million in gross sales per year with 76% gross margin historically.
Product efficiencies across topicals line while providing a near term opportunity for expansion into ingestible products supported by HempFusion's proprietary formulations.
HempFusion's substantial investment into regulatory compliance will help solidify Apothecanna's leadership position in the CBD industry.
With the recent Sagely Naturals acquisition and now closing of the Apothecanna acquisition, HempFusion is in its strongest position to date. Not only have we significantly increased our distribution footprint and product offerings, based on a 2020 proforma revenue basis of all entities combined, the acquisitions bring our historical revenue to nearly $12 million USD. We look forward to benefiting from the Sagely Naturals and Apothecanna distribution footprints and products, which have been known for their strong topical products, and exploring opportunities to introduce HempFusion's premium CBD ingestibles throughout their existing distribution points.

Jason Mitchell, N.D., Chief Executive Officer of HempFusion
The Transaction was completed pursuant to the terms of the unit purchase agreement dated May 14, 2021, as amended (the "Purchase Agreement") among HempFusion, Apothecanna, all holders of Apothecanna interests (the "Sellers") and Jeff Henretig, as representative of the Sellers. Under the Purchase Agreement, HempFusion has acquired 100% of the interests in Apothecanna for initial consideration of US$15 million (the "Initial Consideration"), of which (i) $13,875,000 was satisfied by the issuance of 11,633,622 common shares of the Company ("HempFusion Shares") issued at the deemed value of approximately US$1.19 per HempFusion Share, being the volume weighted average trading price ("VWAP") of HempFusion Shares on the Toronto Stock Exchange (the "TSX") for the 30 trading days immediately prior to the date of the Purchase Agreement, and (ii) US$1.125 million (943,267 HempFusion Shares) is subject to a holdback to be released on the 18-month anniversary of the closing date of the Transaction (the "Closing Date"), subject to certain post-closing adjustments and indemnification claims, if any. In addition, the Company will pay the Sellers up to an additional US$10,000,000 ("Milestone Amount") in cash, HempFusion Shares or a combination of both (at the election of HempFusion), subject to Apothecanna achieving certain revenue targets (with a minimum revenue threshold of US$6 million) within 12 months of the Closing Date.
The number of HempFusion Shares to be issued under the Milestone Payment, if any, will be calculated based on a deemed price which is the greater of (i) the VWAP of HempFusion Shares on the TSX for the 30 trading days immediately prior to the 12-month anniversary of the Closing Date, or (ii) $1.00 per HempFusion Share.
All HempFusion Shares issued in connection with the Purchase Agreement will be subject to contractual resale restrictions to be released over a period of 12 months from the issuance date as follows: (i) 34% will be released on November 30, 2021 (being four months after issuance), (ii) 33% will be released on March 30, 2022 (being eight months after issuance) and (iii) the remaining balance of 33% will be released on July 30, 2022 (being twelve months after issuance).
Further, the Company announces that Ian deQueiroz has resigned as a director of the Company effective July 30, 2021. The board of directors of the Company expresses their appreciation to Mr. deQueiroz for his contribution to the Company as a director. Mr. deQueiroz will continue in his role as Chief of Brand Strategy and Partnerships of the Company. Mr. deQuerioz will continue to be subject to insider filing requirements.
To view the original press release in its entirety click here