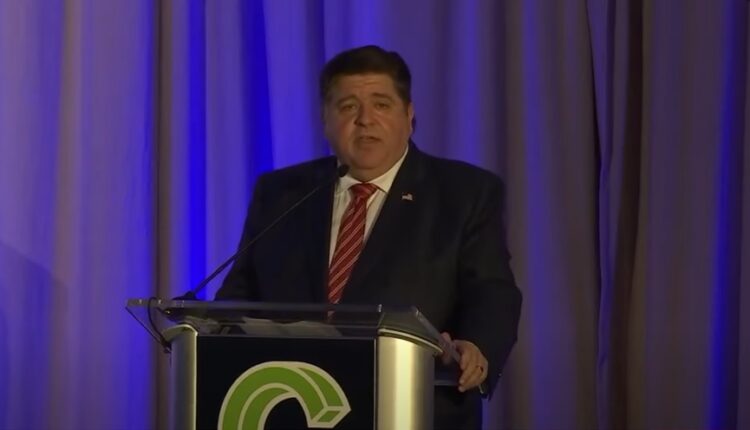 Illinois Governor Pritzker Delivers Remarks At The Benzinga Cannabis Capital Conference In Chicago
The Benzinga Cannabis Capital Conference in Chicago is one of the annual must-attend conferences in the cannabis industry. This year, it was proven again as Governor JB Pritkzer delivered remarks to a busy main venue.
To lead off, Mr. Pritzker expressed gratitude for the opportunity, characterizing himself as being "absolutely delighted to welcome you to the Benzinga Cannabis Capital Conference." He reiterated it was a pleasure to be in attendance, while acknowledging the "exciting opportunities" for deals and learning in the cannabis industry.
Mr. Pritzker went on to state that his appearance should not be seen as a distraction from engaging in valuable pursuits. Rather, as a Governor which has overseen a thriving adult-use market, to impart valuable insights cannabis legalization in Illinois. He then expressed hope that "our experiences and lessons might provide guidance for other states as well."
Governor Pritzker Acknowledges Benzinga's Contribution To the Space
According to governor JB Prtizker, Benzinga has played a "pivotal role" in bringing together entrepreneurs, shareholders, and investors, contributing significantly to the growth of the cannabis sector since 2018. He further added that "this was especially critical for Illinois when we legalized cannabis in 2020," as fostering business partnerships was paramount as the state attempted to usher-in a new industry.
Sign Up For The TDR Newsletter
Indeed, the Benzinga Cannabis Capital Conference is noted for attracting the industry's most notable players, and places a special emphasis on establishing partnerships that will propel participants to new heights. The conference is specifically designed as networking platform concept that delivers daily group networking gatherings and official event networking applications that simplifies scheduling one-on-one meetings.
Mr. Pritzker went on to reiterate that "Illinois prides itself on creating the most equitable, accessible, and prosperous cannabis ecosystem in the nation." Central to these plans is addressing the historical injustices inflicted by the so-called war on cannabis and the 'broader the 'war on drugs'.
To that end, the state has taken several such steps at instilling social justice measures—including expunging over 800,000 low-level cannabis possession charges and granting numerous pardons to those unfairly convicted.
Illinois Has Invested Over $144 Million In State Communities
Moreover, Mr. Pritzker stated that to date, Illinois has reinvested back "over $144 million into communities that have suffered from past injustices." This funding is designed to supports various initiatives, "from civil legal aid to economic development, re-entry programs, violence prevention, and youth development."
However, he points out, Illinois has strived to ensure diversity and inclusivity in the cannabis industry unlike some states. For example, Illinois' Cannabis Social Equity Program is designed to provide opportunities for those who've suffered under the war on drugs, "ensuring they can participate and prosper in the cannabis sector."
Furthermore, Mr. Pritzker noted that the state has "We've "made significant progress with nearly 50 social equity licenses opening businesses across Illinois." He cited the example of the Ivy Hall dispensary in Chicago, a minority-inspired family-run business "that reflects the Illinois spirit."
Mr. Pritzker added that "building this industry isn't just about growth and profitability; it's about creating a difference, addressing past wrongs, and inspiring future generations," before moving on to non-cannabis industry based remarks.