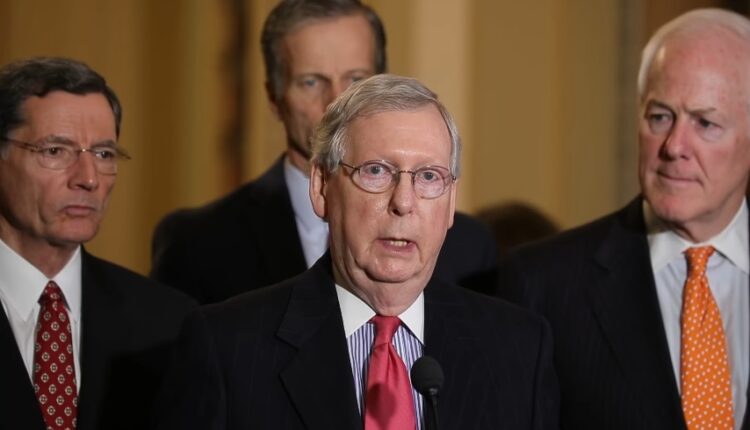 New Research: Cannabis-Hating Mitch McConnell By Far The Most Unpopular Senator In America
A new poll sheds light on the most admired and least favored senators, gauging opinions from constituents in their respective states. Perhaps unsurprisingly, cannabis-hating Republican Senate Majority Leader Mitch McConnell came out on top as the least popular senator in America.
Morning Consult polls residents of states each quarter to see how liked and disliked the state's members of Congress are. Here's a look at the latest findings:
The U.S. Senate, comprising 100 members who represent the 50 states, conducts elections every six years for each seat. Some of these seats, currently occupied by members of Congress, will be up for grabs in the 2024 election.
Most Popular Senators, ranked by approval rating:
John Barrasso (R-WY): 70%
Brian Schatz (D-HI): 65%
Mazie Hirono (D-HI): 63%
John Thune (R-SD): 63%
Bernie Sanders (I-VT): 63%
Mike Rounds (R-SD): 62%
Angus King (I-ME): 62%
Dan Sullivan (R-AK): 62%
Peter Welch (D-VT): 61%
Cynthia Lummis (R-WY): 60%
Most Unpopular Senators, ranked by disapproval rating:
Mitch McConnell (R-KY): 61%
Joe Manchin (D-WV): 55%
Susan Collins (R-ME): 50%
Ron Johnson (R-WI): 48%
Lindsey Graham (R-SC): 44%
Kyrsten Sinema (I-AZ): 43%
John Fetterman (D-PA): 43%
Ted Cruz (R-TX): 43%
Tammy Baldwin (D-WI): 41%
Joni Ernst (R-IA): 41%
Sign Up For The TDR Weekly Newsletter
Why It's Important: According to a poll by Morning Consult, several states exhibit substantial approval for their senators. Notably, Hawaii, Vermont, and South Dakota each have both of their congressional representatives on the most-admired list.
Senator Mitt Romney (R-UT) didn't rank in the top 10 for most loved senators, but Morning Consult highlighted the former presidential candidate. Romney got an approval rating of 48% and has seen his approval go up since 2021, thanks potentially to voters coming back around to him after he supported the impeachment of former President Donald Trump and angered Republican Party members.
On the flip side, Senate Minority Leader Mitch McConnell ranks as the least loved member of the Senate, getting a disapproval rating of 61%. The rating comes after McConnell recently froze while speaking to the press, drawing increased focus on the age of members of Congress.
Manchin, who is up for re-election in 2024, hasn't ruled out a potential run for president in the 2024 election as a third-party candidate. The Senator ranked as the second least-loved senator, with a disapproval rating of 55% and an approval rating of 55%.
Former presidential candidate Ted Cruz ranked among the least loved senators, which comes as he faces re-election in Texas in 2024.
John Fetterman ranks as the most unpopular new member of Senate (2020 election) with a disapproval figure of 43%.