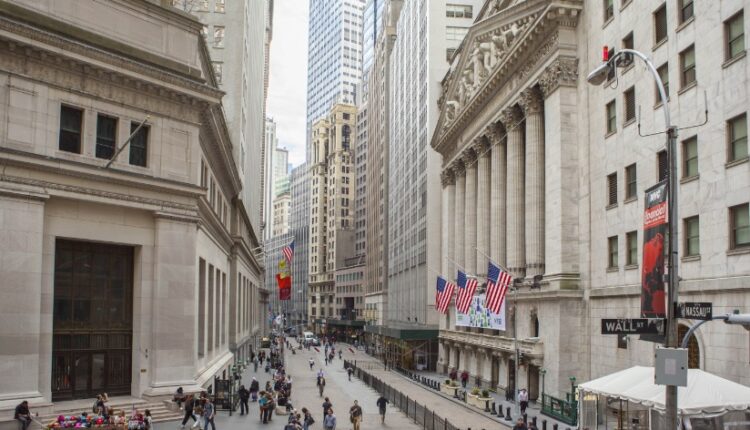 NewLake Capital Partners: Cultivating Profits And Dividend Payouts To Investors
With the U.S. cannabis industry still relatively early in its growth cycle, there's a common misconception among investors that profitability is fleeting industry-wide; something to strive for in the distant future. While only Green Thumb Industries has proven to be consistently net income profitable among exchange-listed vertical operators, select non-plant touching public companies are already solidly in the black (and paying dividends too). NewLake Capital Partners, Inc., a real estate investment trust (REIT) that provides capital to state-licensed cannabis operators through various channels, is one such company.
Operating in a similar vein to leading cannabis specialty-use REIT Innovative Industrial Properties, NewLake generates consistent income through a three-pronged approach: sale-leaseback transactions, third-party purchases and funding for build-to-suit projects. It's a model that has allowed NewLake to generate consistent profitability—$5.8 million in net income last quarter and $9.5 million in Funds From Operations. The former represents the amount of money that remains after deducting all expenses and taxes from total revenue or gross income.
And similar to most REITs, Newlake Capital Partners pays a stable quarterly dividend to holders of common equity.
On June 15, the company declared a second quarter dividend of $0.39 per common share, equivalent to an annualized dividend of $1.56 per common share. This represented an 11.4% increase year-over-year. The dividend has never decreased in NewLake's history as a public company.
Given the expected strong growth in the cannabis industry, TDR anticipates stable to upward momentum in the dividend payout for the foreseeable future.
Fomenting Relationships With The Largest Tier-1s In U.S. Cannabis
While NewLake Capital Partners works with cannabis operators both large and small, it's portfolio primarily consists of the largest and most capitalized vertical operators in America. This is a good place to be as far as reliability of lease payments is concerned, as most of the REIT clientele is sufficiently capitalized.
The company counts no less than six exchange listed multi-state operators (MSO) as clients—and at least five of them considered 'Tier-1'. These operators include Ayr Wellness, Columbia Care, Cresco Labs, Curaleaf Holdings and Trulieve Cannabis.
The sixth MSO, Acreage Holdings, is generally regarded as a 'Tier-2' operator and has close business ties with recognized Canadian LP, Canopy Growth. Together, the six MSOs listed have over 600 operating dispensaries and six dozen cultivation facilities in the United States.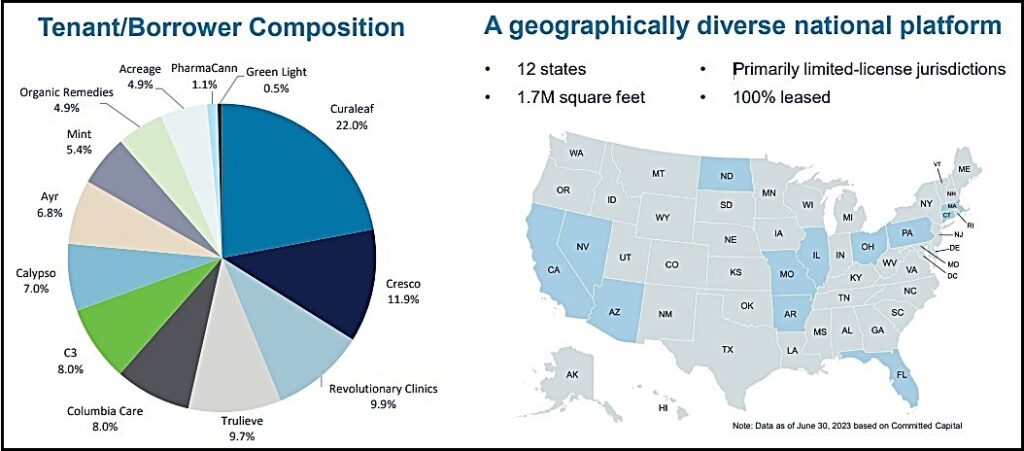 Overall, NewLake's footprint spans across 12 states, encompassing a vast expanse of 1.7 million square feet of real estate holdings. These properties are strategically situated in primarily limited-license jurisdictions, reflecting a carefully vetted selection of locations.
And with its impeccable occupancy record consisting of a 100% lease rate across all its properties, confidence in operational performance remains high. The company's emphasis remains on limited-license jurisdictions, where operators are generally more insulated from competitive pressures and default risk.
3-Pronged Approach To Generating Revenue
As previously mentioned, NewLake primarily generates stable revenue via a 3-pronged approach. The model is designed to benefit both company and tenant, as each client has different requirements regarding lease structure and property control. Below, we take a granular look on how NewLake business segments generate predictable revenue streams with little variance or volatility.
Sales Leaseback
In the realm of real estate, a sale-leaseback is a financial maneuver characterized by a property owner selling their property to a purchaser and subsequently leasing it back from the new proprietor. Effectively, this transformation turns the property owner into a tenant within the very property they once owned.
The primary objective of this arrangement is to enable the property owner to unlock the capital tied-up in the property, while retaining the capacity to inhabit and utilize it. In an environment where cost-effective capital is constrained, the sales leaseback becomes an invaluable option for those who wish to employ it.
Sale-leasebacks are a prevalent strategy employed by businesses that own valuable real estate holdings but aspire to liberate capital for alternative investments or debt reduction. This tactic facilitates the preservation of operational continuity while concurrently enabling property owners to tap into the equity held within their real estate assets. Thus, it has become a popular transaction in the cannabis industry for operators looking to unlock the latent value of the properties.
Third-Party Purchases
A third-party purchase typically refers to a transaction in which NewLake purchases the property directly from a third party seller on behalf of the Tenant and immediately enters into a long term lease with the tenant. This allows NewLake to create transaction efficiency by eliminating multiple transaction costs and real estate transfer taxes while minimizing the need for the tenant to use their cash to close.
Depending on the REIT's specific strategy and objectives, proceeds can be reinvested into other properties or assets, utilized for debt reduction, or disbursed to shareholders in the form of dividends. As assets under management growth, so do the potential for income and dividend distributions.
Funding For Build-To-Suit Projects
Funding for build-to-suit projects is the financial support or capital required to plan, design, construct, and develop a property specifically tailored to meet the needs of a particular tenant. In such an arrangement, a developer or property owner constructs a new building or makes significant renovations to an existing one based on the specifications and requirements provided by a tenant.
These specialty projects are a collaborative effort between the tenant, developer, and often external financing sources to create a customized property that meets the tenant's specific needs. It can be an attractive option for businesses looking for tailored real estate solutions without the upfront capital costs of property acquisition and construction. As a highly specialized industry with tailored technical specifications, such funding is in high demand.