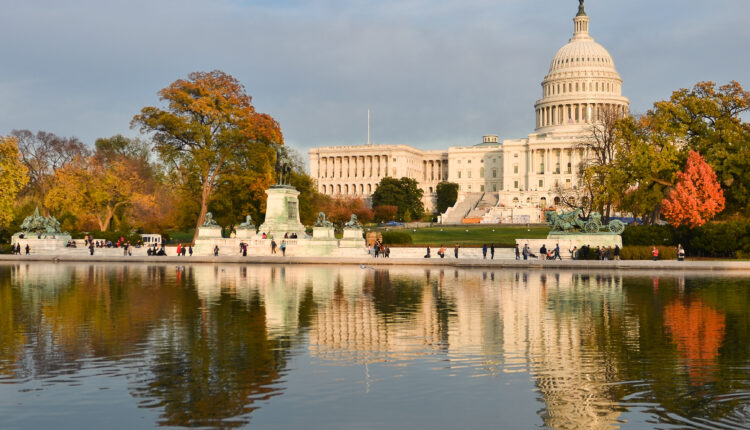 TDR's Top 7 Cannabis Developments For The Week Of October 2
Welcome to TDR's review of the Top 7 Cannabis Developments for the week of October 2. Aside from presenting a synopsis of news events, interviews and closing market prices for publicly-listed companies.
7. Verano Receives Conditional Approval To List On The Cboe Canada
Verano Holdings Corp. has received conditional approval from Canada's Neo Exchange Inc., operating as Cboe Canada, to list its Class A subordinate voting shares. Upon listing the Shares on Cboe Canada, the company plans to delist the Shares from the Canadian Securities Exchange.
The transition to Cboe Canada does not require the company to recapitalize or undertake any corporate restructuring. The shares will continue trading in Canada on the Cboe Canada under the same symbol "VRNO" and in the U.S. on the OTCQX under the same symbol "VRNOF." Trading of the Company's securities is not expected to be disrupted in any way and current shareholders do not need to take any action.
6. Poll Affirms, Again, Most Ohioans Plan to Vote 'Yes' on November's Rec Cannabis Measure
A poll commissioned by the Coalition to Regulate Marijuana Like Alcohol (CRMLA)—the campaign supporting the ballot initiative—and conducted by FM3 Research surveyed likely November voters in mid-August, specifically asking about their stance on ushering in recreational cannabis laws for the Buckeye State.
The results found that roughly three out of five Ohio voters support the cannabis legalization measure set to appear on the November ballot, and nearly two-thirds of respondents said that they believe adult-use cannabis legalization in Ohio is "inevitable."
5. Lubbock Could Become Texas's Most Populous City To Decriminalize Marijuana, With Activists Nearing Ballot Signature Submission
The campaign to decriminalize recreational marijuana in Lubbock is the latest in a long struggle for cannabis supporters in the Lone Star State, which, unlike neighboring states, has long resisted legalizing the drug. If the suggested change becomes local law, Lubbock would be the largest Texas city to decriminalize the drug through the petition process.
Without statewide legalization for recreational use, some Texans have sought to at least decriminalize it. Residents in Denton, Killeen, Elgin, San Marcos and Harker Heights all approved ballot measures banning arrests and citations for carrying less than four ounces of marijuana in most instances. However, the local city councils have declined to put the voter-approved rules in place. And Bell County, which includes Killeen, has sued to block the change from going into effect.
__________
Chart Of the Week — Capital Raises Exceed $1.6 Billion So Far In 2023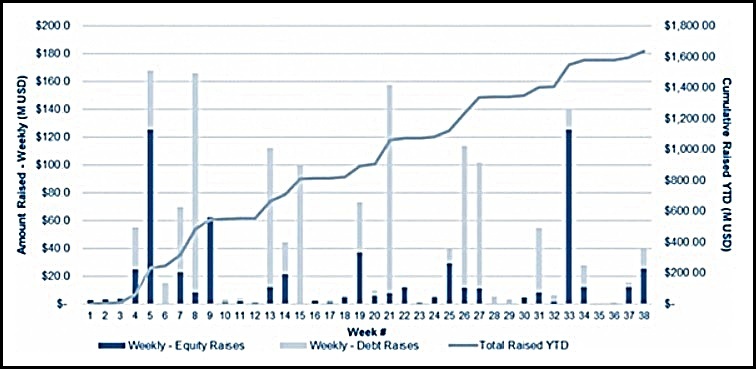 .
Interview Of the Week — Winning in a Rising Interest Rate World
.
Widely Held MSOs & LP Weekly Performance
| | | | | |
| --- | --- | --- | --- | --- |
| Company | Symbol | Previous Week Close | End Of Week Close | % Change On Week |
| AdvisorShares Pure Cannabis ETF | MSOS | 7.94 | 7.08 | -10.83 |
| Aurora Cannabis | ACB | 0.5850 | 0.5672 | -3.04 |
| Ayr Wellness | AYRWF | 2.29 | 1.82 | -20.52 |
| Canopy Growth | CGC | 0.7828 | 0.7048 | -9.96 |
| Cresco Labs | CRLBF | 2.03 | 1.66 | -18.22 |
| Curaleaf Holdings | CURLF | 4.52 | 4.22 | -6.63 |
| Green Thumb Industries | GTBIF | 11.12 | 10.12 | -8.99 |
| High Tide Inc. | HITI | 1.85 | 1.65 | -10.81 |
| Marimed Inc. | MRMD | 0.4356 | 0.3904 | -10.37 |
| TerrAscend Corp. | TSNDF | 2.05 | 1.84 | -10.24 |
| Tilray Brands | TLRY | 2.39 | 2.06 | -13.80 |
| Trulieve Cannabis | TCNNF | 6.09 | 5.15 | -15.43 |
| Verano Holdings | VRNOF | 4.55 | 4.08 | -10.32 |
_____
4. New York Opens Marijuana Business License Application Period As Governor Highlights Efforts To Combat Illegal Market
New York opened the application period for hundreds of new marijuana business licenses on Wednesday, marking the beginning of a massive expansion of the state's legal cannabis system. So far only about two dozen retailers have opened statewide since adult-use sales began last December.
Gov. Kathy Hochul (D) announced the launch of the new application period on Wednesday, at the same time emphasizing her administration is "ramping up" law enforcement efforts to go after unlicensed marijuana businesses, which have proliferated amid delays to the state's legal rollout.
Applications will be open until December 4, and regulators are expected to begin awarding the new licenses early next year.
In the news…
Air Force is granting more than three times as many enlistment waivers to recruits who test positive for marijuana than it anticipated when it first launched an effort to give people who have consumed cannabis another shot to join the service.
American Council of Cannabis Medicine (ACCM) announced that a major insurance industry and member-based group will kick off open enrollment.
Arkansas's recently enacted law permitting medical cannabis patients to obtain concealed carry gun licenses "creates an unacceptable risk," and could jeopardize the state's federally approved alternative firearm licensing policy, the ATF says.
Aurora Cannabis announced the closing of its previously announced bought deal offering of 53,187,500 common shares of the company at a price of C$0.73 per Offered Security, for aggregate gross proceeds to Aurora of approximately C$38,826,875.
Canopy Growth has completed the sale of its Hershey Drive facility in Smiths Falls, Ontario, in connection with the previously announced agreement with Hershey Canada, Inc. for cash consideration of approximately CAD$53 million.
Cresco Labs announced the opening of Sunnyside Altoona in the Commonwealth of Pennsylvania.
Curaleaf Holdings announced the closing of its previously announced marketed offering of subordinate voting shares for total gross proceeds to the company of C$16,200,000.
Doctors for Cannabis Regulation (DFCR) has rebranded itself to reflect a growing focus on "a wider range of drug policy issues beyond cannabis," including psychedelics and broader harm reduction matters.
Green Thumb Industries announced it will release third quarter 2023 financial results after the market closes on Wednesday, November 8, 2023.
Greenway Greenhouse Cannabis Corporation announced the results of the Annual General Meeting held on September 26, 2023.
Grown Rogue International has signed a definitive agreement with an option to acquire 70% of ABCO Garden State, LLC , pending regulatory approval from the New Jersey Cannabis Regulatory Commission. ABCO has a conditional cultivation and manufacturing license already issued by the CRC and anticipates receiving its annual cultivation license shortly.
Hawaii made minor history last month by completing the first legal inter-island transfer…
Heritage Cannabis Holdings announced its financial results as at and for the three- and nine-month periods ended July 31, 2023.
Illinois marijuana retailers sold nearly 3.7 million adult-use cannabis products in September, according to newly posted state sales data. That's more products than during any other month since recreational sales launched in January 2020.
Jones Soda Co. crossover cannabis brand Mary Jones is now available at dispensaries in Washington state.
Kentucky Update: Medical marijuana will not be legal until Jan. 1, 2025, but during a Thursday afternoon news conference, Gov. Andy Beshear gave a progress report on the preparations that are currently under way.
Lowell Farms Inc. has repurchased all of the $22,157,417 aggregate principal amount of outstanding Senior Secured Convertible Debentures of its subsidiary, Indus Holding Company, together with the related warrants to purchase 106,274,830 subordinate voting shares of the company and 43,248,450 common shares of Indus.
MariMed Inc. announced Betty's Eddies and Nature's Heritage were the top two brands in terms of awareness in a study of Massachusetts cannabis brands conducted by leading market research company Brightfield Group.
MariMed Inc: Betty's Eddies announced a collaboration with the Keep A Breast (KAB) Foundation to advance breast cancer awareness education and support the millions of people affected by the disease.
Maryland cannabis operators rung up nearly $90.5 million in cannabis sales for September, coming just shy of the $91.7 million in sales from August, according to the state's Cannabis Administration.
Massachusetts Cannabis Control Commission suspended Chair dropped her lawsuit seeking to block the suspension after being granted a hearing over the matter.
MediPharm Labs has entered into a settlement agreement on September 29, 2023 to resolve a claim in connection with a commercial agreement dispute, for a total consideration value of $9,000,000.
Michigan will stop drug testing most prospective government employees for cannabis, per a rule change that took effect Sunday. The changes also provide people who've already been denied jobs over positive THC drug tests an opportunity to get the sanctions retroactively rescinded.
Michigan: Bipartisan legislation that would allow state-licensed marijuana businesses to conduct trade with tribal cannabis entities located in the state won approval from the full House of Representatives this week. The bills, passed by the Senate in June, next proceed to Gov. Gretchen Whitmer (D).
Minnesota's Legislative Auditor will dig into the short-circuited appointment of the Office of Cannabis Management director.
Missouri has awarded 48 cannabis microbusiness licenses to "marginalized or under-represented individuals.
New Jersey Economic Development Authority (NJEDA) Chief Executive Officer, Tim Sullivan, and Chief Community Development Officer, Tai Cooper, joined Bloomfield Mayor, Michael J. Venezia, along with representatives of the New Jersey Cannabis Regulatory Commission (NJCRC) to announce the awarding of $12 million of grant funding to 48 cannabis businesses.
New Mexico: Legal marijuana retailers sold more than $47 million of combined adult-use and medical marijuana products in September, according to new data from the New Mexico Regulation & Licensing Department.
New York judge Kevin Bryant on Friday issued a pair of brief court orders, signaling that at least two of the 400-some cannabis retailers that are on pause will now be allowed to open for business.
New York Senate cannabis committee is inviting members of the public to apply to testify at an upcoming hearing on challenges facing the state's legal marijuana industry
Pennsylvania House approves 280E tax cut for marijuana businesses over GOP objections: Republicans have blasted the reform as giving "special privileges for marijuana growers."
PharmaCielo Ltd. announced that it has closed another tranche of the non-brokered private placement that was announced on June 29, 2023. Under the New Offering, to date, PharmaCielo issued 3,900 debenture units, for aggregate proceeds of $3,300,000,
Planet 13 shelf prospectus filed…
SAFE Banking Act vs. SAFER Banking Act – what's the difference for the marijuana industry?
SAFER Banking Act new amendments revealed.
Tilray Brands has closed its all-cash previously-announced acquisition of eight beer and beverage brands from Anheuser-Busch (NYSE: BUD), including the breweries and brewpubs associated with them.
Tilray CEO Irwin Simon discusses the company's medical cannabis and craft beer segments post-earnings…
Trulieve Cannabis announced Steve White is stepping down as the company's President, effective as of October 1, 2023. Mr. White will continue to serve as a strategic advisor to the company until his anticipated retirement at the end of this year.
Trulieve Cannabis CEO Kim Rivers on Fox News to discuss SAFER Banking.
U.S. Congress members are calling on President Joe Biden to release American Indian Movement activist Leonard Peltier from prison.
U.S. Health and Human Services Department (HHS) is being sued to release a letter at the center of the Biden administration's recent recommendation that the Drug Enforcement Administration (DEA) reschedule marijuana.
USDA says genetically modified hemp plant 'may be safely grown and bred' in the United States.
Verano Holdings announced the opening of MÜV Apopka on Friday, October 6, the Company's 71st Florida dispensary and 133rd retail outlet nationwide.
Vext Science announced the execution of a letter of intent with the members of Big Perm's Dispensary Ohio, LLC to acquire two cannabis dispensaries located in Ohio owned by Big Perm, as well as all licenses and assets related to the business of the dispensaries.
Vext Science has completed the previously announced acquisition of Appalachian Pharm Processing, LLC, an Ohio limited liability company, together with its subsidiaries and affiliated companies.
Xzibit's new 'Lasagna Ganja' podcast explores layers of the cannabis industry.
3. Tilray Brands Reports Q1 2024 Financial Results
Tilray Brands reported financial results for its first quarter fiscal year 2024 ended August 31, 2023. Highlights included:
Record Q1 Net Revenue of $177 Million, Representing 15% Growth Year over Year
Increased #1 Cannabis Market Share Position in Canada to 13.4%
Grew Canadian Cannabis Revenue by 16.5% and International Cannabis Revenue by 37%
With Closing of Acquisition of Eight Craft Beer and Beverage Brands, Creating 5th Largest U.S. Craft Beer Brewer with 5% Market Share in Growing Craft Market
On guidance: For its fiscal year ending May 31, 2024, the company is reiterating its adjusted EBITDA target of $68 million to $78 million representing growth of 11% to 27% as compared to fiscal year 2023. In addition, the company expects to generate positive adjusted free cash flow.
2. A Landmark Cannabis Bill Is Headed To The Senate Floor
The Senate Banking Committee approved a historic marijuana banking bill last week that breaks barriers between financial institutions and cannabis companies.
The Secure and Fair Enforcement Regulation (SAFER) Banking Act, which aims to resolve a longstanding financial deadlock that forced cannabis-related companies to operate using only cash, will now make its way to the Senate floor. Iterations of this bill have been presented in committee since 2015, but this is the first time the bill has received a yes vote and made its way to the Senate at large.
As the marijuana market flourishes across the US, federal legal ambiguity has hindered its full potential, making transactions an all-cash, risky affair.
1. SAFER Banking Trajectory In Question As Kevin McCarthy Ousted As House Speaker
Following the successful Senate Banking Committee markup vote last week, the prospects for bicameral SAFER Banking Act legislation appeared positive in both legislative branches of government. However, the prospects thereof took a unforeseen twist yesterday as Kevin McCarthy, a known supporter of cannabis banking legislation, was ousted as the House Majority Speaker. His impending replacement will be critical in regards to where SAFER is prioritized on the Republican House agenda—assuming it passes the Senate first.
In the United States Congress, the passage of a bicameral bill is a multi-step process dictated by Article I, Section 7 of the U.S. Constitution. Initially, a bill can be introduced in either the House of Representatives or the Senate, after which it undergoes committee hearings and revisions within its originating chamber. If it garners majority approval in the chamber where it was introduced, it proceeds to the other chamber for consideration.