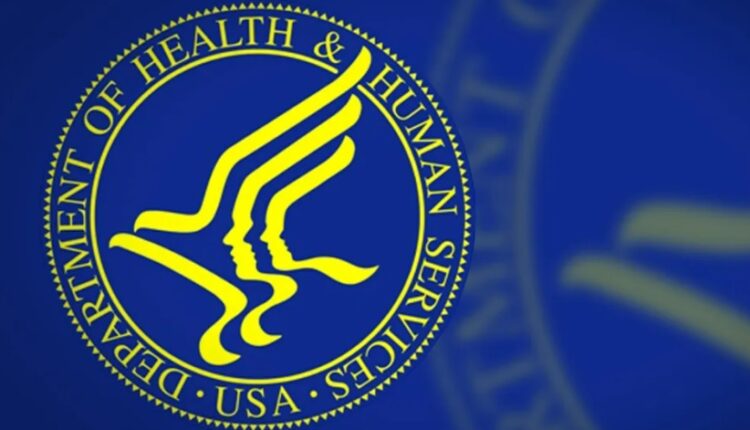 TDR's Top 7 Cannabis Developments For The Week Of October 30
Welcome to TDR's review of the Top 7 Cannabis Developments for the week of October 30. Aside from presenting a synopsis of news events, interviews and closing market prices for publicly-listed companies.
7. Senate Votes To Allow VA Doctors To Recommend Medical Marijuana To Veterans, Similar To House-Passed Version
The Senate has approved a bill that includes an provision to allow doctors at the U.S. Department of Veterans Affairs (VA) to issue medical marijuana recommendations to veterans living in legal states—setting the stage for conference with the House, which has separately advanced similar language in its own version of the appropriations legislation.
Senators approved the Military Construction, Veterans Affairs, and Related Agencies (MilConVA) measure with the cannabis amendment from Sen. Jeff Merkley (D-OR) as part of a "minibus" package of three spending bills on Wednesday. The vote was 82-15.
6. Innovative Industrial Properties Reports Third Quarter 2023 Results
Innovative Industrial Properties announced results for the third quarter ended September 30, 2023. Highlights include:
Generated total revenues of approximately $77.8 million in the quarter, a 10% increase from the prior year's quarter
Recorded net income attributable to common stockholders of approximately $41.3 million for the quarter, or $1.45 per share
Recorded adjusted funds from operations (AFFO) of approximately $64.8 million, or $2.29 per share
Paid a quarterly dividend of $1.80 per common share on October 13, 2023 to stockholders of record as of September 29, 2023
5. Letting People Legally Buy CBD Significantly Reduces Opioid Prescription Rates, New Study Shows
A new report looking into how CBD access affects opioid prescriptions concludes that while legalizing CBD may not itself reduce opioid prescribing rates, the ability to actually access and purchase legal CBD products has led to 6.6 percent to 8.1 percent fewer opioid prescriptions.
In general, we find that state level legalization of CBD products only leads to a statistically significant reduction in opioid prescriptions when states also allow for open and legal dispensaries, suggesting that adequate supply-side access is necessary to realize the potential benefits of legalization.

Southern Economic Journal Report
Further, the study found that legal and open dispensaries selling CBD products reduced opioid prescribing rates by nearly 3.5 percent two years after legalization, although strict limits on CBD purchases—for example through ID requirements or patient registries—blunted that impact.
___________
Chart Of The Week—Cannabis Prices Rise Almost 5% This Week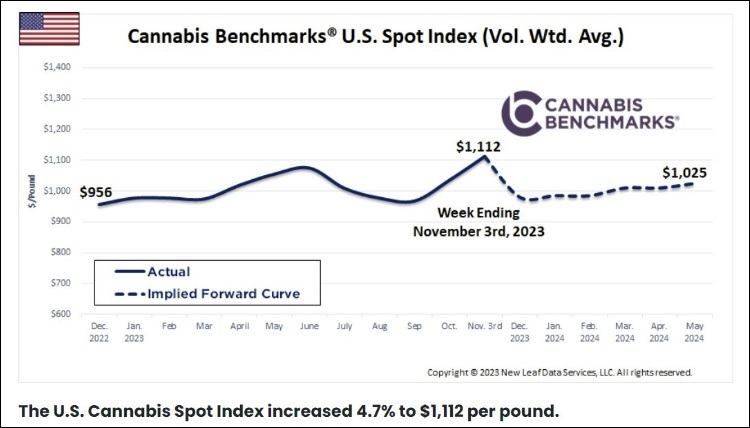 •
Interview Of The Week—DEA Rescheduling Approval Imminent?
•
Widely Held MSOs & LP Weekly Performance
| | | | | |
| --- | --- | --- | --- | --- |
| Company | Symbol | Previous Week Close | End Of Week Close | % Change On Week |
| AdvisorShares Pure Cannabis ETF | MSOS | 5.24 | 5.88 | 12.21 |
| Aurora Cannabis | ACB | 0.4357 | 0.4900 | 12.46 |
| Ayr Wellness | AYRWF | 1.18 | 1.24 | 5.08 |
| Canopy Growth | CGC | 0.5067 | 0.6280 | 23.93 |
| Cresco Labs | CRLBF | 1.16 | 1.20 | 3.44 |
| Curaleaf Holdings | CURLF | 2.78 | 3.08 | 10.79 |
| Green Thumb Industries | GTBIF | 7.96 | 9.10 | 14.32 |
| High Tide Inc. | HITI | 1.34 | 1.51 | 12.68 |
| Marimed Inc. | MRMD | 0.32 | 0.3025 | -5.46 |
| TerrAscend Corp. | TSNDF | 1.53 | 1.605 | 4.90 |
| Tilray Brands | TLRY | 1.71 | 1.92 | 12.28 |
| Trulieve Cannabis | TCNNF | 3.85 | 4.78 | 24.15 |
| Verano Holdings | VRNOF | 3.25 | 3.56 | 9.53 |
___________
4. AYR Announces (1) Agreement with Senior Noteholders to Extend Maturity Date by Two Years, (2) Commitment for US$50 million of New Money Financing and (3) Amendment to LivFree Wellness, LLC Promissory Note
AYR Wellness has entered into a transaction support agreement on October 31, 2023 with the holders of approximately 75% of the aggregate outstanding principal amount of the company's 12.5% senior notes due December 202, pursuant to which the Majority Noteholders have agreed to support a transaction under which:
(i) all of the Senior Notes would be exchanged for an equivalent principal amount of new 13% senior secured notes (the "13% Senior Notes") due December 10, 2026;
(ii) the Majority Noteholders will be offered the opportunity to participate in the issuance of additional 13% Senior Notes in an aggregate principal amount of US$50 million (subject to 20% original issue discount) concurrent with the completion of the Exchange Transaction…
In the news…
AYR Wellness will hold a conference call on Thursday, November 16, 2023, at 8:30 a.m. ET to discuss its results for the third quarter ended September 30, 2023.
Botanical Sciences announced that its products will be the first to be dispensed in the state through pharmacies.
Chuck Schumer says he is continuing to "monitor" the progress of a bipartisan marijuana banking bill that he intends to amend to include "criminal justice provisions."
Cresco Labs will report financial results for the third quarter 2023 on Wednesday, November 15th, 2023 before the market opens.
David Boies' new lawsuit could revamp the marijuana landscape.
Goodness Growth Holdings will release its financial results for its third quarter ended September 30, 2023 on Tuesday, November 14, 2023 after the market closes.
Goodness Growth Holdings has executed a fifth amendment to its lease with its landlord on its cannabis cultivation and manufacturing facilities located in Johnstown, New York.
Green Thumb Industries announced a partnership with Magnolia Bakery, New York City's world-famous bakeshop.
Heritage Cannabis Holdings has closed its previously announced sale and leaseback of the company's real estate properties in Ontario and British Columbia to BJK Developments Ltd. for a net purchase price of $9,714,475.
House committee will soon consider newly filed amendments to a large-scale spending bill that would prevent drug testing of certain federal job applicants for marijuana and end the blockade that has kept Washington, D.C. from legalizing cannabis sales.
Indiana: The Interim Study Committee on Commerce and Economic Development is examining "the legalization of adult-use cannabis in Indiana as it relates to workforce impacts and teen use."
Jushi Holdings expects to report its financial results for the third quarter ended September 30, 2023, after the market closes on Tuesday, November 14, 2023.
MariMed Inc. announced that effective October 31, 2023, Susan M. Villare resigned as Chief Financial Officer of the Company. The Board of Directors has appointed Jon Levine, President and CEO, as the Company's Interim Chief Financial Officer and has initiated a search process to identify and engage a new Chief Financial Officer.
Medmen under management cease trade order for delinquent financial reporting.
Minnesota Office of Cannabis Management is taking input on a number of topics, including cannabis growing, processing cannabis, and making marijuana products.
Missouri Department of Health and Senior Services (DHSS) has announced it has transferred $13 million in funds from Missouri's medical marijuana program to the Missouri Veterans Commission.
Missouri rolled back its recall of nearly 15,000 cannabis products last week and allowed them to return to the dispensary shelves, after requiring Missouri companies to keep them in storage since early August.
Oceanside, CA could get as many as three storefront cannabis shops under recommendations the City Council approved Wednesday.
Pennsylvania House committee has approved a Senate-passed bill that would allow all licensed medical marijuana grower-processors in the state to sell their cannabis products directly to patients, along with an amendment to further permit independent growers and dispensaries to expand their operations.
Planet 13 Holdings plans to release its financial results for the third quarter ended September 30th, 2023, on November 8, 2023, aftermarket.
Red White & Bloom Brands provided an update on matters relating to Aleafia Health Inc.
Rhode Island's Cannabis Advisory Board will hold its first public meeting Thursday.
Robert F. Kennedy Jr. released a new campaign ad about his plan to legalize marijuana…
Sherrod Brown (D-OH), the Senate Banking Committee Chairman, says he voted in favor of a ballot initiative to legalize marijuana in Ohio, calling it a "hard decision" but one that was based on his belief that the reform would promote "safety" for consumers.
Société Québécoise du Cannabis has a new president and CEO. Suzanne Bergeron will take up her duties on Nov. 27.
Sorting Robotics, a Los Angeles-based industrial automation company for the cannabis industry, raised $2 million in debt financing from investment groups Kiso Capital and Prospeq.
Trulieve Cannabis announced the opening of a new medical dispensary located at 4256 Lafayette Street in Marianna, Florida.
Trump campaign took a swipe at 2024 Republican presidential candidate Ron DeSantis, urging the Florida governor to pick up some marijuana edibles while visiting Nevada to de-stress from the race.
Two advocacy coalitions representing opposite ends of the political spectrum have joined forces to call for President Joe Biden to remove marijuana from the federal Controlled Substances Act (CSA)
Verano Holdings announced the opening of MÜV Satellite Beach on Friday, October 27, the Company's 72nd Florida dispensary and 135th location nationwide.
Wisconsin cannabis bill would generate $166 million in annual tax revenue, says government analysis.
3. New York Opens Medical Cannabis Retail Application Window For MSOs
New York regulators are expanding medical cannabis retail licenses for large multistate operators for the first time since the state launched MMJ sales in January 2016.The application window for "registered organizations" opened Oct. 31 and will run until 5 p.m. Dec. 19, according to a notice from state's Office of Cannabis Management.
Registered organizations, New York's version of MSOs, will pay a premium to enter perhaps the nation's most untapped retail marketplace, which currently has only 26 operational licensed adult-use retailers in the entire state, nearly one year after launching adult-use sales.
2. Georgia: Select Pharmacies Begin Selling State-Licensed Cannabis Tinctures
Select pharmacies have begun providing state-licensed cannabis products to qualified patients.
An independent pharmacy in Warner Robins, Georgia and another independent pharmacy in Tifton were reported to have been among the first in the state to engage in the sale of cannabis-specific products. About 130 independent pharmacies have entered partnerships to provide plant-derived low-THC products.
Low-THC/high CBD products have been legal to possess under state law since 2015. However, regulators failed to approve any licensed providers or dispensaries until earlier this year. In October, the state's Board of Pharmacy began accepting applications from licensed pharmacies wishing to stock the products.
1. Bipartisan House Coalition Urges DEA to Align with Federal and State Cannabis Reforms
A group of 31 U.S. House representatives from both sides of the political aisle recently sent a letter to Anne Milgram, the head of the Drug Enforcement Administration (DEA). The lawmakers urged the DEA to consider both state and federal moves toward marijuana legalization as they conduct a review of its classification under the Controlled Substances Act (CSA).
The letter, spearheaded by Congressional Cannabis Caucus co-chairs Rep. Earl Blumenauer, Dave Joyce, Barbara Lee, and Brian Mast, stated that the DEA's review is a vital step toward ending the federal government's outdated and unfair prohibition of cannabis. They argued that it's not enough to merely reschedule cannabis; it must be completely removed from the CSA.