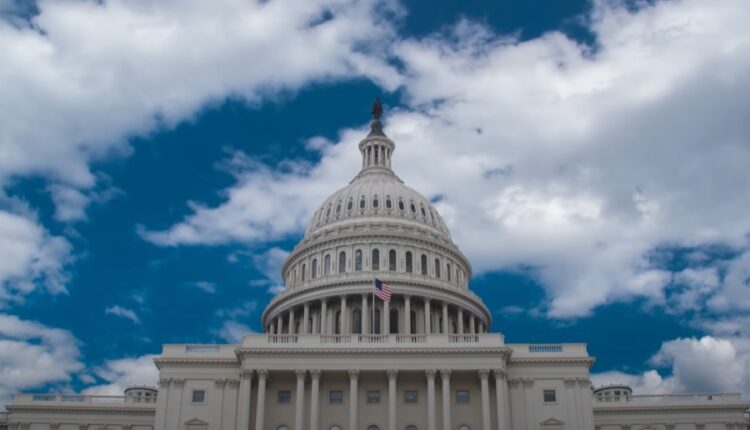 TDR's Top 7 Cannabis Developments For The Week Of September 11
Welcome to TDR's review of the Top 7 Cannabis Developments for the week of September 11. Aside from presenting a synopsis of events, we provide market commentary to summarize the week that was for publicly-listed companies.
7. High Tide Reports Third Quarter 2023 Financial Results Featuring Positive Free Cash Flow of $4.1 Million and Fourth Consecutive Quarter of Record Revenue
High Tide Inc. released financial results for the third fiscal quarter of 2023 ended July 31, 2023, the highlights of which are included in this news release. Highlights:
Achieved positive free cash flow of $4.1 million this quarter, in advance of its previously stated goal by December 2023
Same-store sales increased by 19% year-over-year and 8% sequentially
Remains the largest non-franchised cannabis retailer in Canada with 156 locations and surpasses 1.1 million Cabana Club members,
14th Straight Quarter of positive Adjusted EBITDA² of $10.2 Million, Representing Increases of 140% Year-Over-Year and 55% Sequentially, Including a One-Time Return of $2.4 Million From Manitoba's SRF
6. Canopy Growth to Cease Funding BioSteel Business Unit Furthering Business Transformation and Focus on North American Cannabis Leadership
Canopy Growth Corporation announced that it has ceased funding BioSteel Sports Nutrition Inc. and that BioSteel has commenced proceedings under the Companies' Creditors Arrangement Act (CCAA) in the Ontario Superior Court of Justice (Commercial List) and will seek recognition of that proceeding under Chapter 15 of the United States Bankruptcy Code to give full force and effect to the orders made in the CCAA proceeding in the United States, including a stay of proceedings.
As part of its efforts to simplify its business and reduce cash burn, Canopy Growth previously announced that it was reviewing strategic options for the Company's BioSteel business unit, including a potential sale of the business unit. BioSteel's business was a significant drag on Canopy Growth's profitability and cash flow, representing approximately 60% of the Company's Q1 FY2024 Adjusted EBITDA loss. The decision by BioSteel to seek creditor protection means that Canopy Growth will limit the further funding obligations in respect of the BioSteel business unit.
5. White House Promotes Biden's Marijuana Moves As Part Of 'Fight For Our Freedom' Campaign To 'Mobilize Young People
The White House is promoting President Joe Biden's mass marijuana pardon and scheduling review directive as part of a "Fight for Our Freedom" campaign meant to "mobilize young people" as next year's election approaches.
The youth outreach campaign will involve a college tour featuring Vice President Kamala Harris that begins at Hampton College on Thursday. The vice president will visit a total of seven colleges across the country over the next month, though its unclear if she will explicitly tout the administration's cannabis reform actions on campuses.
__________
Chart Of The Week—AdvisorShares Pure US Cannabis ETF (NYSE: MSOS) More Than A Double On-Open Over The Past 13 Sessions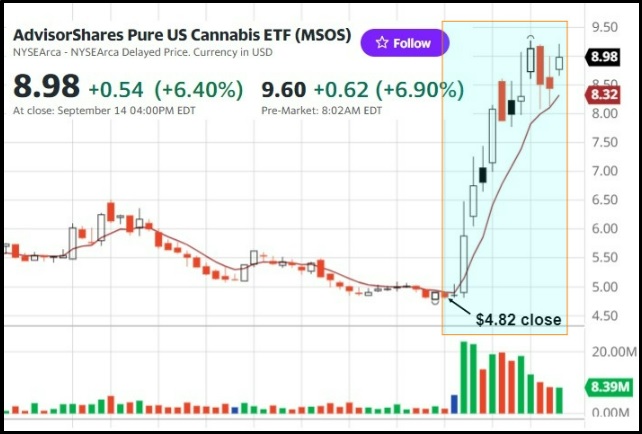 .
Interview Of The Week
,
Widely Held MSOs & LP Weekly Performance
| | | | | |
| --- | --- | --- | --- | --- |
| Company | Symbol | Previous Week Close ($) | End Of Week Close ($) | % Change On Week |
| AdvisorShares Pure Cannabis ETF | MSOS | 8.30 | 9.07 | 9.28 |
| Aurora Cannabis | ACB | 0.529 | 0.9828 | 85.18 |
| Ayr Wellness | AYRWF | 2.79 | 3.03 | 8.24 |
| Canopy Growth | CGC | 0.932 | 1.35 | 40.77 |
| Cresco Labs | CRLBF | 2.48 | 2.46 | -1.77 |
| Curaleaf Holdings | CURLF | 4.78 | 5.37 | 12.34 |
| Green Thumb Industries | GTBIF | 10.81 | 11.90 | 10.08 |
| High Tide Inc. | HITI | 1.58 | 1.69 | 6.96 |
| TerrAscend Corp. | TSNDF | 2.18 | 2.13 | -2.29 |
| Tilray Brands | TLRY | 3.02 | 2.93 | -2.98 |
| Trulieve Cannabis | TCNNF | 6.45 | 7.45 | 15.50 |
| Verano Holdings | VRNOF | 5.09 | 5.15 | 1.18 |
*Data table will update after close
__________
4. New York Will Open Adult-Use Marijuana Retail To Multistate Operators
New York regulators voted Tuesday to allow the state's medical marijuana operators to apply for adult-use retail licenses. That means the multistate operators who years ago snapped up a majority of the state's 10 "registered organization" permits will enter what observers say could be the largest market on the East Coast.
Under the resolutions the Office of Cannabis Management approved Tuesday, regulators will accept applications seeking a retail or microbusiness license from Oct. 4 through Dec. 23. Regulators also will accept applications from registered organizations during a still-unspecified window "to be set by the Office." That action was approved in a separate resolution.
In the news…
14 Republican congressional lawmakers is urging the Drug Enforcement Administration (DEA) to "reject" the top federal health agency's recommendation to reschedule marijuana and instead keep it in the most restrictive category under the Controlled Substances Act.
4Front Ventures announced the expansion of its product offerings in Illinois under its premium flower brand, Island Cannabis Co.
California: A bill that would allow "Amsterdam-style cannabis cafés" to open in California cities that allow them has been approved by both chambers of the state Legislature and only needs the signature of the governor to be turned into law.
California Assembly has approved a Senate-passed bill that would prohibit employers from asking job applicants about prior marijuana use.
Charlotte's Web Holdings announced the appointment of William (Bill) Morachnick who has joined the Company as its Chief Executive Officer.
Connecticut August 2023 cannabis sales increased by 5.55%…
Columbia Care announced the transition of Rosemary Mazanet, M.D., PhD., from Chief Scientific Officer, a role she has held since 2017, to a member of the Company's Board of Directors, effective immediately.
Cresco Labs announced the opening of a second Sunnyside in Jacksonville, Florida. Located at 2725 College St., the new store joins its sister location in Jacksonville Beach.
Don Murphy on Senate Banking Committee markup vote timeline…
Eastern Band of Cherokee Indians in North Carolina voted in favor of a proposal last week to allow recreational marijuana for adults on tribal land.
High Tide Inc. announced that its Canna Cabana retail cannabis store located at 9025 Airport Rd, Brampton, Ontario will begin selling recreational cannabis products and consumption accessories for adult use on Thursday, September 14, 2023.
Key Senate Committee officially schedules marijuana banking vote…
Maine marijuana sales reached a record high in August, with nearly $22 million worth of purchases, according to new data from the state Office of Cannabis Policy.
MariMed Inc. headed to the blueberry bush to create the latest addition to its Bubby's Baked™ THC-infused soft baked goods line of edibles.
National Law Review Opinion: HHS Recommends Re-Classification of Marijuana as a Schedule III Controlled Substance – A Bellwether for the Future of Cannabis-ness.
Nebraska activists launched a fundraising effort on Wednesday to support their push to get a pair of medical marijuana legalization initiatives on the state's 2024 ballot.
New Jersey could soon end marijuana prohibition and allow all kinds of edibles.
New York legal recreational cannabis market has now opened its licensing process to anyone with a desire to run a dispensary.
New York: Bipartisan lawmakers are calling on Gov. Kathy Hochul (D) to sign legislation that would allow the state's licensed marijuana producers to sell products to tribal retailers, who could then legally sell them on indigenous lands.
Ovation Science announced the signing of an exclusive licensing agreement with Planet 13 Holdings, Inc., for the rights to Ovation's topical / transdermal formulations for the state of Nevada.
Rep, David Joyce talks potential government shutdown and reveals new cannabis bill.
Study: Patients with chronic health conditions saw significant improvements in overall quality of life and reductions in fatigue during the first three months of medical marijuana use, according to a new study of more than 2,300 people.
TerrAscend Corp. investor day…
Tilray Brands CEO Irwin Simon anticipates creating beer infused with cannabis if the drug becomes legal across the United States.
Trulieve Cannabis announced the opening of a new medical dispensary located at 5037 Hwy 90, Pace, Fla.
urban-gro, Inc. announced the signing of more than $3 million of contracts spread across four clients in the cannabis sector.
3. Senators Push To Pass Cannabis Banking Bill After Marijuana Rescheduling
A bipartisan coalition of senators behind a cannabis banking bill is pushing for a markup and working to clear key hurdles on both sides of the aisle to lock down support. As advocates work to drum up momentum for the Secure and Fair Enforcement (SAFE) Banking Act, some proponents in the upper chamber have expressed hopes the bill could advance out of committee in the coming weeks.
The SAFE Banking Act would give federally regulated banks and credit unions legal cover to take cannabis dispensaries and growers as customers. Financial institutions have been hesitant to serve state-legal cannabis businesses because of the federal ban on the drug.
2. Congressional Researchers Say DEA 'Likely' To Reschedule Marijuana
Congressional researchers say it's "likely" the Drug Enforcement Administration (DEA) will follow the top federal health agency's recent recommendation to reschedule marijuana, which would have "broad implications for federal policy" in areas such as taxes, housing, immigration, military eligibility, gun rights and more.
In a report published on Wednesday, analysts with the Congressional Research Service (CRS) gave an overview of the cannabis scheduling review directed by President Joe Biden last year and assessed the potential impact of moving marijuana from Schedule I to Schedule III of the Controlled Substances Act (CSA), as recommended by the U.S. Department of Health and Human Services (HHS).
1. Republicans Soften On Federal Marijuana Reform In A Shift That Could Make It A Reality
Cannabis reform is moving one step closer to reality at the federal level, with a committee hearing on a bipartisan bill to expand banking services for legal marijuana businesses expected at the end of the month, according to multiple people directly involved in the process.
The Senate Banking, Housing, and Urban Affairs Committee is expected to hold a markup session for the bill, known as the SAFE Banking Act, the week of Sept. 25, three sources familiar with the talks said. The markup process, which allows senators to debate and consider amendments, is viewed as a key step in advancing the bill to the Senate floor.