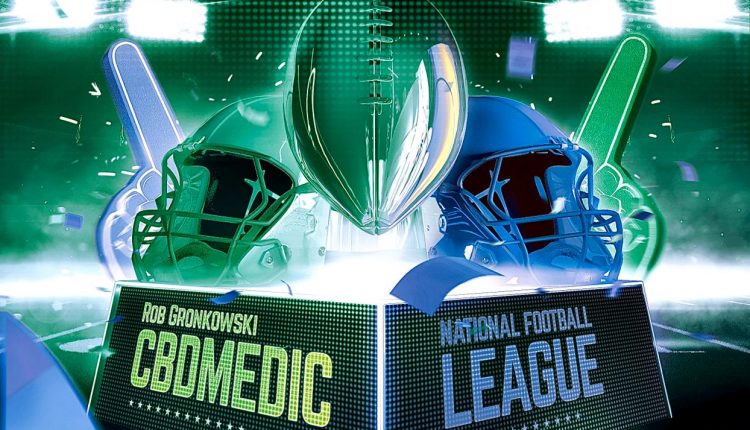 The Laws Around Cannabidiol and the League: Will Gronkowski's Partnership Sway the NFL?
When legendary NFL tight end Rob Gronkowski announced last summer that he was teaming up with Abacus Health Products and its CBDMEDIC brand and would advocate for professional football players to be able to use cannabidiol (CBD) for pain relief, the three-time Super Bowl champion was technically retired.
Fast-forward eight months. Gronkowski has come out of retirement to join former teammate Tom Brady with the Tampa Bay Buccaneers, making his relationship with the world of cannabis somewhat complicated.
After all, marijuana and cannabinoids still aren't legal under the NFL's substance-abuse policy.
Restrictions were eased greatly when the league finalized a new collective-bargaining agreement with its Players Association in March. The league's annual marijuana testing period used to run from mid-April to mid-August, but that four-month window was reduced to a two-week stretch at the start of training camps (which typically launch in late-July). Meanwhile, the threshold for a positive test was raised from 35 nanograms of THC per milliliter (ng/ml) to 150 nanograms ng/ml. That's three times higher than the 50 ng/ml threshold utilized most typically by American workplaces that have testing policies in place.
What's more, players can no longer be suspended for failed tests. They can eventually be fined, but the initial reaction from the league will be to allow a board of medical professionals to review the offender's case to determine if treatment is needed.
That was a strong indication that North America's richest and most popular sports league is at least trying to keep up with shifting laws and mentalities regarding the use of cannabis, which remains illegal under federal law but is now legal for recreational use in 11 states and decriminalized in 16 more.
Still, active NFL players are not currently permitted to use CBD. And while rules regarding personal sponsorships are murky, the NFL still forbids its players from privately endorsing alcoholic beverages, despite the fact alcohol is broadly legal and is not a banned substance under the CBA.
Logic would indicate the league would at the very least disapprove of one of its most famous active players publicly plugging products related to cannabis, and yet when you go to the CBDMEDIC website, the first thing you see is a giant picture of a smiling Gronk looking blithely at a range of products containing CBD.
But if anything, Gronkowski could further push the NFL to at least reconsider its stance on said products, which are usually non-psychoactive and generally contain only trace amounts of (if any) Tetrahydrocannabinol (THC).
The World Anti-Doping Agency removed CBD from its list of prohibited substances two years ago, while hemp — from which CBD can be extracted — was legalized in the United States as part of a 2018 farm bill.
Gronkowski is wildly popular and extremely likeable. He's well-positioned to get away with publicly challenging the NFL on its arguably antiquated stance on CBD.
If the NFL were to eventually embrace CBD, it could be a harbinger for even more growth in an already-booming industry which is projected to reach $20 billion in sales by 2024, according to cannabis market intelligence and consumer research firm BDS Analytics.
What's the incentive for the NFL? Beyond potential business partnerships, accepting CBD could quite simply enhance the league's product. Healthy, happy players are logically more likely to continue to produce on the field.
It's thought that the majority of players use marijuana recreationally already. How many would prefer CBD to highly addictive opioids and related painkillers for recovery? You'd have to imagine they'd at least appreciate the option to use a natural alternative that is closely related to something they're already likely to be familiar with.
"During my career, I pushed myself while recovering from nine surgeries and countless injuries," Gronkowski said in the Abacus press release announcing their partnership. "I was in near constant pain and needed to make a change. Once I retired, I looked for better and more natural ways to recover and discovered CBDMEDIC. These products have helped me safely manage pain better than anything else I've tried. Building on my own experience with CBDMEDIC for pain, I'm inspired to work with the company to introduce new CBD products to the market."
The league could compel Gronkowski to end that relationship, or it could decide to look the other way on a relatively benign issue. How it deals with Gronkowski's connection to CBD could be an indication as to whether more progress is on the horizon.