U.S. Cannabis ETFs Are Crashing, But Select Alternative Investments Continue To Thrive
On this midweek TDR's Trade to Black Podcast, we talks alternative cannabis investing with the Co-Founding President of Pelorus Equity Group, Rob Sechrist. With U.S. cannabis ETFs imploding during current bear market conditions, we explore how select alternative cannabis investments are actually yielding strong returns, belying weakness on the public equity side.
Based in Newport Beach, California, Pelorus Equity Group finances the construction and conversion of properties for cannabis operators. The company employs a mortgage REIT (mREITs) lending model that hold mortgages and mortgage backed securities on their balance sheets, and fund these investments with equity and debt capital. The general objective is to earn yield from net interest margin—the spread between interest income on mortgage assets and funding costs. mREITs may raise both debt and equity in the public capital markets.
In 2018, Pelorus launched the Pelorus Fund with the lending strategy of senior secured notes collateralized by cannabis-use real estate properties with personal and corporate guarantees from the sponsors. It's been a winning strategy thus far, producing consistent double-digit returns since inception.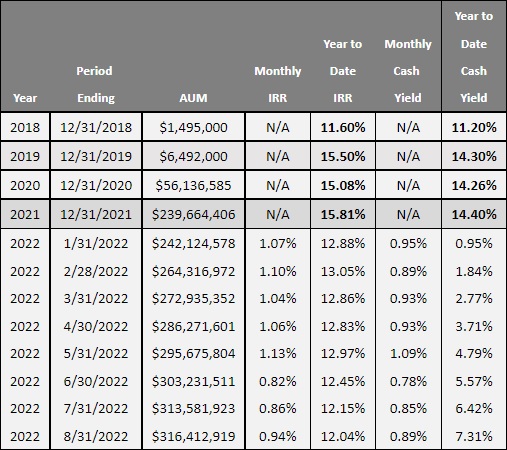 The internal rate of return (IRR, 5th column) is a financial metric used to estimate the profitability of potential investments. IRR is a discount rate that makes the net present value (NPV) of all cash flows equal to zero in a discounted cash flow analysis. Thus far, Pelorus expects an IRR of north of 12% in 2022, despite a large portion of Assets Under Management sitting in cash.
A fascinating interview with one of the biggest names in alternative cannabis fund investing. One that demonstrates that generating positive investment portfolio returns can be achieved by looking outside of U.S. cannabis ETFs and the public markets.
Click on the embedded link to view more of this TTB podcast with Pelorus Equity Group Co-Founding President, Rob Sechrist, in his own words.
To view our previous Trade To Black Podcast, click here.