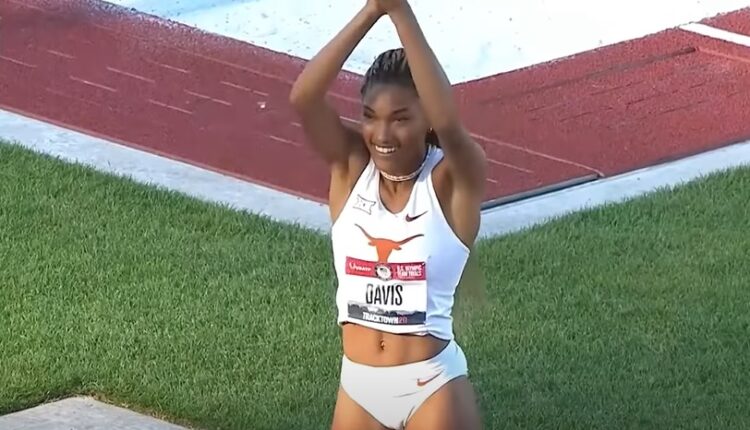 US Gold Medalist Tara Davis-Woodhall Stripped Of Title For Cannabis Use
US long jumper Tara Davis-Woodhall has had her indoor national title taken away, followed by a one-month suspension due to breaching anti-doping regulations.
The long jump champion tested positive for a urinary metabolite of THC in a sample collected on Feb. 17, according to USA Today, citing the U.S. Anti-Doping Agency. This was after Davis-Woodhall, 23, won the gold medal at the 2023 USA Indoor Track and Field Championships, held in Albuquerque, New Mexico.
Davis-Woodhall used cannabis while out of competition. Due to the successful completion of a substance abuse treatment program, her suspension had been reduced from three months to one.
"Davis-Woodhall's period of ineligibility was reduced to one month because her use of cannabis occurred out-of-competition and was unrelated to sports performance and because she successfully completed a substance of abuse treatment program regarding her use of cannabis," the agency said.
The use of cannabis is still banned in competition by the World Anti-Doping Agency (WADA).
Davis-Woodhall isn't the only athlete to be penalized for using cannabis.
In July 2021, American sprinter Sha'Carri Richardson lost her chance to compete at the 2021 US Olympics after she tested positive for cannabis.
Richardson was also under a one-month suspension. However, the results of her Olympics trials have been "disqualified, and she forfeits any medals, points, and prizes" as allowed under the international anti-doping regulations.
She had qualified with a 10.86-second 100-meter dash, which would have made her a gold medal contender until the test results came after the race.
After being disqualified from the Tokyo Olympics for having smoked marijuana, the athlete shared on her social networks the trailer of a documentary in which she is the protagonist.
__________
This article was originally published on Benzinga and appears here with permission.