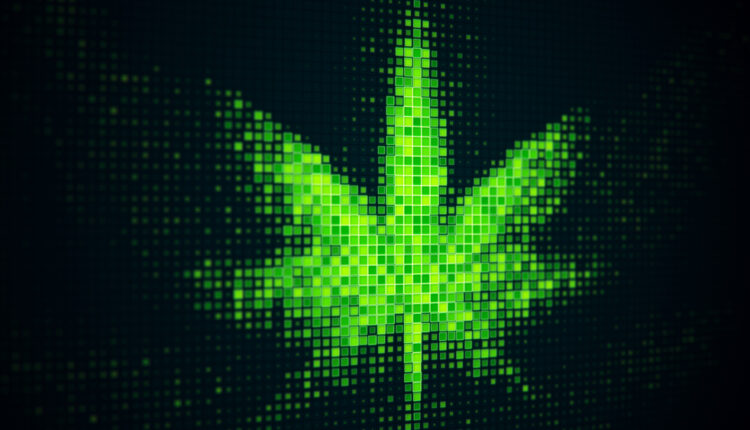 Crypto Cannabis Club Has Investors Seeing Green: Budding NFT Project Joins CryptoDads As Newest NFT Investor Target
Non-fungible tokens, or NFTs, have taken the digital and crypto investing world by storm, quickly becoming a 'must have' in the vault for any true blockchain pioneer.
An NFT is a unit of data stored on a digital ledger (blockchain) that certifies a digital asset to be unique and therefore not interchangeable but transferable. NFTs have been around since 2014, but they really went mainstream when digital artist Mike Winkleman, who goes by the street name "Beeple," sold an NFT at Christie's for $69 million.
That's right, a digital image anyone can download for free and use as wallpaper was purchased at the most renowned auction house in the world for the equivalent of 14 private jets. Many market experts credit Beeple's single sale as the catalyst for the NFT craze.
"The sale of '5000 Days' was historic for the NFT industry because it captured the public's eye and legitimized the blockchain art movement behind it," said Scott Cooley of Cool Media PR, which specializes in NFT and sports betting publicity. "NFTs are the future of digital ownership. Soon, we won't only be transferring artwork, but transcripts, home titles, patents, and more as NFTs."
That may be the case one day, but for now, it's impossible to ignore the massive amounts of money flowing through the NFT space. OpenSea, the most popular secondary marketplace to buy and sell NFTs, reported more than $3 billion in August trading volume, including $322 million for a single-day record on August 29.
Collections by famous and up-and-coming artists are still prevalent and generating millions in volume every day, but over the last few months, the most attention and popularity has centered around PFP (profile picture) NFTs.
What's intriguing about PFP projects is that the artwork is a collection of avatars, typically around 10,000, where each avatar has a combination of unique properties that are randomly generated. While they all look alike in some form, no two pieces of the collection are the same, and the different attributes factor into the rarity of each NFT.
CryptoPunks was one of the first PFP projects created on the Ethereum blockchain, and initially, anyone with a wallet could claim one. Collectors who held or purchased over the years have been rewarded as currently the lowest price for a CryptoPunk, which is simply a pixelated image of a character, is 120 ETH, or about $363,000.
All types of PFP NFTs are being produced and popularized every day. One project relevant to this site is called the Crypto Cannabis Club. The CCC is a collection of 10k avatars called "NFTokers." According to the website, holding an NFToker provides the "ability to breed and sell cannabis plant NFTs on secondary markets, compete in crypto cannabis cup competitions, and passively earn by going to work in the greenhouse (aka staking)."
A project that has gained tremendous steam on Twitter is a collection of regular Joe characters called CryptoDads. The team behind it is creating real-world utilities for its NFT holders, including branded beer, whiskey, and energy drinks.
We're even seeing sports figures slide into the NFT metaverse. A project honoring the late Kobe Bryant has created so much hype in the basketball community that NBA players such as Dwight Howard, Spencer Dinwiddie, Danny Green, and Nerlens Noel are supporting it.
The KB24 NFT collection is set to go on sale October 8, and what makes it incredibly unique is that 100 percent of the proceeds from the initial drop, as well as the secondary marketplace, will be donated to the Mamba & Mambacita Sports Foundation, a non-profit established by the Bryant family in memory of Kobe and Gianna Bryant.
If all of the Kobe-designed NFTs sell out, the drop alone will initiate a donation of around $3 million to the foundation.
"It's an exciting time to be NFT creators and collectors," Cooley said. "And if you think you've missed out, think again because we're only at the precipice of this digital art movement. Like cryptocurrency, it's still the early adopter stage so you might as well climb aboard."
Certainly, there will be winners and there will be losers in the NFT game, but given their appeal, popularity, and utility, it appears non-fungible tokens are here to stay.