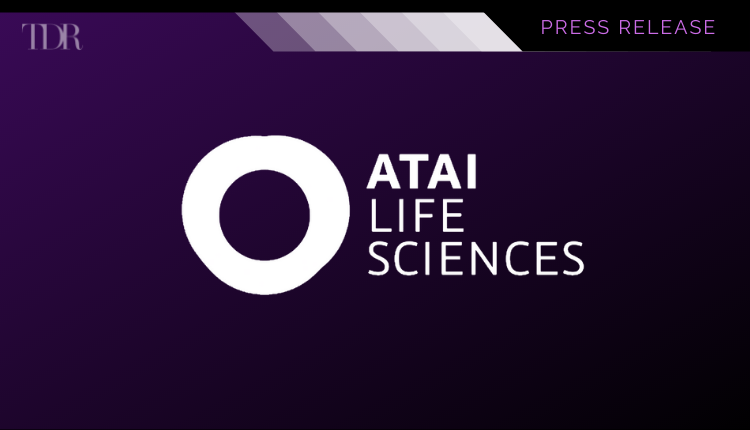 atai Life Sciences Increases its Ownership Position in COMPASS Pathways
Demonstrates atai's confidence in COMPASS' Phase 2b data and its potential for patients with treatment-resistant depression
Reinforces COMPASS as highly complementary to atai's diversified approach to innovation in mental health
atai Life Sciences N.V. (NASDAQ: ATAI), a clinical-stage biopharmaceutical company aiming to transform the treatment of mental health disorders, today announced that it has increased its ownership interest in COMPASS Pathways ("COMPASS"), from 19.4% to 20.8%.
This equity stake increase is a demonstration of atai's confidence in COMPASS Pathways and in the potential of COMP360 in mental health care, following the recent COMP360 data in treatment-resistant depression (TRD). This solidifies atai's position as COMPASS' largest shareholder.
We've supported COMPASS Pathways since the early days, when they were our very first psychedelic initiative, as part of our quest for more effective solutions for mental health patients. We believe this month's Phase 2b data was a true milestone for innovation in mental health and COMP360 shows strong potential as a future treatment for patients with TRD. This further confirms our belief in COMPASS' psilocybin-assisted psychotherapy as a valued part of our diversified approach to develop novel solutions for patients with unmet needs in mental health.

Florian Brand, Co-Founder and Chief Executive Officer of atai Life Sciences
"Today's announcement underscores our belief in the potential of COMPASS and COMP360 in the future of mental health care. In my personal opinion, the market doesn't seem to appreciate the full upside potential given these impressive COMP360 data, the size of the unmet patient need and the potential of COMPASS' broad patent portfolio," said Christian Angermayer, Founder and Chairman of atai Life Sciences.
Over 300 million people worldwide live with depression and, of these, a third struggle with TRD that cannot be managed by currently available options.1,2
COMPASS's Phase 2b trial of COMP360 psilocybin in TRD is the largest and most robust trial ever to be conducted with psilocybin. Participants in this COMPASS trial had previously failed on two to four antidepressants. The 233-patient, 22-site, randomized, controlled, double-blind dose-controlled trial with COMP360 reported rapid and durable results in reducing depression, when combined with psychological support, and was generally well tolerated. A single 25mg dose achieved a 6.6 point reduction (vs 1mg), from baseline to week three, on the Montgomery-Åsberg Depression Rating Scale (MADRS) (p<0.001), successfully meeting the primary endpoint.
Most standard selective serotonin reuptake inhibitor (SSRI) antidepressants were approved on just a 2-3 MADRS point reduction in a general major depressive disorder patient population, and several weeks are typically required to show a significant benefit. Another comparable, intranasal esketamine has demonstrated only a 4 MADRS point reduction at 28 days vs. placebo in TRD (in third party studies), thus highlighting the potential of COMP360 in this challenging patient population.3-5
Despite the mounting problem of mental health in recent years, further compounded by the pandemic, innovation has been sorely lacking; only seven new treatments have been approved by the FDA for psychiatric disorders since 2015.6,7
In 2018, COMP360 received Breakthrough Therapy Designation from the U.S. Food and Drug Administration (FDA) for TRD.8 COMPASS has recently expanded the indications of interest to post-traumatic stress disorder and initiated an additional Phase 2 study. COMPASS also reported positive signals from an open-label investigator-initiated study in the U.S. of COMP360 for depression in cancer.9,10 COMPASS' Phase 3 study of psilocybin in TRD is anticipated to launch in 2022. Furthermore, COMPASS is exploring the potential of COMP360 towards several further potential indications including type 2 bipolar disorder depression, anorexia nervosa, body dysmorphia, suicidal ideation and autism.
As we ultimately believe there is no one-size-fits-all solution in the treatment of mental health conditions, atai is progressing a pharmacologically-diverse array of programs, spanning psychedelics, non-psychedelics, and is developing innovative digital therapeutics to address the areas of highest unmet need in mental health. By developing COMP360 and other novel 5-HT2a agonists, COMPASS is highly complementary to our diversified platform and fully aligns with our vision to heal mental health disorders, so that everyone, everywhere can live a more fulfilled life.
To view the original press release in its entirety click here