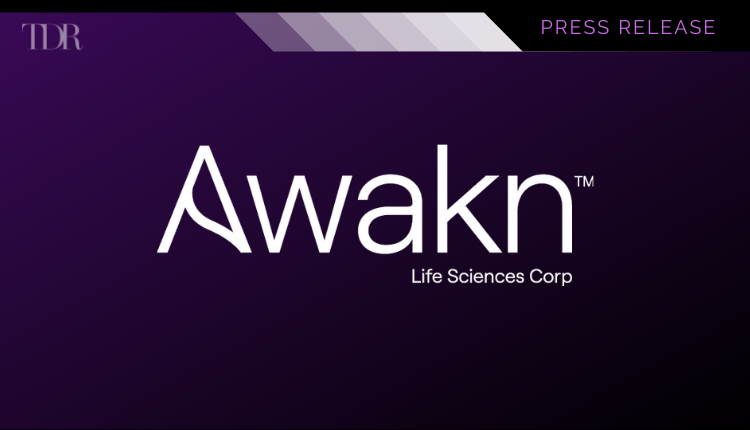 Awakn Life Sciences Announces Closing of Acquisition of Leading Ketamine-Assisted Psychotherapy Clinic in Norway
Awakn Life Sciences Corp. (NEO: AWKN) (OTCMKTS: AWKNF), a biotechnology company developing and delivering psychedelic therapeutics (medicines and therapies) to treat addiction, is pleased to announce the closing of its acquisition of Axonklinikken AS ("Axon"), a leading ketamine-assisted psychotherapy clinic in Norway, as previously announced on September 16, 2021. Upon the completion of the transaction, Axon will be renamed 'Awakn Clinics Oslo AS,' and Dr. Lowan Stewart will be appointed as Regional Director for the Nordics and Managing Director Awakn Clinics Oslo AS.
Awakn Clinics Oslo AS Clinic will serve as the Nordic hub from which Awakn plans to expand its clinical network across the region. The acquisition is part of Awakn's larger strategy to open several addiction and mental health clinics across Europe, including two clinics in the U.K., Bristol and London, that Awakn anticipates being operational this year. Awakn Clinics Oslo AS, led by Dr. Stewart, will be focused on delivering ketamine-assisted psychotherapy for patients and eventually will incorporate ketamine in the Reduction of Alcoholic Relapse' (KARE) psychotherapy intervention, validated in a phase II ab clinical trial led by the University of Exeter and licensed by Awakn on March 2, 2021.
The close of our acquisition in Norway is a key strategic milestone in making psychedelic therapeutics to treat addiction a mainstream treatment – helping individuals and their families to move past their addictions and live a fuller life. This acquisition will enable Awakn to demonstrate the depth of our three-pronged revenue generation strategy: clinics in the U.K. and Europe, licensing partnership beyond the U.K. and Europe, and therapeutics commercialization. We look forward to opening more clinics across the Nordic region and globally as we aim to become the leading authority in the development and delivery of psychedelic therapeutics.

Anthony Tennyson, Awakn's CEO
Pursuant to the terms of the transaction, Awakn has issued to the shareholders of Axon an aggregate of 200,000 common shares of Awakn at a deemed price of CAD$2.50. The initial 200,000 common shares issued are subject to a lock-up resulting in 10% having been released immediately on closing of the acquisition and 15% to be released every three months thereafter. Awakn has also agreed to pay to the shareholders of Axon the following additional consideration (the "Additional Consideration") of up CAD$1.35m based on Axon meeting certain milestones:
Opening a second clinic in Norway.
Opening a first clinic in a second Nordic country.
Opening a first clinic in a third Nordic country.
Achieving agreed revenue and EBIDTA targets.
Awakn shall have the option to pay any amount of the Additional Consideration in cash or common shares at its option. The value to calculate the number of the common shares to be issued shall be the greater of (i) a 10-day volume weighted average price, (ii) the minimum price allowable by the NEO Exchange, and (iii) CAD$2.50.
To view the original press release in its entirety click here