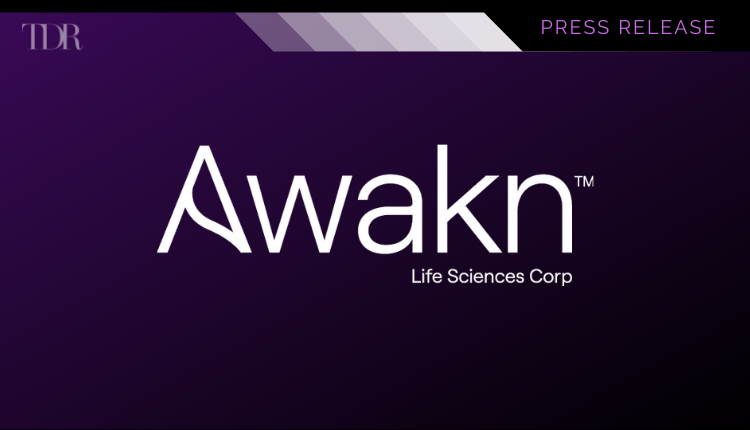 Awakn Life Sciences Announces Closing of Private Placement
Awakn Life Sciences Corp. (NEO: AWKN)(OTCMKTS: AWKNF), a biotechnology company, researching, developing and delivering psychedelic therapeutics to treat addiction, is pleased to announce that they have closed a non-brokered private placement through the issuance of 2,031,250 units (the "Units") at a price of $1.60 per Unit for gross proceeds of $3,250,000 (the "Offering").
Each Unit is comprised of one common share (each, a "Common Share") in the capital of the Company and one-half of one whole Common Share purchase warrant (each whole warrant, a "Warrant"). Each Warrant entitles the holder thereof to acquire one Common Share at a price of $2.20 per Common Share until the date that is twenty-four (24) months from the date of issuance.
All securities issued in connection with the Offering will be subject to a hold period of four months plus a day from the date of issuance and the resale rules of applicable securities legislation. Gross proceeds raised from the Offering will be used for working capital and general corporate purposes.
This press release does not constitute an offer to sell or a solicitation of an offer to buy the securities in the United States. The securities have not been and will not be registered under the United States Securities Act of 1933, as amended (the "U.S. Securities Act") or any state securities laws and may not be offered or sold within the United States or to U.S. Persons as defined under applicable United States securities laws unless registered under the U.S. Securities Act and applicable state securities laws or an exemption from such registration is available.
The Offering constituted a related party transaction within the meaning of Multilateral Instrument 61-101 – Protection of Minority Security Holders in Special Transactions ("MI 61-101") as Professor David Nutt, George Scorsis, OrbiMed, Jonathan Held, Anthony Tennyson, and John Papastergiou insiders of the Company subscribed for an aggregate of 420,800 Units. The Company is relying on the exemptions from the valuation and minority shareholder approval requirements of MI 61-101 contained in sections 5.5(a) and 5.7(1)(a) of MI 61-101, as the fair market value of the participation in the Offering by the insiders does not exceed 25% of the market capitalization of the Company in accordance with MI 61-101. The Company did not file a material change report in respect of the related party transaction at least 21 days before the closing of the of the Offering, which the Company deems reasonable in the circumstances in order to complete the Offering in an expeditious manner.
To view the original press release in its entirety click here