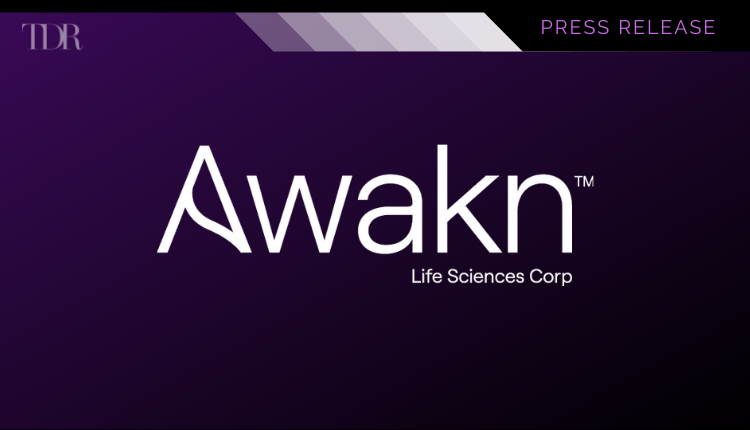 Awakn Life Sciences Announces the Findings from the Phase II A/B Study Are to Be Published in the American Journal of Psychiatry
WORLDS'S FIRST CONTROLLED STUDY TO INVESTIGATE KETAMINE-ASSISTED PSYCHOTHERAPY
Awakn Life Sciences Corp. (NEO: AWKN) (OTCMKTS: AWKNF), a biotechnology company developing and delivering psychedelic therapeutics (medicines and therapies) to treat addiction, announced today that the 'Ketamine in the Reduction of Alcoholic Relapse' (KARE) psychotherapy intervention study, which was the first controlled study in the world to investigate ketamine-assisted psychotherapy, will be published in the American Journal of Psychiatry later this year. The study was conducted by University of Exeter (UoE) and led by Prof. Celia Morgan, Professor of Psychopharmacology at UoE and Awakn's Head of Ketamine-assisted psychotherapy for addiction. Awkan has acquired the rights to this research.
The findings, which will be shared in detail in the journal, are a very exciting step forward in the treatment of alcohol use disorder and for the wider psychedelic industry in general. The phase II a/b trial had four groups, ketamine with and without therapy, and placebo administered with and without therapy.
Professor Morgan commented "We are delighted that the findings are to be published in the American Journal of Psychiatry. This new approach looks set to revolutionise the treatment of alcohol use disorder. We are excited to partner with Awakn for the next steps in the journey of ketamine-assisted therapy into a licensed treatment for this group of patients with limited treatment options."
With ketamine already a licenced medicine, the phase II a/b results allow Awakn to deliver the KARE treatment in its clinics in the UK and Europe immediately and through its licencing partnerships outside of these territories. The University of Exeter and Awakn are investigating how best to move this research forward to a pivotal phase III trial, which ultimately would allow it to be delivered 'on label', meaning it could be adopted by public health systems and covered by insurers.
Following the study, Dr. Morgan's research team also interviewed participants in the trial and published an analysis of their experiences in the journal Frontiers in Psychiatry entitled, "This Is Something That Changed My Life: A Qualitative Study of Patients' Experiences." A brief selection of quotes from the paper below, show the life-changing effect the treatment had on them and crucially how it changed their relationship with alcohol.
"It helped family wise, relationship wise, in every, every single avenue of my life, It's changed it."
"I wouldn't be here now if it wasn't for it. I can definitely say that."
"I feel I have much less desire to drink now than I used to. And I think what it is, I actually, I think I enjoy it less now"
"I think before the trial all my life was sort of focused around alcohol. I was either drinking it at home or selling it to students or working in an event where there was alcohol, the alcohol was a focus of it. So it" was sort of everything and then afterwards, it just sort of stopped.
This is a very exciting moment for ketamine-assisted psychotherapy. For so many people who are suffering from alcohol addiction, for whom the current treatments just aren't working, a successful phase II a/b trial and a unified ambition to progress this forward to a pivotal trial, gives real hope to those seeking a better and healthier future.

Chief Executive Officer of Awakn, Anthony Tennyson
To view the original press release in its entirety click here