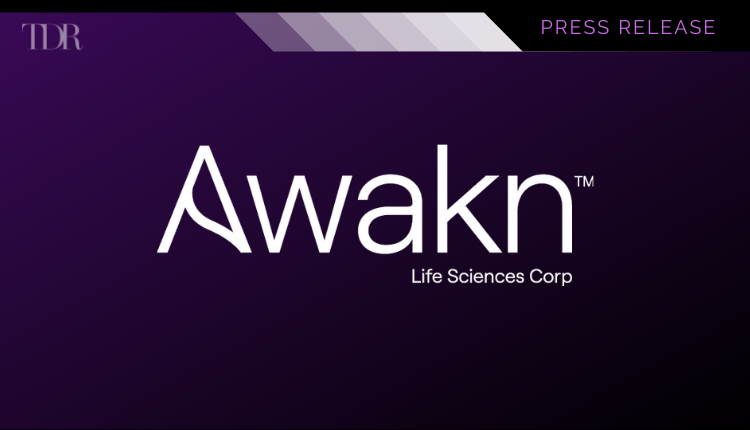 Awakn Life Sciences Announces Voluntary Lock-up Agreement Extension with Management, Board of Directors and Key Shareholders
Awakn Life Sciences Corp. (NEO: AWKN) (OTCMKTS: AWKNF), a biotechnology company developing and delivering psychedelic therapeutics (medicines and therapies) to treat addiction, announced that management, the Board of Directors ("the Board") and key shareholders (the "Lock-up Shareholders") have voluntarily entered into a Lock-up Agreement extension of their equity ownership with respect to approximately 11,500,000 shares or 46.1% of the issued and outstanding shares of the Company.
The lock-up agreements entered by our team, the Board, and Lock-up Shareholders reflect the continued confidence in the long-term vision of Awakn as an emerging leader in the psychedelic industry. The voluntary lock-up demonstrates the conviction towards our team, strategy, and business model as the psychedelic industry accelerates rapidly. With a new year ahead of us, Awakn remains focused on developing and delivering psychedelic therapeutics to treat Addiction. Management, the Board and our key shareholders remain committed to the future growth of the business and further enhancing shareholder value.

Anthony Tennyson, Chief Executive Officer of Awakn Life Sciences
Pursuant to the voluntary lock-up agreement, management, the Board, and Lock-up Shareholders have extended the original lock-up agreement by six months from December 23, 2021 to June 23, 2022 and are subject to leak out provisions every three months thereafter until December 23, 2023. The lock-up agreements stipulate that these stockholders will not sell, pledge, assign, transfer, hypothecate or otherwise dispose of any of the Lock-up Shares, or enter into any swap, hedge or engage in any short-selling of the Lock-up Shares, in addition to other restrictions.
To view the original press release in its entirety click here