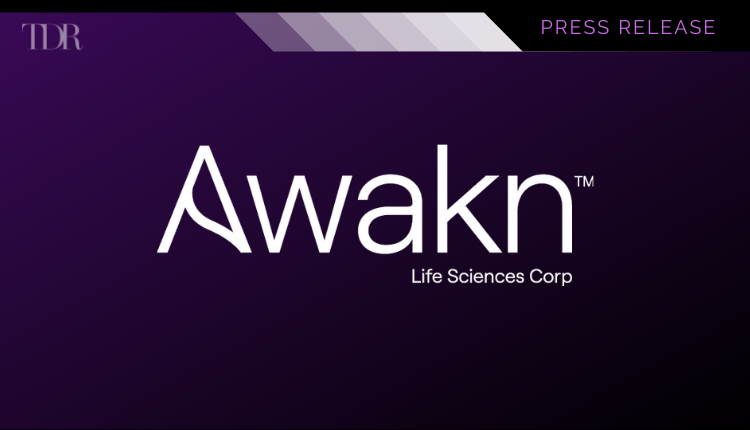 Awakn Life Sciences Appoints Former EVP & Chief Commercial Officer of Gilead Sciences, Paul Carter, as Independent Member of its Board of Directors
Awakn Life Sciences Corp. (NEO: AWKN) (OTCMKTS: AWKNF), a biotechnology company developing and delivering psychedelic therapeutics (medicines and therapies) to treat addiction, announced today the appointment of Paul Carter, former Chief Commercial Officer of Gilead Sciences Inc., as an independent member of its Board of Directors, increasing the independent majority on the board. Mr. Carter will be replacing Dr. Benjamin Sessa who has resigned from the Board of Directors, and Dr. Sessa shall continue in his day-to-day role of Co-Founder and Chief Medical Officer.
Paul Carter is a seasoned international BioPharma leader with an outstanding and proven track record. He has over 25 years of senior executive experience, specializing in commercialization, regional leadership, and mergers and acquisitions. Mr. Carter is currently a Board Director and Committee Chair of four US-listed BioPharma companies HutchMed PLC, Mallinckrodt Pharmaceuticals, Immatics NV, and VectivBio Inc. Prior to this, Mr. Carter served as Executive Vice-President and Chief Commercial Officer of Gilead Sciences Inc., where he was responsible for the company's worldwide commercial activity, including $33 billion of revenue in 2015 and launching several of the biggest selling prescription drugs of all time. Before that Mr. Carter had senior leadership roles in GSK (and its legacy companies), including head of GSK China and head of Smith Kline Beecham Russia.
As Awakn continues to make meaningful progress on its clinical development and delivery strategy, it is critical that we add key leadership and experience capabilities to our team. Paul brings a demonstrated track record and expertise from Gilead that will support the acceleration of our efforts to bring forward the next generation of psychedelic therapeutics to market. Our board is now comprised of an independent majority.

George Scorsis, Chairman of the Board
"The psychedelic industry is experiencing a pivotal moment. Awakn is positioned to be an emerging leader in the psychedelic space, targeting the vast unmet medical need of addiction through their R&D and clinical delivery arms," said Mr. Carter. "I look forward to working with Awakn's team and their steadfast commitment to treat addiction."
Dr. Ben Sessa added, "We are honoured to have someone of the calibre of Paul join our Board of Directors. This comes at a perfect time as I continue to focus on the day-to-day operations of Awakn and have the pleasure of helping treat our clients at our Bristol clinic as the demand continues to increase. As we mature as a company, increasing the independence on our board becomes critical and I look forward to learning from Paul's experience."
The Company has also adopted a restricted share unit ("RSU") and deferred share unit ("DSU") compensation plan (the "RSU/DSU Plan"), which remains subject to the approval of the NEO Exchange Inc. and shareholder ratification. The RSU/DSU Plan has been established to provide more flexibility in granting equity-based incentives to eligible employees, consultants, directors and officers of the Company. The maximum number of awards issuable under the RSU/DSU Plan, together with the number of stock options issuable under the Company's stock option plan (the "Option Plan"), may not exceed 10% of the number of issued and outstanding common shares of the Company as at the date of grant. The Company intends to seek shareholder ratification of the RSU/DSU Plan and all grants thereunder at its next annual shareholder meeting, and further details of the RSU/DSU Plan will be included in the management information circular of the Company which will be sent to shareholders and filed on SEDAR in connection with such meeting.
The Company has granted, as a result of his appointment, 24,828 incentive stock options and 35,172 DSUs to Mr. Carter. The options shall have an exercise price of $2.90, expire five years from the date of issuance, and shall vest 25% on each of the first four six months anniversaries, the DSUs remain subject to shareholder ratification.
To view the original press release in its entirety click here