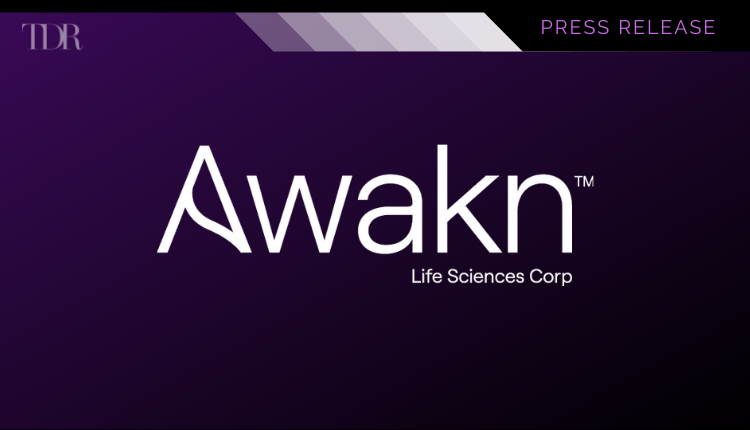 Awakn Life Sciences Appoints Kevin Lorenz as U.S. Head of Commercial Development
Brings Over 20 Years of Commercial Biotech Experience to Lead Awakn's Therapeutics Commercialization Activities in the U.S.
Awakn Life Sciences Corp. (NEO: AWKN)(OTCMKTS: AWKNF), a biotechnology company, researching, developing, and delivering psychedelic therapeutics to treat addiction, announced today that the Company has appointed Kevin Lorenz as their U.S. Head of Commercial Development, effective immediately. Mr. Lorenz will lead Awakn's therapeutics commercialization activities in the United States, starting with the launch of its Licensing Partnership business which is scheduled and expected to generate revenue for the second half of 2022.
Mr. Lorenz brings deep commercial biotech experience to Awakn, having spent two decades in the pharmaceutical sales industry, particularly in the U.S. addiction treatment market. Previously, he worked at Alkermes as Senior Regional Sales Director, where he directed a team of leaders and their representatives covering 32 states for Vivitrol, an FDA-approved medication for the treatment of Alcohol Use Disorder and Opiate Use Disorder. During his time with Alkermes, Mr. Lorenz was responsible for half of the U.S. sales of Vivitrol, which was worth $170m per annum. Before Alkermes, Mr. Lorenz worked at Cephalon Inc. and Janssen pharmaceuticals amongst others. He received his degree from Lambuth University.
We are delighted to have someone of Kevin's calibre, who is an industry leader in his field, join our organization. Having the right person with the right network to launch and scale a part of our business that has immense potential was a critical decision. The addiction treatment and rehabilitation industry in the U.S. alone is worth almost $40 billion per annum, and this is with treatments that simply are not as effective as ours. We will translate our hugely positive clinical trial results into real change in so many people lives who are currently suffering from AUD. We believe our offering is going to disrupt the U.S. addiction treatment industry.

Anthony Tennyson, Chief Executive Officer of Awakn
In the US, the drug and alcohol addictions treatment industry, while being a multi-billion-dollar industry, has very high failure rates and penetration rates are very low1. Awakn plans to partner with existing addiction treatment clinic operators to enable them to provide evidence backed effective ketamine-assisted therapy treatments for Alcohol Use Disorder based on research from Awakn's recently published Phase II a/b clinical trial2. The ground-breaking results of the trial showed 86% abstinence at 6 months post treatment, which is more effective than any treatments currently available in the alcohol addiction market. In addition to this, it showed a 2.7 times reduction in the chance of relapse in comparison to the placebo group, a statistically significant increase in liver function across several markers and a statistically significant reduction in depression.
Kevin Lorenz, Awakn's U.S. Head of Commercialization, stated "I am excited and proud to join the Awakn team. The debilitating effects Alcohol Use Disorder can have on patients and their families are well known and well documented. Perhaps less well known are the tremendous positive benefits experienced by patients, families and communities when those in treatment achieve and maintain Recovery. Millions of people in the US struggling with AUD need more effective treatment options, and Awakn is bringing innovation and new tools into this space. As a member of the Awakn team, I am excited to help make these options known and accessible to providers and their patients."
To view the original press release in its entirety click here