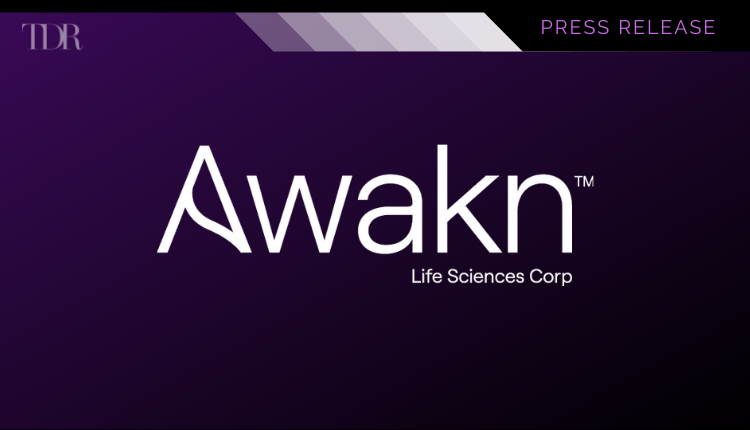 Awakn Life Sciences Drug Discovery Program Files Patent Application for a New Class of Entactogen-Like Molecules
Entactogen NCE Series Enhances the Potential to Treat a Broad Range of Addictions
Awakn Life Sciences Corp.(NEO: AWKN)(OTCMKTS: AWKNF), a biotechnology company developing and delivering psychedelic therapeutics to treat addiction, strengthened its intellectual property portfolio and pipeline for the treatment of addictions with the filing of a patent application for a new chemical series of entactogen-like molecules. Entactogen-like molecules are a class of psychoactive substances that produce distinctive emotional and social effects that Awakn believes has great potential to treat both substance and behavioural addictions.
Awakn's latest patent application, which covers the new chemical series, fulfils another significant step forward in the development of next generation entactogens and provides a key milestone in Awakn's drug discovery program. The application further strengthens Awakn's pipeline and position as a global leader in the psychedelic-biotechnology industry.
Professor David Nutt, Chief Research Officer at Awakn, commented, "The novel entactogen-like molecules being developed at Awakn and protected in this patent, build on our recent filings to establish a strong pipeline of Novel Chemical Entities. These molecules have the potential to revolutionize the treatment of addiction by delivering improved efficacy in a shorter treatment time. Our aim is to treat addiction patients, more rapidly, effectively, and safely than has been possible to date."
Awakn and its research partner, Evotec, have used an Artificial Intelligence approach to identify initial hits. A number of these hits were verified using a set of in vitro screening and ADMET assays leading to the identification of multiple patentable series.
We are delighted with the pioneering progress we have made, and it is a testament to our world class team to have achieved another significant milestone in our drug discovery program. Increasing efficacy, while being able to deliver that in a shorter time frame, is what every biotech in this space is trying to do. We believe we have taken a big step in that direction with this patent application.

Anthony Tennyson, Awakn's CEO
To view the original press release in its entirety click here