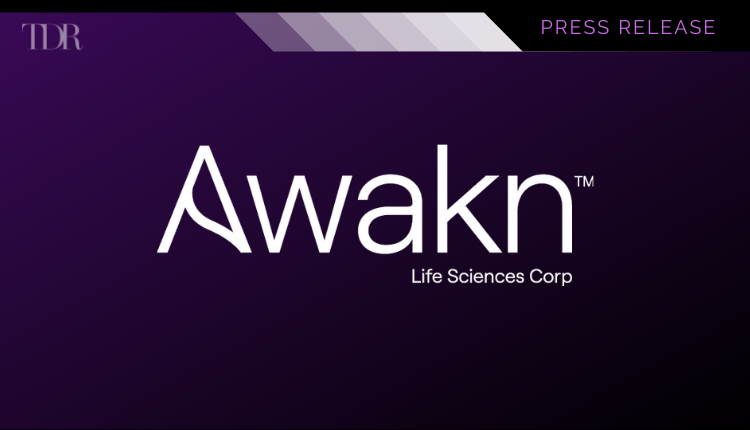 Awakn Life Sciences Identifies New Chemical Series via Its Drug Discovery Program
Awakn Life Sciences Corp. (NEO: AWKN) (OTCMKTS: AWKNF), a biotechnology company developing and delivering psychedelic therapeutics (medicines and therapies) to treat addiction, announced today the success of phase one of its new chemical entity (NCE) development program to strengthen Awakn's pipeline for the treatment of a broad range of both substance and behavioral addictions. Novel MDMA-like NCE chemical series have been identified with drug-like properties, which was the aim of phase one of the process. Four leading compounds have been selected to be taken into in vivo efficacy analysis. The data generated will be used to support patent applications and to facilitate the development of additional lead compounds for clinical development. The Company has also announced the progression of its programme into lead optimisation working with Evotec.

Awakn is building on its position and experience as a clinical phase biotechnology company to develop a significant portfolio of innovative and targeted novel candidates to treat poorly addressed substance and behavioral addictions. Awakn will focus on addictions where the consequences for the patient, their family and society are at present both poorly met and severe in outcomes. This announcement builds on Awakn's March 2021 acquisition of a significant body of proprietary research from Prof. David Nutt's Equasy Enterprises, including details of newly discovered actions of MDMA; and the selection of Evotec as NCE research partner.
The success of our NCE project has exceeded expectations, delivering robust data and clear steps forward in a short time period. The positive data we obtained will drive the identification and characterization of clinical candidates to develop the next generation of psychedelic medicines to treat addiction. Our strong development pipeline now positions Awakn at the vanguard of the psychedelic biotechnology industry.

Dr. Shaun McNulty, Awakn's CSO

"Our ambition is to fully integrate effective psychedelic-based treatment into mainstream healthcare to better treat addiction," said Prof David Nutt, Awakn's Chief Research Officer. "Our preclinical and clinical development programs are moving forward rapidly, and we have a world-class R&D team with unparalleled experience. Entering lead optimisation is a significant step towards delivering NCE with improved capabilities over existing options."
To view the original press release in its entirety click here