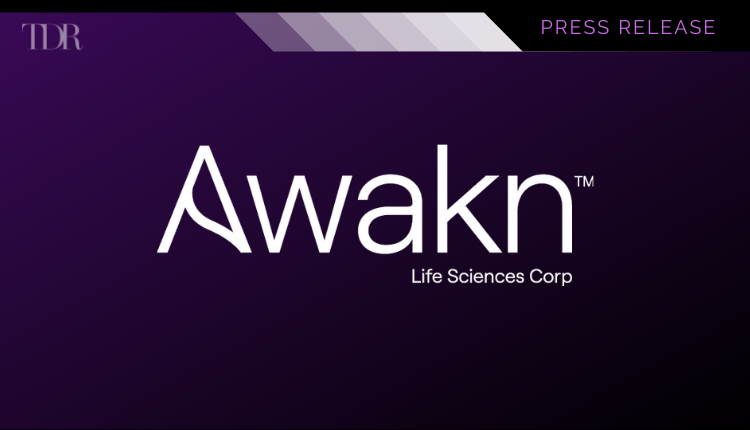 Awakn Life Sciences Provides Shareholder Update on Three Operational Ketamine-Assisted Therapy Clinics in the UK and Norway
Awakn Life Sciences Corp. (NEO: AWKN)(OTCMKTS: AWKNF), a biotechnology company, researching, developing, and delivering revolutionary therapeutics to treat addiction, today is providing shareholders with a business update on its three fully-operational ketamine-assisted therapy clinics, two in the UK and one in Norway.
Awakn's clinics team consists of some of the world's leading authorities in the ketamine/psychedelic-assisted therapy industry, including Dr. Ben Sessa, Awakn's Chief Medical Officer; Dr. Laurie Higbed, Awakn's Lead Psychologist, Prof. Celia Morgan, Awakn's Head of Ketamine-Assisted Therapy, Dr. Lowan Stewart, Managing Director – Nordics and James Collins, Managing Director, Awakn Clinics and Chief Operating Officer of Awakn.
Awakn Clinics Bristol was Awakn's and the UK's first medical psychedelic-assisted therapy clinic. The clinic opened during the fourth quarter of 2021 and is now moving into its sixth month of ongoing operations with strong demand for both its evidence backed 'KARE' protocol for the treatment of Alcohol Use Disorder (AUD), and its ketamine-assisted therapy for treating depression, anxiety, PTSD and eating disorders.
Awakn Clinics Oslo (formerly Axonklinikken) is one of the Nordics leading ketamine-assisted therapy clinics and was acquired by Awakn in late 2021. The first quarter of 2022 saw Awakn complete the integration of Axonklinikken into its clinics network and in March 2022 officially rebranded the clinic as Awakn Clinics Oslo. Awakn Clinics Oslo is now also providing both Awakn's evidence backed 'KARE' and ketamine-assisted therapy to clients from all over Norway.
Awakn Clinics London is Awakn's flagship clinic and is now open and treating clients after receiving regulatory approval to begin operations in March 2022. Like Awakn's other clinics, it is offering their evidence backed treatments for a range of mental health illnesses and addictions.
The KARE protocol for the treatment of AUD was developed in Awakn's Phase II a/b clinical trial, of which the results were published in January 2022 in the American Journal of Psychiatry. Awakn is the only company in the world now delivering evidence backed ketamine-assisted therapy for the treatments of AUD, a chronic and poorly treated disease affecting 400 million people globally.
To have three clinics operational and delivering ketamine-assisted therapy in such a short space of time is hugely gratifying. The clinics provide an excellent opportunity for Awakn's development, but most importantly it's the fact that we are able to help such a such a large cohort of people who have struggled to find an effective treatment for them and their illness.

Dr. Ben Sessa, Awakn's Chief Medical Officer
Awakn's business model consists of three different business arms, 1) Research & Development, 2) Clinics and 3) Therapeutics Commercialization. The clinical network enables Awakn to deliver ground-breaking and evidence-backed therapeutics developed by the company's R&D business through its research and clinical trials. Implementing these patient-centered protocols and therapies have quickly proved critical in providing a new hope to so many people suffering from addiction and mental health issues.
The structure of the business model also allows Awakn to hone and fine tune the delivery model for their therapeutics while amassing real world data and evidence to support its regulatory approval applications. The Therapeutics Commercialization business then takes these protocols and licenses them to partners outside of the environments where Awakn has a physical footprint, starting with the US and Canada in Q3 of this year, equipping them with novel treatments to deliver more effective care for their clients.
To view the original press release in its entirety click here