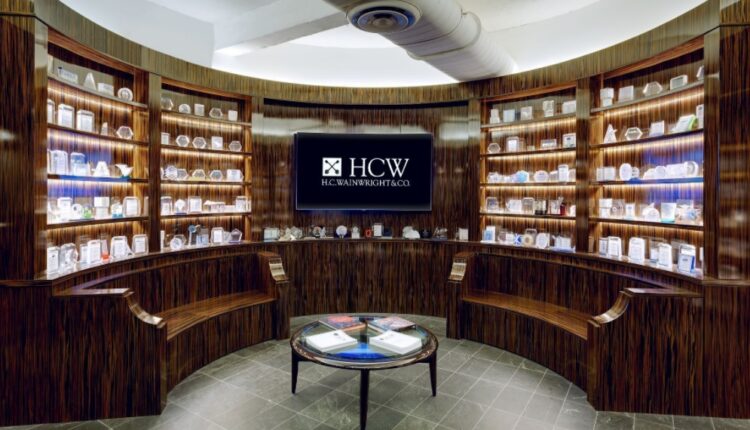 Awakn Life Sciences Receives Bold Price Target From H.C. Wainwright
This morning, Awakn Life Sciences Corp. (NEO: AWKN) (OTCMKTS: AWKNF) became the latest psychedelic company to obtain coverage under the H.C. Wainwright umbrella. Fresh off positive results from its recently-released Phase II A/B trial for Alcohol Use Disorder (AUD), H.C. Wainwright has incorporated this, and other data, into its valuation model to come up with the bullish forecast. Awakn becomes the eighth psychedelic company to obtain coverage from the New York investment bank.
| | | | |
| --- | --- | --- | --- |
| Company | Date Initiated/Reiterated | Rating | Price Target |
| PharmaTher Holdings | July 26, 2021 | Buy | C$5 |
| Mind Medicine | August 5, 2021 | Buy | $10 |
| atai Life Sciences | October 15, 2021 | Buy | $40 |
| Mindset Pharma | November 3, 2021 | Buy | C$5 |
| COMPASS Pathways | November 22, 2021 | Buy | $120 |
| Cybin Inc. | November 22, 2021 | Buy | $10 |
| Field Trip Health | November 22, 2021 | Buy | $25 |
| Awakn Life Sciences | February 1, 2022 | Buy | $10 |
Awakn Life Sciences in an emerging leader in the European psychedelics space. Its operations are co-focused on drug developing New Chemical Entities (NCEs) to treat alcohol and behavioral addictions, as well as delivering psychedelic-assisted therapies in the European market in outpatient clinical settings. Awakn intends to deliver these evidence backed psychedelic therapies in clinics in the UK and Europe and through licensing partnerships globally.
While the company sports a robust news cycle in 2022, its recent Phase II A/B trial results have received the most acclaim. The primary outcomes of abstinent and relapse both showed material results, with total abstinence in 162 of 180 days in the following 6-month period, while abstinence increased from around 2% prior to the trial to 86% post-trial. The results for relapse at 6 months, showed that the Ketamine plus Ketamine in the Reduction of Alcoholic Relapse (KARE) group's risk of relapse, was 2.7 times less than the placebo plus alcohol education group.
Just as significantly, no serious adverse events were reported.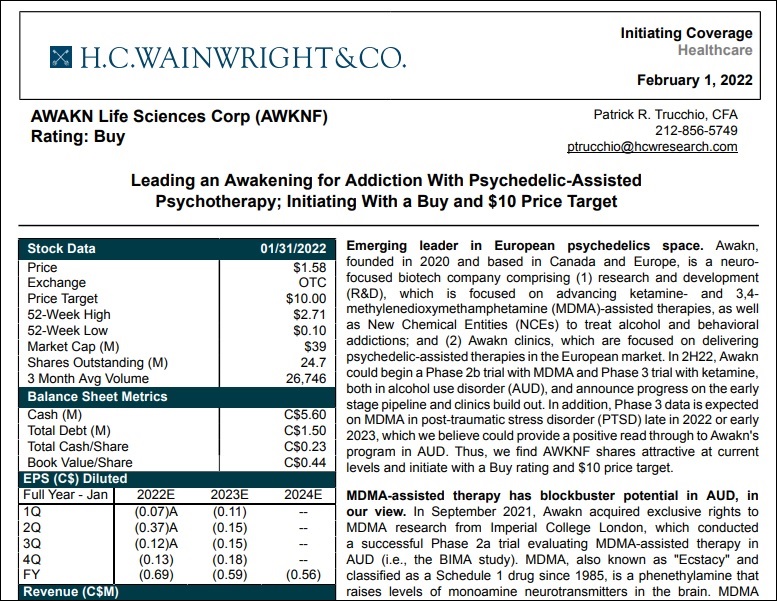 On an overarching basis, H.C. Wainwright believes ketamine plus therapy represents potential significant opportunity in multiple areas of addiction. With Awakn having established efficacy in the Phase II A/B trial, they expect the program to advance into Phase 3 in the second half of 2022. This would be a significant milestone, as only COMPASS Pathways is on track to reach this designation among current psychedelic trials in the industry.
On a non risk-adjusted basis, H.C Wainwright estimates this program could generate peak annual revenues of more than C$100M should the trial ultimately gain approval. The current undiluted market cap of Awakn Life Sciences is approximately C$51million, according to TMX Money.
The recent Phase II A/B trial results is only one component factoring into H.C. Wainwright's analyst report. Awakn Life Sciences has multiple catalyst events which could help drive the price action in 2022, including separate Phase 2 & 3 clinical trial initiations and potential re-scheduling of MDMA by U.S. regulators pending ongoing trial research for PTSD, and more.
Please contact thedalesreport.com if you would like to receive access to the full report.