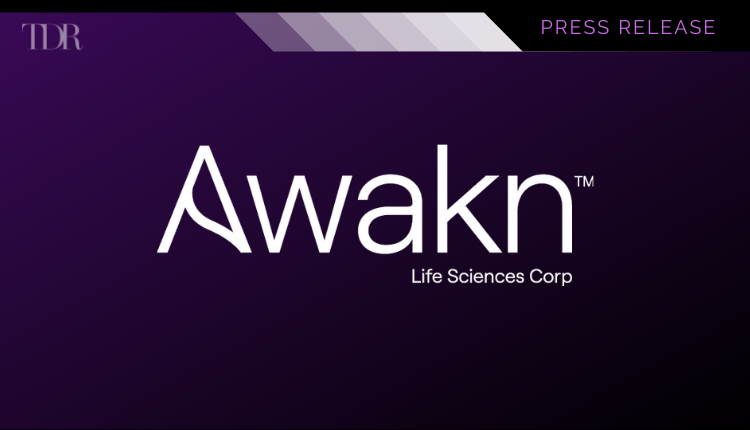 Awakn Life Sciences Receives Regulatory Approval for Flagship Clinic in London to Begin Delivering Treatments
London Clinic Will Begin Delivering Ketamine-Assisted Therapy for Addiction & Mental Health
Third Location Adds to Two Existing Operatons in Bristol and Oslo
Awakn Life Sciences Corp. (NEO: AWKN)(OTCMKTS: AWKNF), a biotechnology company, researching, developing, and delivering psychedelic therapeutics to treat addiction, announced today that Awakn Clinics London has received Care Quality Commission's (CQC) formal approval to begin treatments for addiction and mental health.
The flagship London clinic is Awakn's third clinic, adding to the Company's two operating clinics located in Bristol (UK) and Oslo (Norway). The clinics deliver ketamine-assisted therapy to treat addiction and several mental health disorders. Clients seeking treatment for Alcohol Use Disorder, will receive Awakn's groundbreaking treatment protocol developed in their recently published Phase II a/b clinical trial.
This is a very exciting moment for Awakn and for ketamine-assisted therapy overall as it starts to become a more accessible option for patients. Most importantly, it provides an effective treatment option for so many when other current therapies or treatments fall short. The CQC giving us this recognition again signals a positive direction for the UK and Europe toward embracing ketamine-assisted therapy as a mainstream treatment.

Anthony Tennyson, Awakn's CEO
Following on from the CQC approval, Awakn will receive a schedule 2 license from the Home Office which will allow ketamine to be administered in the London clinic.
To view the original press release in its entirety click here