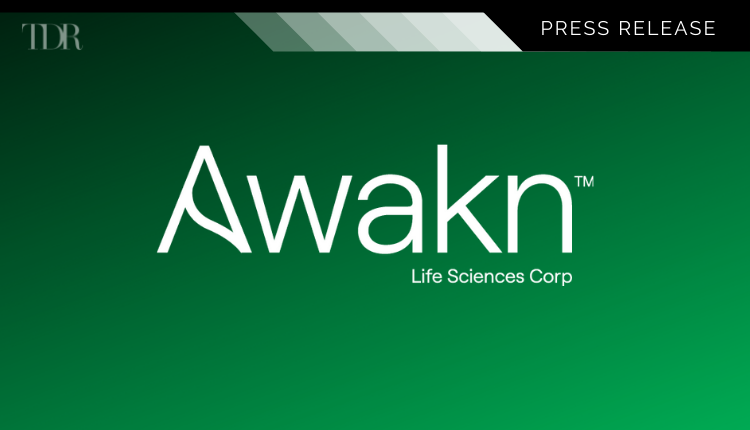 Awakn Life Sciences to Commence Trading on the OTC Market on July 26, 2021 Under the Symbol 'AWKNF'
Awakn Life Sciences Corp. (NEO: AWKN) (OTCMKTS: AWKNF), a biotechnology company with clinical operations developing and delivering psychedelic medicines to better treat addiction, today announced approval from the Financial Regulatory Authority ("FINRA") for its shares to commence trading on the OTC Market (the "OTC") in the United States under the symbol "AWKNF" effective today, July 26, 2021. Awakn will continue to trade on the NEO Exchange under its existing symbol "AWKN".
With the commencement of trading on the OTC, Awakn has achieved another important milestone on our path to changing how addiction is treated and ultimately making a positive impact on the lives of our clients, their families, and communities. This additional capital markets exposure offers us greater visibility within the investment community in the U.S., which should enhance our liquidity and increase our access to institutional and retail investors. This support is extremely valuable to us as we progress both our therapeutic development programs and our delivery program, including our clinic's rollout. We look forward to working with the team at OTC Markets Group on up-listing onto the OTCQB Venture Market.

Anthony Tennyson, Awakn's CEO
About OTC Markets Group Inc.
OTC Markets Group Inc. operates the OTCQX® Best Market, the OTCQB® Venture Market and the Pink® Open Market for 11,000 U.S. and global securities. Through OTC Link® ATS and OTC Link ECN, we connect a diverse network of broker-dealers that provide liquidity and execution services. We enable investors to easily trade through the broker of their choice and empower companies to improve the quality of information available for investo
To learn more about how we create better informed and more efficient markets, visit www.otcmarkets.com .
About Awakn Life Sciences Corp.
Awakn Life Sciences is a biotechnology company with clinical operations, researching, developing, and delivering psychedelic medicine to better treat Addiction. Awakn's team consists of world leading chemists, scientists, psychiatrists, and psychologists who are developing and advancing the next generation of psychedelic drugs, therapies, and enabling technologies to treat Addiction. Awakn will also deliver evidence backed psychedelic therapies for Addiction in clinics in the UK and Europe and through licensing partnerships globally.
To view the original press release in its entirety click here