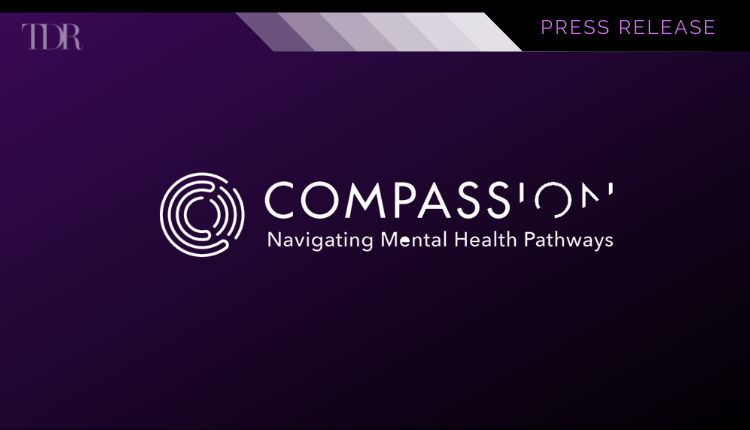 COMPASS Pathways announces positive outcome of 25mg COMP360 psilocybin therapy as adjunct to SSRI antidepressants in open-label treatment-resistant depression study
Patients taking COMP360 psilocybin with concomitant SSRIs showed comparable treatment outcomes to patients withdrawn from their SSRI therapy in COMPASS's phase IIb trial
All patients tolerated COMP360 psilocybin therapy well
COMPASS Pathways plc (NASDAQ: CMPS), a mental health care company dedicated to accelerating patient access to evidence-based innovation in mental health, today announced the results from its exploratory study of COMP360 psilocybin therapy in conjunction with SSRI use. This single-arm open label study of 19 patients taking concomitant SSRI therapy with COMP360 psilocybin therapy using a single dose of 25mg saw comparable treatment outcomes to patients in COMPASS's phase IIb trial where patients were withdrawn from their SSRI prior to COMP360 psilocybin therapy.
The results of this study challenge the widely-held belief that the use of SSRI medication together with psilocybin could interfere with psilocybin's therapeutic effect. Our findings provide a strong signal that COMP360 psilocybin therapy could be an adjunctive treatment to SSRI antidepressant as well as a monotherapy. For some patients with treatment-resistant depression, withdrawal is a difficult step even though, by definition, 'treatment-resistant' means that those antidepressants are not working. This is exactly why we conduct rigorous research to help guide our clinical trial design – including addressing barriers to adoption of COMP360 therapy. We are now looking forward to meeting with the FDA early in the new year in light of these new data to finalise our plans for the phase III programme, which we expect to begin in Q3 2022.

Guy Goodwin, COMPASS Pathways' Chief Medical Officer
Study result
This open-label study included 19 patients from clinical sites in Ireland and the United States. The majority of patients were female (68.4%) and the average age was 42 years. The primary endpoint was the change in baseline MADRS1 total score at 3 weeks in patients having 25mg COMP360 psilocybin therapy given in augmentation with their existing SSRI antidepressant regimen. In the study, 8 of the 19 patients (42.1%) were responders1 at week 3 (compared with 36.7% at week 3 in the phase IIb trial) and all 8 were also remitters1. The mean reduction from baseline observed in MADRS total score was 14.9 at week 3 (compared with a 12.0 mean reduction in MADRS in the phase IIb trial). There was a rapid response from day 2 to week 3 after COMP360 therapy, which is also consistent with the phase IIb result. The baseline MADRS score of patients entering the study was 31.7, representing moderate to severe depression. MADRS scores were assessed by blinded independent raters at baseline, on the day following COMP360 psilocybin therapy, and at weeks 1, 2 and 3. Patients were then invited to participate in COMPASS's long-term follow-up study which also includes patients from the phase IIb trial.
COMP360 psilocybin therapy using a 25mg dose also showed overall signals of improvement in most other measures including improvement in anxiety, clinician and self-rated depressive symptoms, and positive and negative affect.
25mg COMP360 psilocybin therapy was generally well-tolerated when it was administered simultaneously with the patient's SSRI treatment. There were no treatment-emergent adverse events (TEAEs) classed as serious (life threatening, leading to disabilities, hospitalisation or in general medically significant) and no TEAEs related to suicidal ideation or behaviour or intentional self-injury.
COMPASS is now preparing for a meeting with the FDA in early 2022 and this result will be included in that discussion. COMPASS expects to finalise a phase III programme design with the FDA and anticipates commencing that programme in Q3 2022. As a reminder, COMPASS has Breakthrough Therapy designation with the FDA.
-Ends-
Notes to editors:
About treatment-resistant depression (TRD)
More than 320 million people globally suffer with major depressive disorder (MDD)2, the leading cause of disability worldwide and one of the fastest growing mental health illnesses3. About a third of these patients – 100 million people – aren't helped by existing therapies and suffer with treatment-resistant depression (TRD)4. As many as 30% of these attempt suicide at least once during their lifetime5,6. TRD carries two to three times the medical costs of a non-TRD MDD patient, and patients with TRD have a higher all-cause mortality compared with non-TRD MDD patients7. The TRD population is by definition more difficult to treat and more likely to relapse than patients with major depressive disorder. In 2018, COMPASS received FDA Breakthrough Therapy designation for its COMP360 psilocybin therapy for TRD.
To view the original press release in its entirety click here