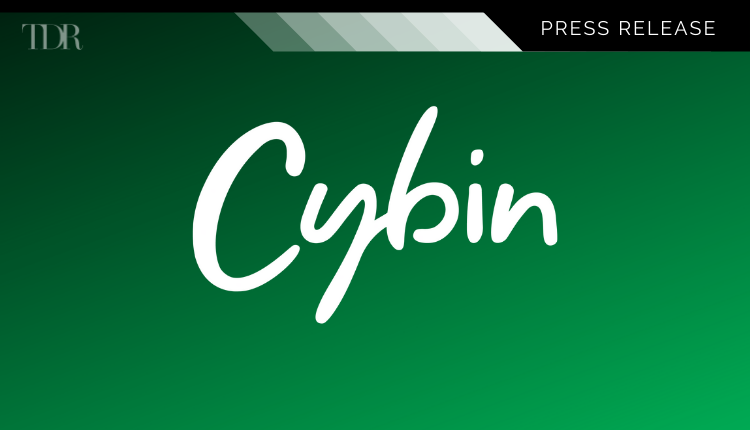 Cybin Establishes Clinical Advisory Board of Renowned Physicians, Dr. Maurizio Fava, Dr. Lynn Marie Morski and Dr. Anthony Back
Cybin Inc. (NEO:CYBN) (OTCMKTS:CLXPF), a biotechnology company focused on progressing psychedelic therapeutics, today announced the formation of its Clinical Advisory Board, with the additions of Maurizio Fava, MD, Psychiatrist-in-Chief in the Department of Psychiatry at Massachusetts General Hospital; Lynn Marie Morski, MD, Esq., President of the Psychedelic Medicine Association; and Anthony Back, MD, Professor in the Department of Medicine and Division of Oncology at the University of Washington. The Clinical Advisory Board will be chaired by Alex Belser, PhD, Cybin's Chief Clinical Officer.
We are delighted to welcome three accomplished experts in their respective fields to guide the strategic development of Cybin's clinical programs. Together, Drs. Fava, Morski, and Back add unparalleled clinical expertise and strengthen our position to advance psychedelic therapeutics. Their insights will be especially valuable as we move our development pipeline through clinical trials.

Doug Drysdale, Chief Executive Officer
"It is an honor to work alongside these visionary physicians who have shaped the clinical landscape," said Dr. Belser, Chair of the Clinical Advisory Board. "In these unprecedented times, we are confronting an unfolding mental health crisis, high unmet need and inadequate existing treatments. With the guidance of our team of advisors, we are aiming to develop psychedelic medicine to address these challenges with skill, integrity and compassion."
Dr. Maurizio Fava is an international leader in the field of depression. He serves as Psychiatrist-in-Chief in the Department of Psychiatry at Massachusetts General Hospital. He is also Director of the Division of Clinical Research, Mass General Research Institute, Associate Dean for Clinical & Translational Research, and Slater Family Professor of Psychiatry at Harvard Medical School. In 2007, he founded and is now Executive Director of the Mass General Psychiatry Clinical Trials Network and Institute ("CTNI"), the first academic contract research organization ("CRO") specialized in planning and coordination of multi-center clinical trials in psychiatry. He has authored or co-authored more than 800 original articles published in medical journals with international circulation, edited eight books, and published more than 50 chapters and over 600 abstracts. Dr. Fava earned his medical degree from the University of Padua.
Dr. Lynn Marie Morski is the President of the Psychedelic Medicine Association ("PMA"), a society of physicians, therapists and health care professionals looking to advance their education on the therapeutic uses of psychedelic medicines. The PMA is a public benefit corporation of health care providers working to bridge the gap between the advances taking place in the psychedelic research world and medical practitioners. Dr. Morski is also host of the Plant Medicine Podcast, the founder of PlantMedicine.org, and the medical director for WayofLeaf.com. She is a Mayo Clinic-trained physician in family medicine and sports medicine, as well as an attorney and former adjunct law professor. Dr Morski earned her medical degree at Saint Louis University School of Medicine and her law degree at Thomas Jefferson School of Law.
Dr. Anthony Back is a recognized leader in the fields of palliative care and oncology. He is a board-certified physician at Colorectal Services at University of Washington Medical Center, co-director of the University of Washington Center for Excellence in Palliative Care, and a University of Washington professor of Oncology and Medicine and an adjunct professor of Bioethics and Humanities. He is triple board certified in Hospice and Palliative Medicine, Medical Oncology and General Internal Medicine. He was the principal investigator for the Oncotalk interventions, co-wrote Mastering Communication with Seriously Ill Patients, released the first iPhone app for clinician communication skills, and is a Contemplative Studies Fellow of the Mind and Life Institute. His clinical and research interests include patient-physician communication and quality of life palliative care. Dr. Back earned his medical degree at Harvard Medical School.
Dr. Alex Belser is a well-known leader in the field of psychedelic research and Chair of Cybin's Clinical Advisory Board. Dr. Belser has served as an investigator on clinical trials of psilocybin and MDMA to treat depression, anxiety, substance use, obsessive-compulsive disorder ("OCD"), post-traumatic stress disorder ("PTSD"), and end-of-life distress at New York University and Yale University. Dr. Belser previously served as Chief Clinical Officer at Adelia Therapeutics. Dr. Belser was the founding President of Nautilus Sanctuary, the first non-profit center for psychedelic medicine in the eastern United States. He has written and taught widely on the topic of psychedelic medicine, having given over 50 lectures, presentations, and Grand Rounds on psychedelic topics. Dr. Belser trained at Bellevue Hospital, Mount Sinai Beth Israel Hospital, and New York Psychiatric Institute at Columbia University. Dr. Belser has a Bachelor of Arts degree in English and Government from Georgetown University, a Master of Philosophy degree from Cambridge University, a PhD in Counseling Psychology from New York University, and completed his Clinical Research Fellowship at Yale University.
To view the original press release in its entirety click here