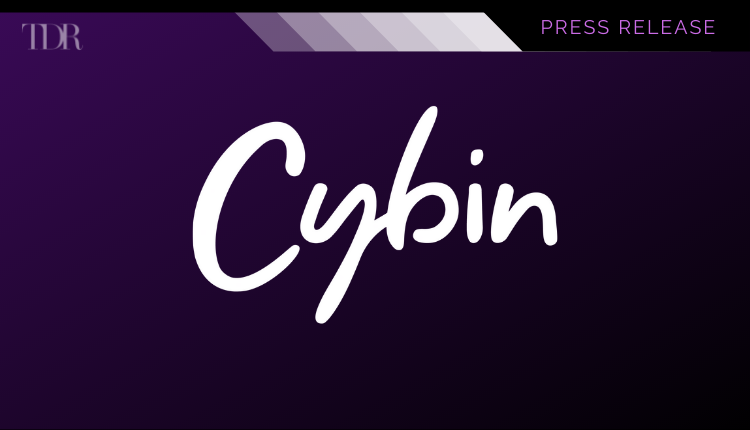 Cybin Hosting Research and Development Briefing on November 8, 2021
Cybin Inc.(NEO: CYBN) (OTCMKTS: CLXPF), a biopharmaceutical company focused on progressing "Psychedelics to Therapeutics™", will host an in-person and virtual research and development ("R&D") briefing releasing positive research findings and data on Monday, November 8, 2021 from 8:30 am to 9:30 am (EST) on the advancements to create a promising approach for patients in need of effective and safe prescription therapies in the mental health space. Founded in October 2019, Cybin is a company that has evolved in many ways on its journey to create ethical and equitable scientific platforms.
Cybin's leadership, including CEO Doug Drysdale and the Company's senior scientific research team, are hosting the R&D briefing. The in-person session will take place at the Adrienne Arsht Center for the Performing Arts, within the Green Room, at the Wonderland Conference in Miami. Log-in details for the webcast for virtual attendees can be found below. The event will be followed by a Q&A session.
The evolution within the Company continues to align with its "Psychedelics to Therapeutics" approach by harnessing already known attributes of classical psychedelics and engineering them into commercially viable therapeutics. The Company's comparative pre-clinical data clearly shows multiple potential advantages over classical psychedelic molecules. This data and the molecular possibilities may have wide-reaching implications for the treatment of mental health.
We are on a mission to create safe and effective therapeutics for patients to address a multitude of mental health issues. At a time when COVID has exacerbated the mental health crisis to epidemic proportions, the Cybin team has been exceptionally productive. We are excited to share the deeply meaningful scientific progress that we have made. You will not want to miss this.

Cybin CEO Doug Drysdale
Speakers at the R&D event include:
Doug Drysdale – Chief Executive Officer
Michael Palfreyman, Ph.D. – Chief R&D Officer
Geoff Varty, Ph.D. – Head of R&D
Aaron Bartlone – Chief Operating Officer
Physical address for attendees:
Physical event is for media attendees and analysts only. To RSVP, please email [email protected].
The Adrienne Arsht Center for the Performing Arts
Next Generation Green Room
Arts of Miami-Dade County, Inc.
1300 Biscayne Blvd. Miami, FL 33132
Virtual Webcast:
Virtual event is open to shareholders and the general public.
Topic: Cybin Research & Development Press Conference
Location: Wonderland Conference, Miami, FL
Time: Nov 8, 2021 08:30 AM Eastern Time (US and Canada)
Join Zoom Meeting
https://imageav.zoom.us/j/82993672583?pwd=cW9zQi9Xc1BCbExpTGh5T09aS1hGUT09
One tap mobile
+13462487799,,82993672583#,,,,*730988# US
Dial by your location
Meeting ID: 829 9367 2583
Passcode: 730988
Find your local number: https://imageav.zoom.us/u/kWOoByjaK
To view the original press release in its entirety click here