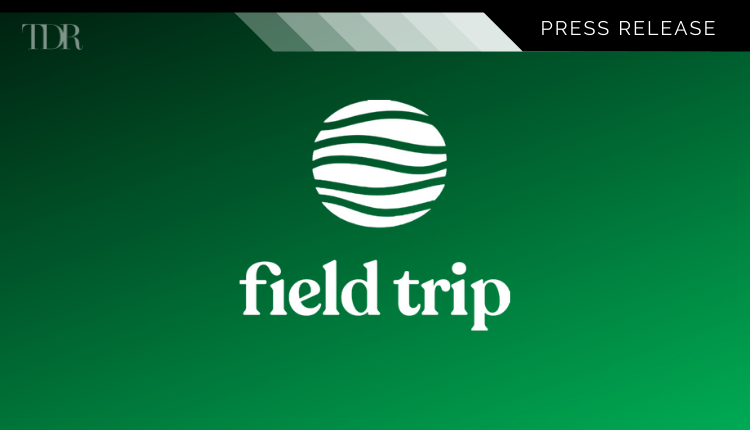 Field Trip Health Ltd. Announces Completion of DMPK Studies, Engineering Batch for FT-104, Its Novel Psychedelic Compound
Field Trip Health Ltd. (CNSX: FTRP; OTCMKTS: FTRPF), a leader in the development and delivery of psychedelic therapies, today announced that it has completed initial drug metabolism and pharmacokinetic ("DMPK") studies for FT-104, its novel psychedelic compound in development.
In-vitro preclinical studies confirmed that metabolism of FT-104 is rapid and complete in several animal species, converting FT-104 into the active form of the drug with relatively few metabolites, validating FT-104's action as a prodrug for the underlying molecule (the "active") from which FT-104 was derived. The active is a known psychedelic molecule which has yet to be disclosed.
In-vivo pharmacokinetic studies confirmed a fast, efficient, and complete conversion of FT-104 to the active, plus a fast elimination of both prodrug and active compounds from the systemic circulation. Since the active is significantly more active at the 5HT2A receptor, a rapid conversion of the prodrug is needed to ensure a rapid onset of action by the active, while the rapid elimination of the active and prodrug is needed to ensure a short overall trip time of less than 4 hours in people. From the combination of in-vitro and in-vivo results, Field Trip believes that the pharmacology and safety of FT-104 can be fully addressed using well-designed preclinical toxicology models.
The results of the DMPK studies and the pre-clinical studies announced in October 2020, further validate Field Trip's belief that FT-104 is a strong 5HT2A receptor agonist that can be delivered with high bioavailability and will produce a reliably short-duration of psychedelic experience in the range of two to four hours, which is approximately halfthe duration of psilocybin.
Field Trip also announced that it has secured a Good Manufacturing Practices compliant (cGMP) contract manufacturer (CMO) for FT-104 manufacturing. Synthesis optimization and scale-up, which commenced in in the fourth calendar quarter of 2020, has resulted in the production of a first kilogram-scale engineering batch of FT-104. The drug substance from the engineering batch will provide the quantities of FT-104 needed to complete formulation and preclinical development. An additional GMP batch will be produced for Phase 1 trials.
From the inception of our drug development efforts, we set out to develop a novel, next-generation psychedelic molecule that would be easy to synthesize, had low risk for addiction, that offered similar potency and experience to psilocybin, but with a much shorter duration to make it more clinically efficient and accessible. The completion of our DMPK studies confirms that FT-104 meets all of those criteria, and with synthesis and scale-up now complete, we are getting the pieces in place to submit our applications to commence Phase 1 human trials.

Dr. Nathan Bryson, Field Trip's Chief Science Officer and the inventor of FT-104
In the coming months, Field Trip will continue to develop its pivotal safety and pharmacology package to finalize and submit its Phase 1 protocols to regulators. Any trial will be subject to regulatory approvals.
About Field Trip Health Ltd.
Field Trip is a global leader in the development and delivery of psychedelic therapies. With our Field Trip Discovery division leading the development of the next generation of psychedelic molecules and conducting advanced research on plant-based psychedelics and our Field Trip Health division building centers for psychedelic therapies opening across North America and Europe along with the digital and technological tools that will enable massive scale, we help people in need with a simple, evidence-based way to heal and heighten engagement with the world.
To view the original press release in its entirety click here