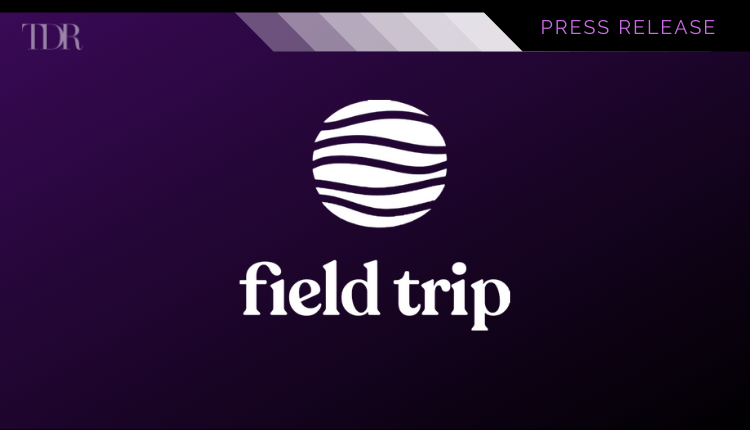 Field Trip Health Ltd. Granted US Patent Covering Novel Psychedelic Molecule FT-104
Field Trip Health Ltd. (CNSX: FTRP; OTCMKTS: FTRPF), a global leader in the development and delivery of psychedelic therapies, today announced that the U.S. Patent and Trademark Office ("USPTO") has granted the Company a patent for claims related to FT-104 (informally known as "Isoprocin Glutarate"), Field Trip's first novel psychedelic molecule in development.
Claims in the patent application titled, "Tryptamine Prodrugs," grant exclusive rights to Field Trip for the composition of matter, use and manufacturing of a family of hemi-ester compounds of hydroxytryptamines, including FT-104. The patent will provide protection until 2040.
As part of its intellectual property strategy, Field Trip filed an international patent application relating to FT-104 under the Patent Cooperation Treaty (PCT). The PCT filing is a step towards expansion into National Phase filings to protect FT-104 in major markets where Field Trip intends to pursue commercialization, in the event of regulatory approval. The PCT patent application provides Field Trip with deferred patent filing rights in 150+ countries.
The US patent grant strengthens IP protection for our lead drug candidate FT-104 for the global pharmaceutical market. This grant builds upon the corresponding patent application filed under the PCT. We are continuing to strengthen patent protections for FT-104 and its uses across the globe, as we advance our Phase 1 clinical trial and continue to develop other molecules in our pipeline.

Joseph del Moral, CEO of Field Trip
Field Trip's approach leverages science and best-in-class psychotherapy protocols to inform promising treatment approaches for use in research and clinical applications. As part of that process, Field Trip has made significant progress towards its phase 1 clinical trial, with advances on its Chemistry-Manufacturing-Control ("CMC") and nonclinical-safety toxicology programs for FT-104, and expects to initiate a Phase 1 clinical trial before the end of the first half of 2022. A protocol has been submitted for ethics review.
Dr. Nathan Bryson, Field Trip's Chief Scientific Officer, commented: "With a solid intellectual property foundation, we can move to our Phase 1 clinical trial with confidence that we can claim ownership of this invention. This patent protects the composition of matter, methods of manufacture, formulations and methods of use with FT-104 and other similar analogs. FT-104, specifically, seeks to provide for a shorter, consistent and more convenient 2-3 hour psychoactive experience with subjective effects and clinical efficacy of a classical serotonin psychedelic, like psilocybin. A shorter duration could make FT-104 a more convenient psychedelic drug to treat mental health conditions like treatment-resistant depression and postpartum depression."
To view the original press release in its entirety click here