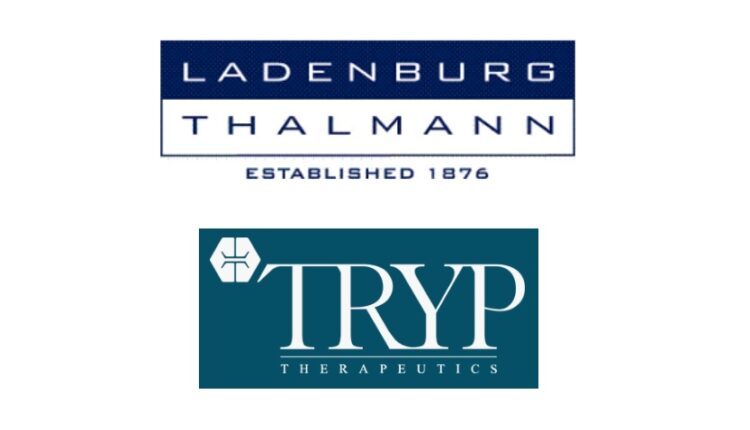 Ladenburg Thalmann Initiates First Investment Bank Coverage On Tryp Therapeutics
Tryp Therapeutics (CNSX: TRYP) (OTCMKTS: TRYPF) achieved a significant milestone today, having received investment bank coverage for the first time. The initiator was Ladenburg Thalmann, a New-York based investment bank with more than 4,000 financial advisors and approximately US$125 billion in assets under management. We look into the salient components which factored into the firm's bullish rating and price target conclusion.
The first thing of note is the volume of psilocybin studies coming out of pre-clinical, which company executives have messaged previously. Ladenburg Thalmann believes Tryp Therapeutics is "on track to test test 25mg psilocybin capsules in six Phase 2a, proof-of-concept trials, beginning in 2H'22, with data readouts from three programs in 1H'22."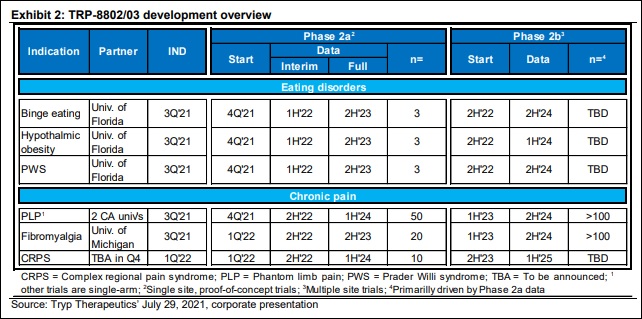 This is confirmatory analysis in-line with the projections of company CEO Greg McKee, who explained that up to four Phase 2a studies could be on the docket in the back half of 2021.
Should the initiation of six Phase 2a studies take place, Tryp will have more Phase 2 psilocybin studies in trial than any public psychedelic company—including MindMed which has four Phase 2 studies either ongoing or announced presently. As
Market Opportunity
Ladenburg Thalmann rightfully highlights that Tryp's competitive advantage lies in the types of therapeutic indications it is targeting. Unlike most of its competitors, Tryp Therapeutics is targeting pain, eating and rare disorder indications—not depressive disorders. This gives the company a leg-up on research leadership in the field of refractory pain, as well as still addressing the psychological linkages associated with eating disorders.
And the market in both domains is substantial.
According to the firm, the worldwide prevalence of fibromyalgia—a lead indication of one of Tryp's primary Phase 2a studies—is approximately 2–4% worldwide, according to Lancet. However, there is a serious lack of benefit from the drugs currently approved for the condition, leading the door open for efficacious news drugs. With a worldwide market size of almost $2 billion in 2019 and growing at 9.2% CAGR, Tryp is hoping the science behind psilocybin and its purported anti-inflammatory properties can yield next-generation therapeutics down the line.
Phantom Limb Pain (approximately 1.75M to 2.2M Americans affected) and Complex Regional Pain Syndrome (approximately 112,000 Americans affected based on epidemiologists' review of the Nationwide Inpatient Sample database of 20% of U.S. hospital stays) are also being researched for pain indications.
On the eating disorder side, the investment bank views binge eating as another possible domain of disruption. According to the National Institutes of Mental Health, the annual prevalence of binge eating disorder in adults is 1.2%, while the lifetime prevalence is 1.6% to 2.8%, with similar percentage estimates in Europe. Tryp plans on researching its proprietary PFN formulation TRP-8802 alongside assisted-therapy to combat this hard to treat disease. To our knowledge, Tryp's Phase 2a study is the most advanced for a eating disorder indication by any publicly-listed company.
Tryp will also be targeting Hypothalamic obesity and Prader Willi Syndrome on —two highly-specialized disorders with no suitable treatments currently.
Cash Position
As with any early-stage drug development biotech company, Tryp Therapeutics requires periodic influxes of capital to fund its trial pipeline. While the company certainly needs to raise money to fund its future obligations, it has significantly advanced several programs with minimal capital drawdown. According to Ladenburg Thalmann, Tryp held ~$5.6M in cash at the end of May, sufficient to reach into 2Q'22 by their estimates.
This is a respectable near term cash position for two reasons. First, the company has enough capital to operate prior to the release of key COMPASS Pathways Phase 2b endpoint results (expected Q4 2021), which if favorable, should provide supportive market conditions for capital raising activities in the industry. Secondly, Tryp is expected to be in position to release interim Phase 2a data on one or more of its trial programs, and would thus be raising money is a higher-visibility environment.
Overview Conclusion—The Bottom Line
We initiate coverage of Tryp Therapeutics, Inc. with a Buy rating and US$2.00 price target. We reach our price target via our risk-adjusted net present value estimates for Tryp's operating expenses per share ($0.70), and TRP-8803 in chronic pain disorders, $1.75 and eating disorders, $0.90 and cash/share of $0.08. Factors that could negatively affect our estimates include negative clinical or regulatory outcomes, greater than expected equity dilution and unexpected competition from other drugs in development.
Ladenburg Thalmann delegates a "Buy" rating if it believes the covered stock's returns will exceed 12.5% over the next twelve months.
Furthermore, Ladenburg Thalmann believes that shareholder value will unlock significantly following the three Phase 2a readouts, as it will provide the first evidence of Tryp's psilocybin-specific activity in a controlled clinical setting in the novel indications it is treating.
The coverage has sparked a positive response in the capital markets today, with Tryp Therapeutics trading up 10.54% to $0.4079 on the OTCQB as of publishing time.