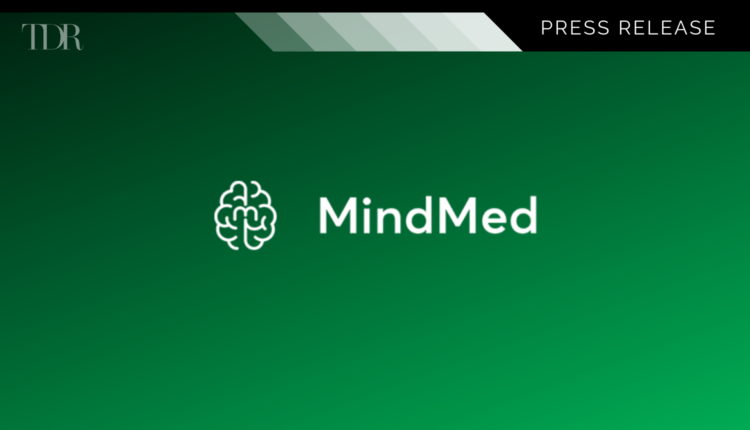 MindMed Joins Critical Path Institute's Patient-Reported Outcome Consortium
MindMed (NASDAQ: MNMD) (NEO: MMED), a leading biotech company developing psychedelic-inspired therapies, has joined the Critical Path Institute's ("C-Path's") Patient-Reported Outcome (PRO) Consortium to assist in the development of new approaches to advance medical innovation and regulatory science.
C-Path ( www.c-path.org ) has multiple active consortia and programs that leverage knowledge sharing to spur innovation. MindMed will participate in C-Path's PRO Consortium, contributing to its collaborative framework for qualification of clinical outcome assessments (COAs) for use as efficacy endpoint measures in clinical trials.
We welcome the opportunity to contribute our expertise in real-world data collection. Working with this industry leading effort gives us an opportunity to shape best practices in clinical evaluation and digital measurement. Technological advancement is allowing us to predict individual disease trajectories and outcomes, and enables us to build models of specific patterns and clusters of patient experiences. This progress paves the way for a new phase of personalized precision medicine.

MindMed's Chief Medical Officer Daniel Karlin, MD MA
Stephen Joel Coons, PhD, Senior Vice President of C-Path's COA Program, stated, "We are delighted to have MindMed join the PRO consortium, which further highlights MindMed's commitment to patient-focused drug development. MindMed is blazing new trails in the treatment of a number of conditions that significantly impair human function and well-being, and we welcome its contributions to collaboratively advance  our understanding of the science underpinning the measurement of clinical benefit."
MindMed's goal is to help create more personalization in the pharmaceutical field that can allow for more accurate drug selection and drug combinations, precise dosage, timing and frequency of administration, and adjacent therapeutic interventions including psychotherapies and digital therapeutics.
To view the original press release in its entirety click here