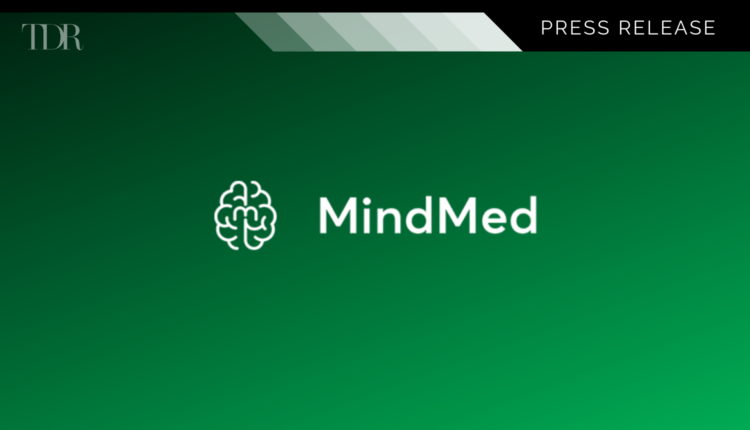 MindMed Receives FDA Type C Meeting Response for Project Lucy Phase 2b Clinical Trial
MindMed Finalizes Clinical Development Approach for LSD Targeting Generalized Anxiety Disorder as Initial Indication
MindMed (NASDAQ: MNMD) (NEO: MMED), a leading clinical stage psychedelic medicine company, announces receipt of Type C Meeting Responses from FDA leading to the finalization of the Company's clinical development approach for Project Lucy by selecting Generalized Anxiety Disorder as an initial indication. MindMed is on target to formally submit its Investigational New Drug (IND) application for Project Lucy in Q3 2021 and expects to launch its Phase 2b clinical trial shortly thereafter in Q4 2021.
As an extension of the positive pre-IND meeting held with the FDA in December 2020, MindMed sought further agreement from the FDA on the Company's clinical approach for the development of LSD in the treatment of anxiety disorders. In line with positive FDA feedback, MindMed will pursue the treatment of Generalized Anxiety Disorder as its first indication. The clinical development program is scheduled to advance in late 2021 with the launch of Study MMED008, which is a Phase 2b dose-optimization study of LSD in approximately 200 patients diagnosed with Generalized Anxiety Disorder. This study, with clinical sites mainly in the United States, will assess improvements in anxiety symptoms following a single administration of LSD and will be the catalyst to select a final dose to be taken forward into Phase 3 pivotal clinical trials.
"We are excited by the productive discussion with the FDA to date and by the finalization of MindMed's clinical approach to advance LSD in the treatment of anxiety disorders, beginning with a Phase 2b clinical trial for Generalized Anxiety Disorder. This approach both provides a clear regulatory pathway to advance LSD to possible approval and leverages the vast experience of Dr. Liechti and our UHB collaborators, including the Phase 2 clinical trial studying LSD in patients with anxiety." said Rob Barrow, Chief Development Officer of MindMed. "Further, the results of this Phase 2b dose optimization study we believe could significantly advance our scientific understanding of both the clinical effects of LSD and the underlying mechanisms of action that predict clinical response."
Generalized Anxiety Disorder is a chronic, often debilitating mental health disorder that affects approximately 6% of US adults in their lifetimes. Symptoms of Generalized Anxiety Disorder include excessive anxiety and worry that persists for over six months, which can lead to significant impairments in social, occupational and other functioning, according to the National Institute of Mental Health (NIMH). While there is substantial diagnostic overlap between Generalized Anxiety Disorder, Major Depressive Disorder and other major mental health disorders, there has been very little innovation focused on the treatment of Generalized Anxiety Disorder in the past several decades.
Anxiety is a universal feature of the human experience. At times, we all anticipate potentially uncomfortable and unfortunate future events. Aversive anticipation is a central and and distressing feature of daily life for many. Worse still is the lurking awareness of our own mortality, and the existential dread that this knowledge can carry with it. Though depression syndromes, in particular Major Depressive Disorders, have been a major focus of drug development activity in recent decades, we see anxiety as being both core to the suffering of many diagnosed with depression, and a symptom that cuts across a number of other psychiatric disorders.

MindMed Chief Medical Officer Dr. Dan Karlin
At present, most anxiolytics are oriented toward suppression of the conscious experience of anxiety. Existing medications are taken in anticipation of one's future anxiety, as a reaction to a contemporaneous sense of heightened anxiety, and in anxiety's most acute manifestation, to avert panic attacks.
"In studying the treatment of Generalized Anxiety Disorder through Project Lucy, MindMed hopes to help patients address the underlying sources of their anxieties to produce meaningful, sustained improvement across all aspects of their lives," said MindMed Chief Medical Officer Dr. Dan Karlin.
To view the original press release in its entirety click here