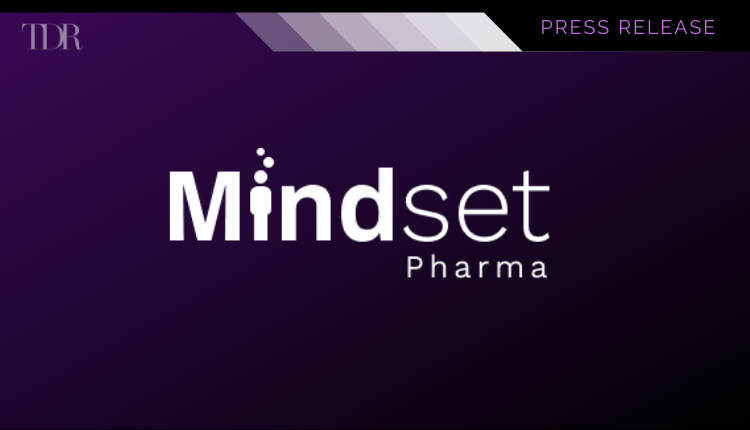 Mindset Pharma Aims to Treat Broader Addressable Neurology Market by Studying Cognitive Benefits of its "Microdosing" Compounds
Mindset's Family 3 of next-generation psilocybin compounds have demonstrated low levels of activity at the 5-HT2A receptor and long half lives
Advancing compounds into additional Proof of Concept preclinical studies to measure daily take-home viability
Mindset Pharma Inc. (CNSX: MSET)(OTCMKTS: MSSTF), a drug discovery and development company focused on creating optimized and patentable next-generation psychedelic medicines to treat neurological and psychiatric disorders with unmet medical needs, today announced that it has synthesized additional promising candidates from its Family 3 of next generation drug candidates, and will initiate Proof of Concept preclinical studies to further measure the viability of these compounds as daily pro-cognitive take-home medication.
Our scientists designed and developed a unique class of novel and patentable compounds, our 'Family 3,' which have shown promise as a substitute for microdosing approaches due to their low activity at the 5-HT2A receptor. This validates our decision to study the efficacy of these compounds further for pro-cognitive indications associated with neurological and mental health disorders.

James Lanthier, CEO of Mindset
"If we can demonstrate pro-cognitive benefits at a range of sub-hallucinogenic doses, our compounds have the potential to dramatically broaden the addressable neurology and mental health market we are pursuing while avoiding the hallucinogenic liability associated with traditional approaches. Providing pro-cognitive solutions that do not elicit a psychedelic effect will suit vulnerable patient populations such as juvenile ADHD, Alzheimer's disease, and a range of others."
To better understand potential pro-cognitive benefits across a range of sub-hallucinogenic doses, Mindset will initiate a series of in vivo Proof of Concept studies, which will measure motivation and attention. These studies will be critical in establishing the clinical viability of Mindset's family 3 drug candidates.
Mindset recently announced a first-of-its-kind co-development agreement with the McQuade Center of Strategic Research and Development, a member of the Otsuka Pharmaceuticals family of companies, which fully funds and advances the development of Mindset's Family 2 & Family 4. Family 3 compounds are potential opportunities for Mindset to partner with other groups to progress its most promising candidates from this family to the clinic.
To watch a video of Mindset's CEO discussing the announcement in greater detail, please visit: https://youtu.be/4gg0QKfwmrI.
To view the original press release in its entirety click here