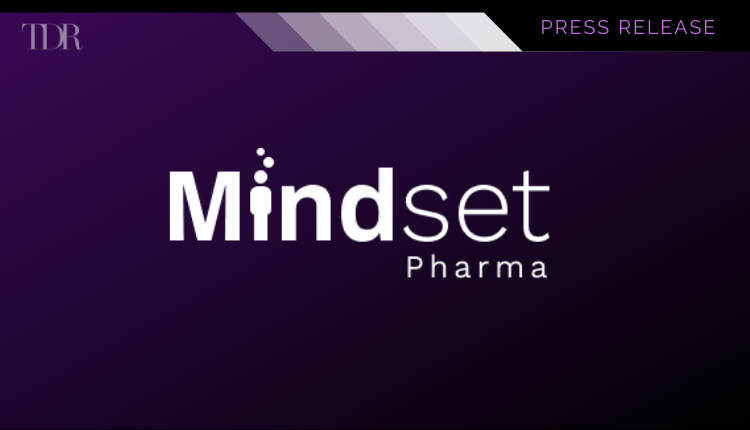 Mindset Pharma Announces Further Preclinical Results Demonstrating Strong Efficacy and Improved Safety Profile for its 5-MeO-DMT-Inspired Drug Candidate, MSP-4018
Mindset Pharma Inc.(CNSX: MSET)(OTCMKTS: MSSTF), a drug discovery and development company focused on creating optimized and patentable next-generation psychedelic medicines to treat neurological and psychiatric disorders with unmet medical needs, today announced that preclinical proof-of-concept data comparing its clinical candidate, MSP-4018, against 5-MeO-DMT further demonstrated strong efficacy and an improved safety profile as a next generation psychedelic medicine.
Given the strong preclinical efficacy and safety data in support of MSP-4018, combined with our expedited manufacturing process, we believe our Family 4 clinical candidate has the potential to provide a safer and more scalable therapeutic alternative to first-generation 5-MeO-DMT. We believe this preclinical data will enable us to quickly advance this novel compound into human clinical trials.

James Lanthier, CEO of Mindset
"The latest preclinical proof-of-concept data showed that, in addition to its strong efficacy, both locomotor activity and rearing behavior for MSP-4018 did not decline at a range of doses tested, compared to the profound decline observed in 5-MeO-DMT, indicating a remarkably improved safety profile for MSP-4018. In addition, we saw further evidence of psychedelic activity, reflected in the head twitch response of mice," concluded Joseph Araujo, Chief Scientific Officer of Mindset.
Mindset's Family 4 compounds are DMT and 5-MeO-DMT-inspired novel drug candidates that offer a broad range of pharmacological diversity suitable for in-clinic settings. The Company has run a battery of specialized in-vitro and in-vivo tests on its patent-pending novel compounds to select the optimal psychedelic drug candidates for progressing towards human clinical trials.
To watch a video of Mindset's CEO discussing the announcement in greater detail, please visit: https://youtu.be/JeyBUp2klXk.
To view the original press release in its entirety click here