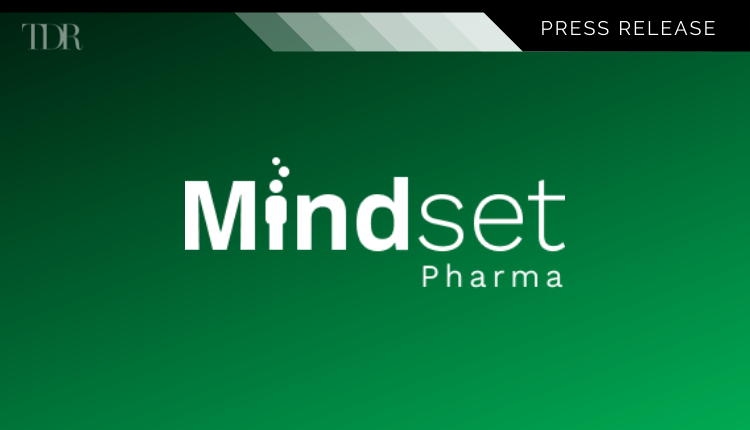 Mindset Pharma Announces Publication of Three PCT Patent Applications for Its Next Generation Psychedelic Drug Candidates
Mindset Pharma Inc. (CNSX: MSET) (OTCMKTS: MSSTF), a drug discovery and development company focused on creating optimized and patentable next-generation psychedelic medicines to treat neurological and psychiatric disorders with unmet medical needs, today announced that the Patent Cooperation Treaty ("PCT") has published three patent applications, covering a range of Mindset's Family 1 and Family 2 compounds, under the publication numbers: WO/2021/155467, WO/2021/155468, and WO/2021/155470.
With a priority date of more than 18 months ago, the patent applications cover a comprehensive range of novel diverse proprietary compounds designed to deliver superior therapeutic benefits to psilocybin with lower overall metabolic and safety liability and more predictable duration of action, along with their related synthetic process methods, potential compositions, formulation methods and therapeutic uses. The applications include novel prodrug, conjugates, deuterated and non-deuterated derivatives of psilocin, as well as its side-chain restricted analogs.
The publication of our PCT patent applications reaffirms the novelty of our approach and first-to-file advantage. We continue to run in vitro and in vivo tests on these patent-pending compounds to further validate their superior efficacy and safety profile.

James Lanthier, CEO of Mindset
Mindset's Family 1 compounds leverage state-of-the art modern drug design using conjugated and deuterated psilocybin and psilocin design strategies to improve on psilocybin's potential toxicity and pharmacokinetics profile. Mindset's Family 2 compounds are next-generation psilocybin and psilocin drug candidates optimized for in-clinic settings. The Company has run a battery of highly specialized in-vitro and in-vivo tests on its patent-pending novel compounds to select the optimal psychedelic drug candidates for progressing towards human clinical trials.
To watch a video of Mindset's CEO discuss the announcement in greater detail, please visit: https://youtu.be/SPx3KQB27Fw.
To view the original press release in its entirety click here